There are many decision trout anglers must face when they head to the rivers and streams. Perhaps the most important and challenging of these decisions can be selecting the right lure. It can be a tough decision at times, but having the right trout lure tied on can be the difference between coming home empty handed and having a great day on the water.
Not sure what the best trout lures are? Don't worry, we have you covered. In this article, we go over the 10 best lures for fishing for trout in rivers and streams (in no particular order), as well as some helpful tips and tricks that will help you catch more fish.
Best Trout Lures For Rivers and Streams
1. Rapala Original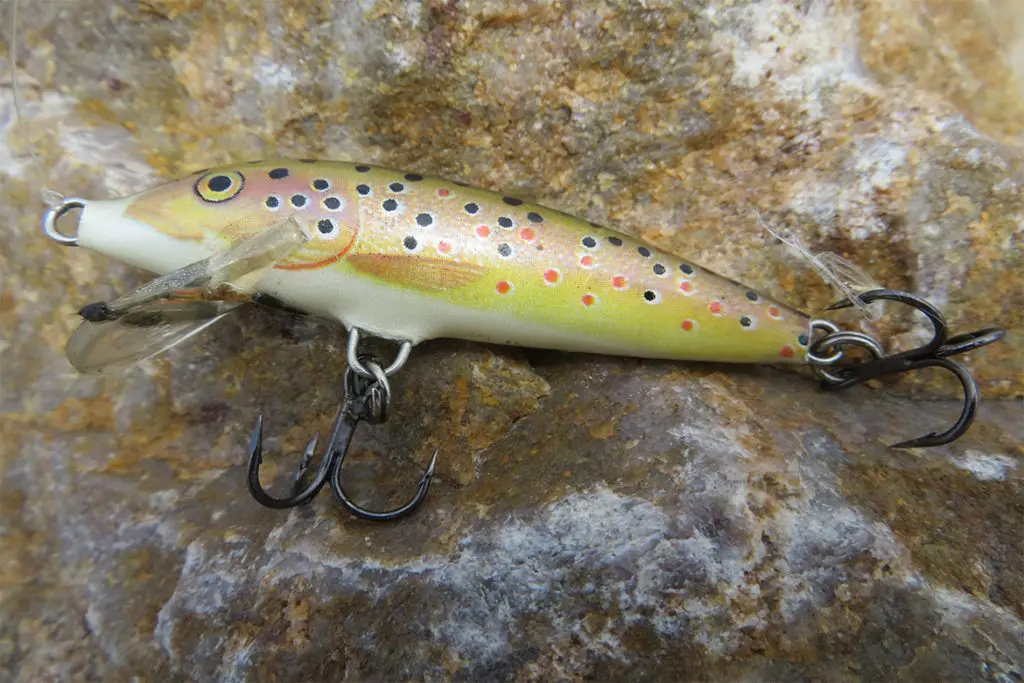 It's tough to beat the world renowned original Rapala. This is one of my go-to lures. It works great on top as a surface bait or retrieved as a shallow runner. I have caught more fish on this lure more than any other lure.
The action of this baits replicates a wounded minnow that makes it hard for trout to resist. This is a lure that should be on the top shelve of everyone's tackle box.
Tip: If your wanting to fish in the middle or bottom of the water column try adding a split shot to your line. This will allow the Rapala to reach deeper depths.
---
2. Blue Fox Vibrax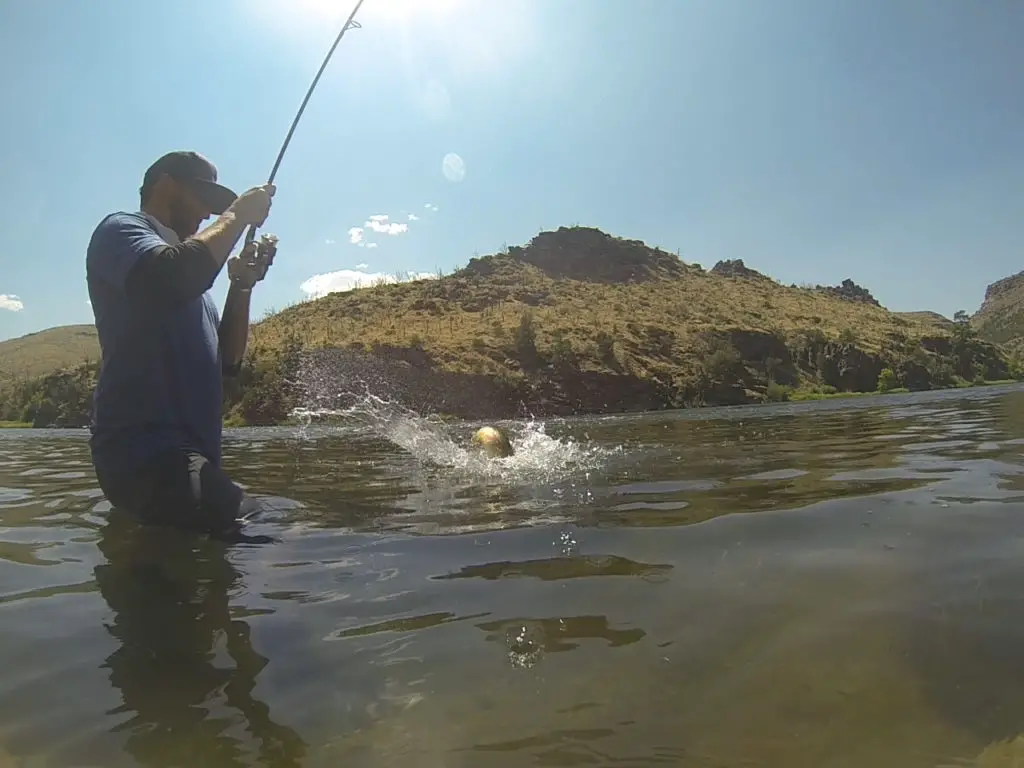 The spinning rotation and compelling vibration makes the Blue Fox Vibrax an absolute fish catcher. This lure excels 2 feet to 6 feet deep. Its two-part design emits a low-frequency sound vibration, triggering strikes and eliminating line twists.
This in-line spinner features a stainless steel shaft wire, internal vibrating rattles, and a quality VMC treble hook that is built to last.
The Blue Fox Vibrax is a great river and stream lure that comes in a variety of colors and sizes. The most popular and perhaps the most effective colors are silver and gold. I have been catching trout with this lure ever since I can remember and it's still one of my go to lures.
---
Make sure to check out My Recommend Gear and Tackle Guide to ensure you have the right gear for your next fishing adventure.
3. Jake's Lure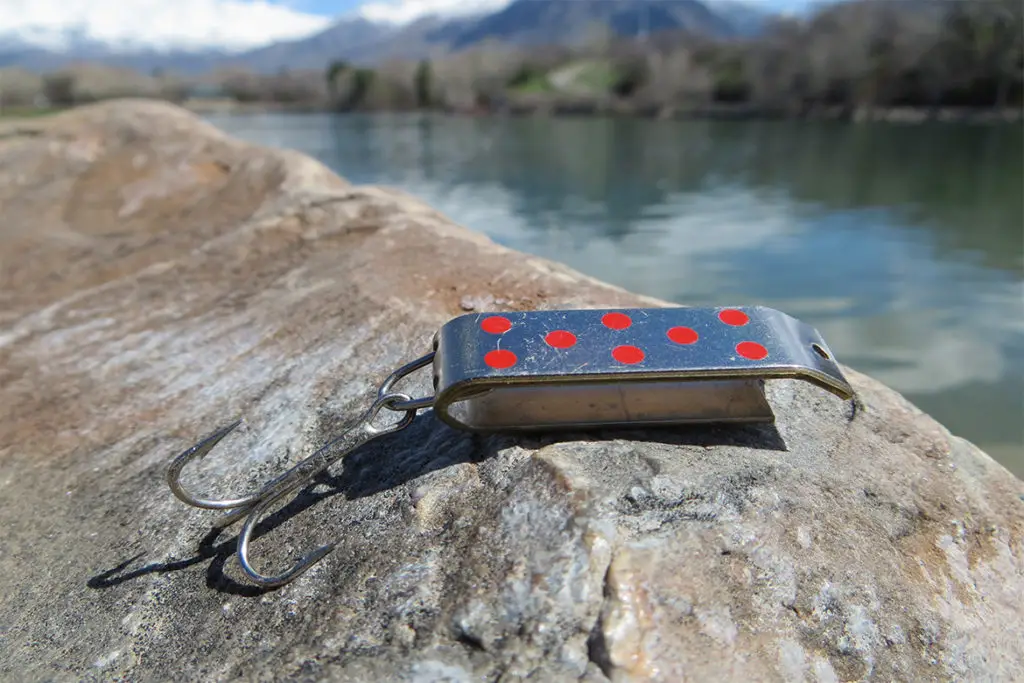 I feel like the Jake's Lure often doesn't get the credit it deserves. I have caught some monster brown trout casting the brass/red spot color. This lure excels in bigger rivers with deeper pools and a strong current.
This spoon style bait is a little heavier than most lures on this list. The Jake's Lure has a small profile that is great at imitating bait fish. You will have no problems casting far and catching fish with the Jake's Lure.
Tip: Make sure to fish this lure with a swivel, it tends to run better in the water.
---
4. Mepp's Aglia Spinner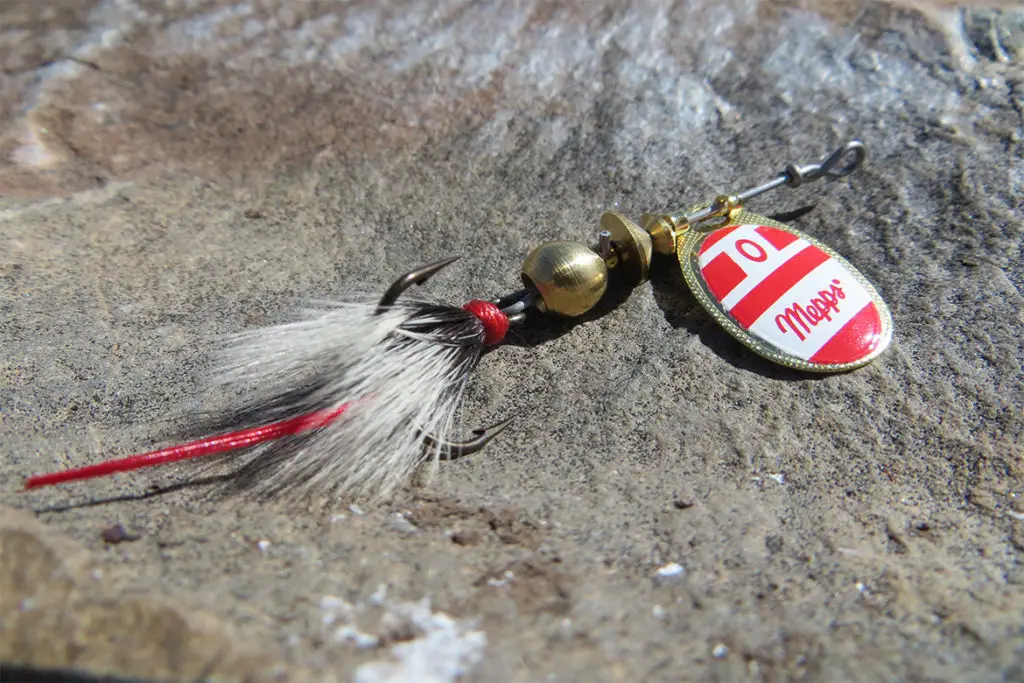 Spinners and trout go together like cookies and milk. The Mepps Aglia is perhaps one of the best spinners in the world.
Match the size of your spinner to the size of the trout you are fishing for. If you are going after smaller trout then the #00, and #1 are a perfect size, for larger trout try upsizing to a #2 or #3. If you have a Mepps Aglia tied you are almost guaranteed to get bit.
Tip: Don't use a swivel. Tie the line directly to the lure, this gives it the best spin and most natural looking action.
---
5. Acme Kastmaster Lure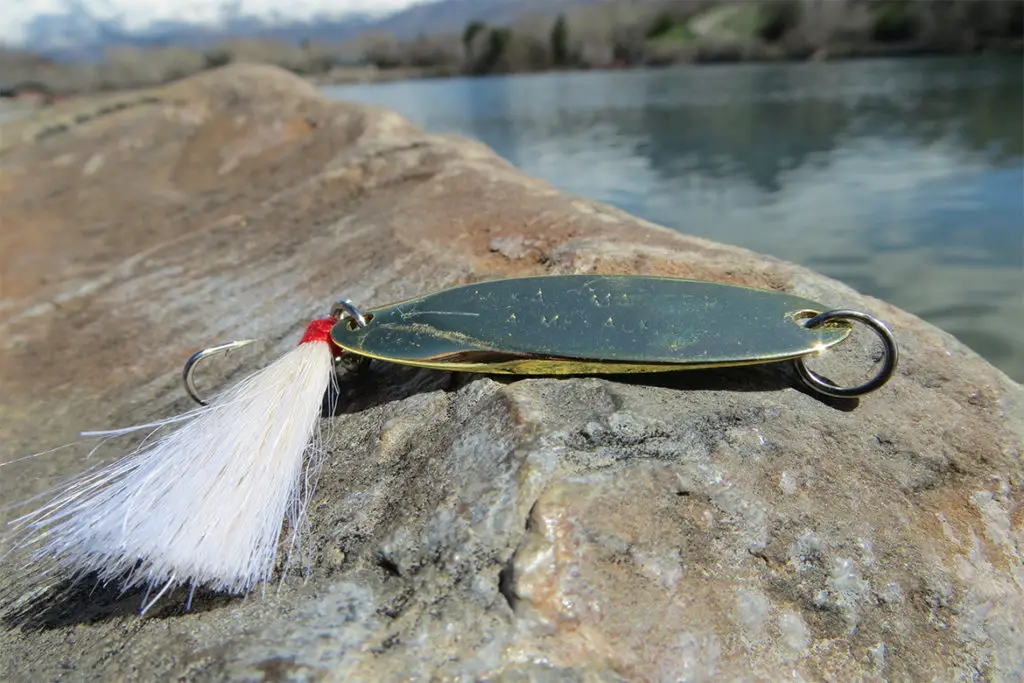 There is nothing fancy about this spoon and maybe that is why it works so well. It's hard to compete with the Kastmaster lure. When fishing this lure in a river or stream a lighter size like a 1/12 will be the most effective.
The Acme Kastmaster is made from solid brass and holds up in the toughest conditions. This lure can be casted a country mile making it easy to cover a lot of water.
---
6. Rooster Tail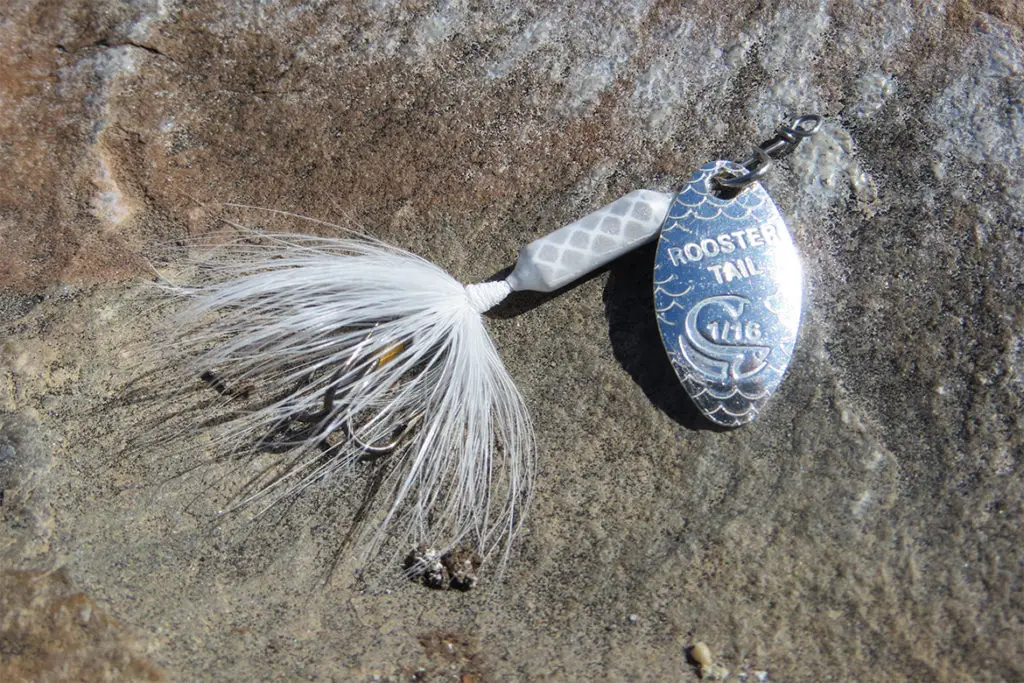 The original rooster tail was first created in the 1950's and is still one of the most productive spinners out on the market. This lure has earned a reputation as one of the most effective and versatile lures ever made.
Its attractive spinning action and pulsating tail will make any fish strike. The original rooster excels in small streams and rivers and will catch trout of all species.
---
7. Dynamic HD Trout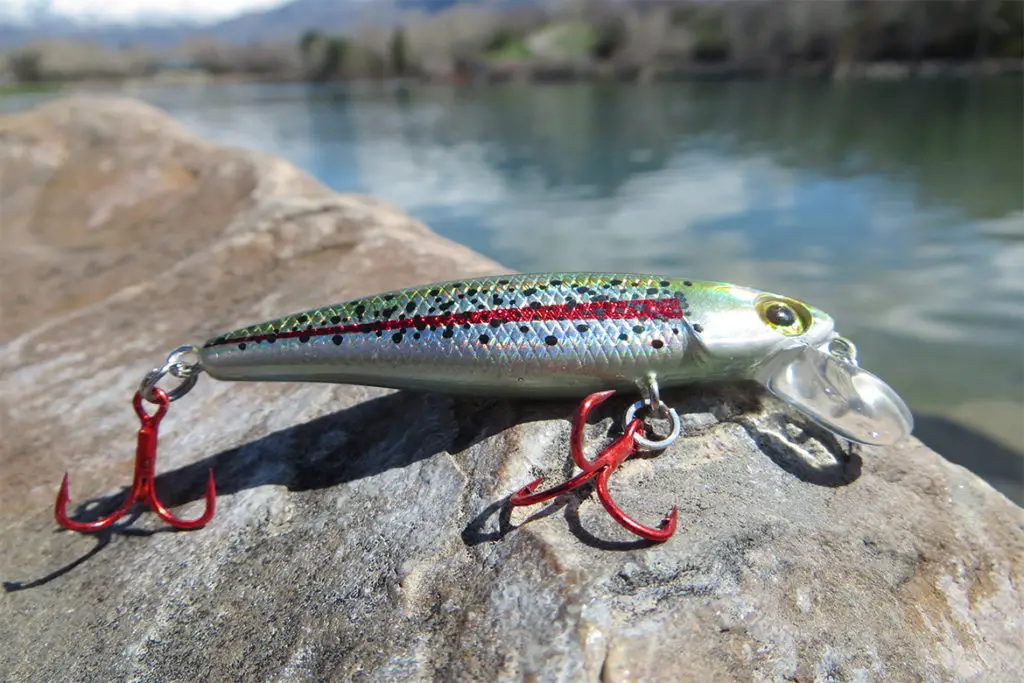 This crank-bait was specifically designed for trout in Colorado and has quickly spread to many anglers across the United States. For good reason – the Dynamic HD Trout lure is a fish grabber.
It's slender, low profile has a small front lip and is designed to slowly sink. The optimal depth for this bait is 0-2 feet. It comes in a variety of colors so that you can easily match your waters forage and should be a staple for every trout angler.
---
8. Panther Martin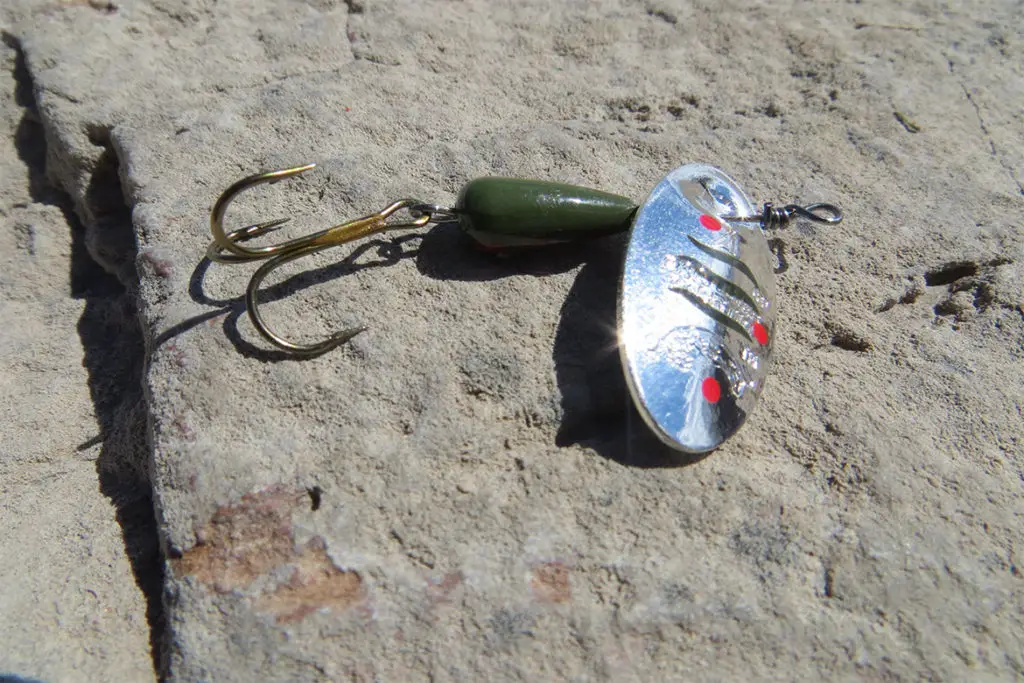 If there are trout in a river or a stream, the Panther Martin lure will catch them. These in-line spinners are phenomenal lures that excel at catching fish in both rivers and streams. This proven light weight lure is known for its ability to provide a perfect spin both in and out of current.
The Panther Martin spinner catches the attention of trout with it's convex/concave blade shape combined with it's in-line construction which generates a bright flash and attention-grabbing vibration.
There are anglers that exclusively use Panther Martin spinners and for good reason. These high performance lures have stood the test of time and are a lure every angler fishing in a river or stream should have in their tackle box.
---
9. Luhr Jensen Krocodile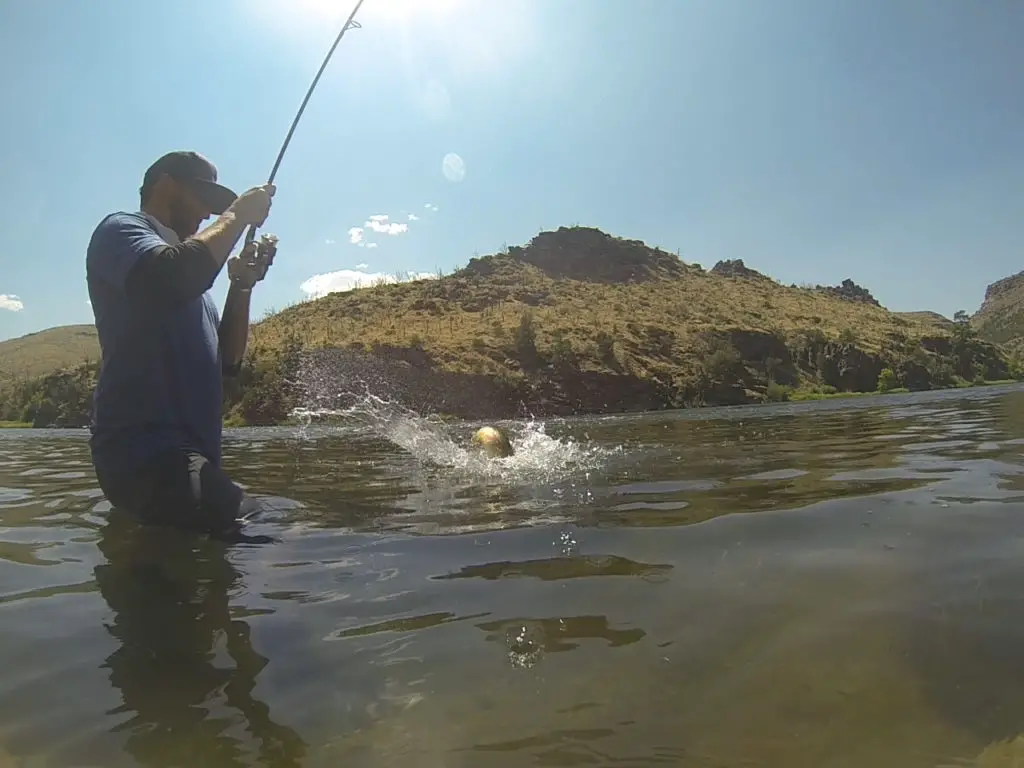 This spoon styled lure has proven for years it's ability to catch both size and numbers. The versatile Luhr Jensen Krocodile lure features a narrow minnow shape that will sink quickly. It's known for its versatility and heavy-duty construction.
Select the right size and colors that best match your rivers and streams forage and there is no doubt this lure will produce.
---
10. Trout Magnet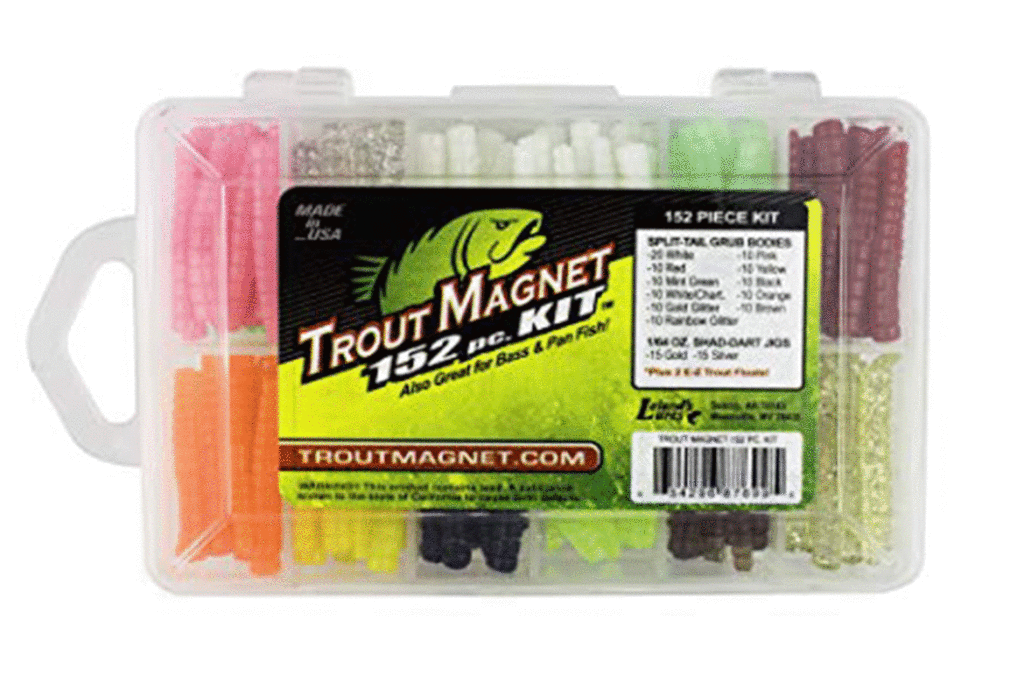 The trout magnet is a killer finesses technique that catches a ton of fish. This ultra-light rig consists of a small jig head, plastic body, and is typically paired with a bobber.
The trout magnet is a fish catcher that is a perfect technique for fishing in streams and rivers.
Tip: I have had the most success with white and pink colors.
---
Other Great Trout Lures
• Rapala Countdown Minnow
• Acme Phoebe
• Acme Little Cleo
• Rebel Minnow
Things to Consider When Selecting the Right Trout Lure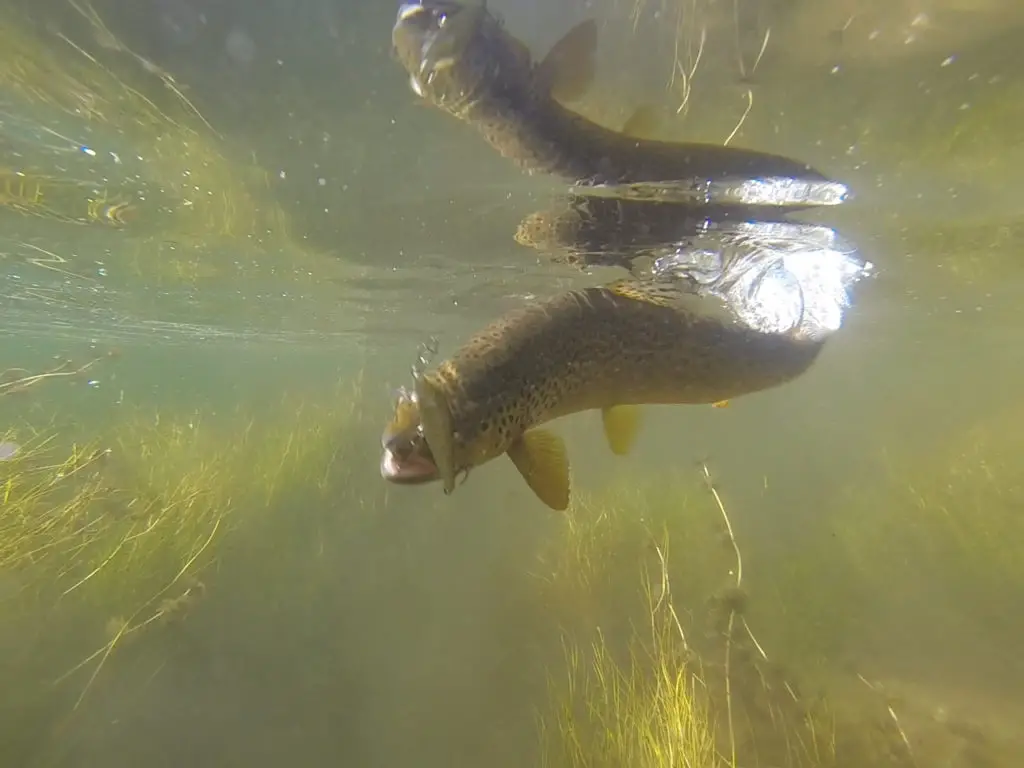 Most of the lures we mentioned above come in a wide variety of colors and sizes. Understanding the fishing conditions will help determine what sizes and colors best fit your needs in the river and streams where you will be fishing. Here are some factor that will help you determine what lure is right for you:
Depth – The water level of the river or stream you are fishing will help determine which lure to select. For example, if you are fishing a deep pool in a river and the trout are holding towards the bottom, then a deeper diving bait would be the better choice. Conversely, if you are fishing in a small stream that is only a few feet deep, then a smaller, lighter bait would be the better option.
Cover – Each section or the river or stream that you are fishing might present you with different types of structure. You could encounter some vegetation, rocks, bushes etc.
Water Clarity – The water clarity is also an important consideration when selecting the right lure. In clear waters, more natural looking bait are going to be the best trout lure. In murky or darker water clarity situations, bright or dark colored lures will produce more results.
Fish Forage – 'Match the hatch' is one of the most common fishing terms for a reason. You can increase your catch rate by simply matching what fish in your local river or stream would most likely be eating. This is especially true in clear water. If you are going to trick a trout into taking a swipe at your lure, the color, size, and movement of the bait needs to closely imitate what they would naturally be eating.
Fishing Conditions – What is the weather like? Are you fishing on a bright sunny day, or is it rainy cloudy? These things should be taken in consideration when deciding what lure to throw. Much like in murky water, dark and bright colored lures are going to do well in low light conditions. On clear sunny days your natural looking colors are the better option.
Tip: Use gold on cloudy days and silver on sunny days
Fishing Hot Spots on River and Streams
Pockets and Eddies –  Eddies can be one of the best areas on a river to target. Feeding fish love eddies. Trout will sit behind big rocks and wait as insect and other food get caught in the current and wind up heading for an eddie.
Bends In the River – Look for bends or changes in the river, trout will tend to stay and hang out on the outside of these spots.
Drop-offs – Changes in depth, such as drop offs, are another place you can find trout waiting for any easy meal. Fish tend to congregate where the current is a little slower and food will sink to the bottom.
Overhanging Trees – Fish can often be found hanging out in the shade of a tree or bush. This can be a great spot to target during the day.
For more info about find fish check out this video
Pro Tips for Fishing the River and Stream
Mix up your retrieval speed
Use light line
Pause, twitch, and jerk to entice bites
Target eddies, bends, breaks, shade etc.
After tying a knot, cut tag end very short
Additional Trout Fishing Resources
Final Thoughts
These lures are some of the best trout lures for fishing in rivers and streams. We appreciate you taking the time to give our article a look and hope this helps you catch more fish the next time you are out on the water. Be sure to check out some of our other articles here on tiltfishing.com.
Tight Lines!