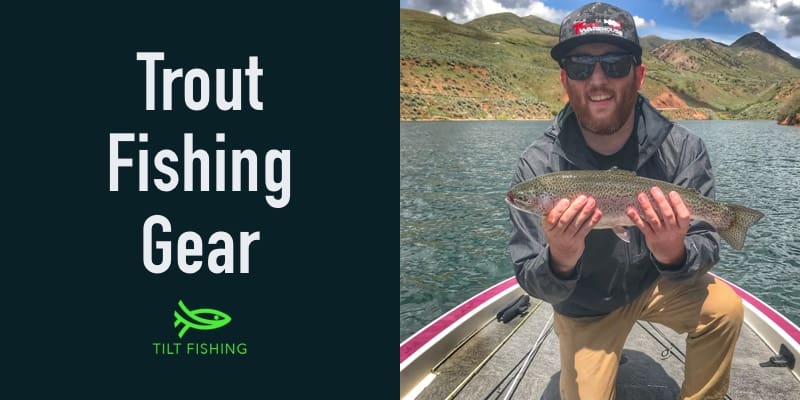 You don't need the most expensive or nicest equipment to catch trout, but there are some essential things every trout angler should have that will make your fishing experience a whole lot more enjoyable.
Here are the five things I recommend every trout angler get:
This line cutter/snippers on Amazon.com. Don't make the same mistake as I did and go years without having a solid pair of line cutters. This is a super affordable item that will make cutting and re-tying so much easier.
These fishing Pliers on Amazon.com. Removing baits and lures from bass can be a challenge at times, especially if its down deep. Having a quality set of fishing pliers will help keep you and the fish safe and is a must have for any angler.
This Fenwick Eagle Spinning Fishing Rod on Amazon.com paired with a Pflueger Spinning Reel. This is a great combination for almost any trout fishing application.
This Fluorocarbon fishing line by Seaguar on Amazon.com. This is best best fishing line I've used. If you are fishing in small rivers and streams I recommend using 4lb test. For bigger fish in lakes or rivers 6-8lb test tends to work best.
The KastKing Polorized Sunglasses on Amazon.com. Being able to see fish and structure in the water is a game changer. These glasses will not only protect your eyes on longs days out on the water, but will also help you make the right casts and see whats down below.
If Fly Fishing for Trout is more your style check out my Top Fly Fishing Gear Recommendations.
Favorite Trout Fishing Baits and Lures
Spinners
There are a lot of spinners out on the market these days. I've had the best luck on the Panther Martin, Mepp's Aglia Spinner and the Blue Fox Vibrax. You can't go wrong with either one of these trout spinners. I highly recommend grabbing a few different color patterns and sizes, so you'll be ready for whatever condition you may face.
Crankbaits
It's tough to beat the world renowned Original Rapala. This is one of my go-to lures. It works great on top as a surface bait or retrieved as a shallow runner. I have caught more fish on this lure more than any other lure
The action of this baits replicates a wounded minnow that makes it hard for trout to resist. This is a lure that should be on the top shelve of everyone's tackle box.
Another one of my all time trout crankbaits is the Dynamic HD Trout. It's slender, low profile has a small front lip and is designed to slowly sink. The optimal depth for this bait is 0-2 feet. It comes in a variety of colors so that you can easily match your waters forage and should be a staple for every trout angler.
Spoons
For me spoons really shine in deeper rivers and when fishing in lakes or reservoirs. The Jakes Lure and Acme Kastmaster Lure are my two absolute favorites. I throw gold colors on cloudy days and the silver on bright sunny days. These spoons flat out catch them.
PowerBait
Every angler has their own take on which color of PowerBait they prefer, but there is no disputing that the most popular and perhaps most effective PowerBait color is the Berkley Rainbow Glitter. My personal favorite is the green garlic.
Trout Fishing Resources