When you are at your local tackle shop or looking at lures online as you get ready for your next trout fishing trip, you'll realize there are a ton of different patterns and color options to choose from.
With so many choices out there it can be difficult to know where to start. While searching you may ask yourself this question: what colors do trout like? The best lure colors for trout are: white, gold, brown, green, black, silver, pink, orange, yellow and red. As well as any other pattern or color that best matches the trout's forage.
In this trout lure color guide I'll share with you everything you need to know about selecting the right color of lure. Including, the best colors to use for trout, how to select the right lure color and some tips and tricks that will help save you time, money and most importantly catch more fish.  
Let's get started
Does Color Matter When Trout Fishing?
Is color important? This is serious question that many anglers ask. Some anglers feel that color is critical, while others say it's not as important. There have been studies that suggest both of these sides may be accurate.
However, in my experience picking the right color of lure will certainly improve your chances at attracting and catching more fish.
So does lure color really matter when trout fishing? The answer is absolutely, at least in my point of view but it is not the only thing that will ensure you have fishing success.
Other factors such as: lure size, presentation, seasonal behaviors, weather, air pressure, time of day all play a role of improving or decreasing your odds at catching fish.   
Make sure to check out My Recommend Gear and Tackle Guide to ensure you have the right gear for your next fishing adventure.
---
How to Select the Right Trout Color
When deciding on what lure color you should there are three main components to consider. The trout's forage, water clarity and light penetration
These three factors can offer you a great starting point on what color of lures and baits to use while you are trout fishing. Let's take a look at each one of these and discuss them in more detail.
Trout Forage
Matching the hatch is a fishing term that most everyone has heard before. Yet there are some anglers that seem to forget this as they are deciding on what color of lure they should use.
If you can find out what the trout are feeding on and match it the best you can with your lure selection, you'll have a lot of success.
Water Clarity
The clarity or lack thereof of the water you are fishing at can also help you determine which fishing lure color you should use.
In clear water conditions red and orange can be great colors as well as anything that naturally resembles the food available.
On the other hand, when the water is stained or murky, black, chartreuse, green, white and yellow are ideal colors as they will stand out due to their color contrast in the water.
Light Penetration
Light conditions are another factor to consider when deciding on a particular lure & color.
In low light conditions or when fishing deep it is best to use darker colors like, black, blue, violet and green. The darker colors help the lures stand out by providing contrast making it easier for the fish to see your lure.
In situations where you are fishing in the full sun natural and metallic colors are going to the best performers. You either want to closely resemble the forage or trigger some strikes with some flashy lures.
Metallic colors such as gold, copper and silver will give your lure some flash as the light penetrates through the water. Most fish are used to seeing this same flash as the sun reflects off the scales of the fish.
Here is a color chart that illustrates what we have discussed. Please note that is only to be used as a general guideline and you should always experiment and find what works best for you.  
---
Trout Lure Color Chart
| | | | |
| --- | --- | --- | --- |
| Sunny & Clear | Cloudy & Clear | Sunny & Stained | Cloudy & Stained |
| Chrome, Metallic Ghost, Flashy & Reflective   | Ghost, White, Red Dark Green, Dark & Natural Colors | Chrome/Metallic Flashy & Reflective Chartreuse & White   | White, Chartreuse Black & Blue, Black & Red, Purple |
Now that we have gone over some of the basic guidelines that will help you determine the right trout lure color. Let's take a look at some of the specific colors and discuss some situations where they might best be used.
---
Best Trout Fishing Colors
There are a ton of different patterns and color combination out there, each one having its own application. Here is a look at the most popular trout fishing colors and when you might use each one: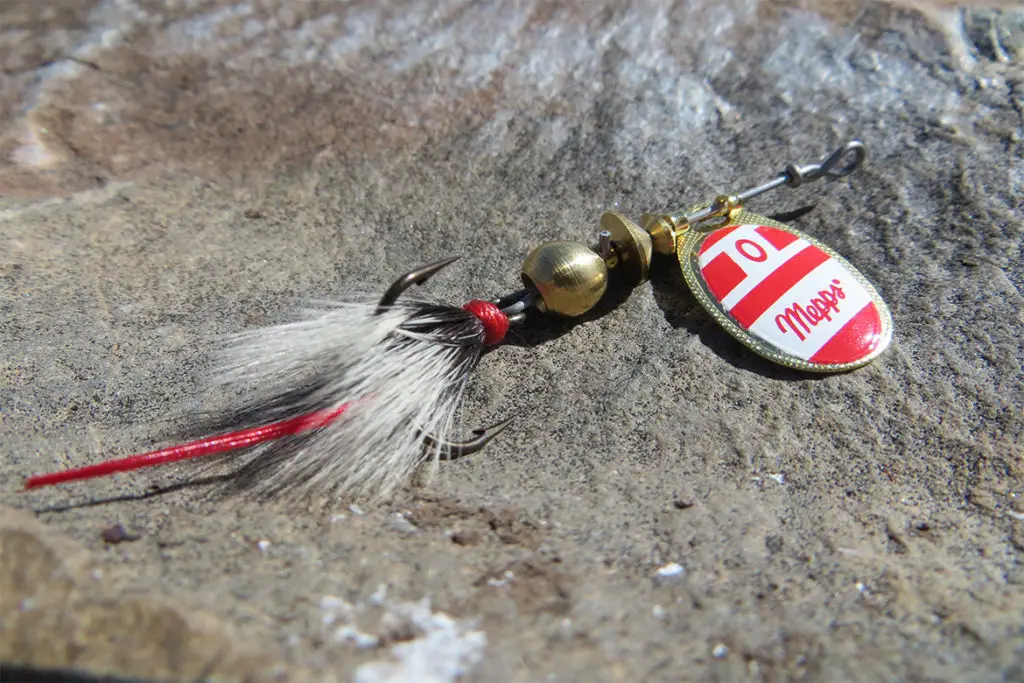 Metallic Colors
Metallic lure colors like gold and silver are great at reflecting light. This flash can call in fish from a long distance.
Gold and silver are the most popular metallic lures and perhaps the most reflective. In clear water and shallow situations too much flash can sometimes be over powering. So half metallic and another color might be more effective.
 Best for: providing flash and attracting fish from a distance
Fluorescent Colors
Fluorescent colors like green, chartreuse and pink are another great color that can stand out in stained and deep waters. Fluorescent colors are also great secondary colors on lures.
Best for: greenish waters or deep waters
Brown & White
Natural colors like brown and white are great trout fishing colors. These earthly tones are the best at imitating natural trout forage and can be great color options.
Best for: natural presentations and overall fishing applications
Black
Black, due to its contrast is the best color of lure for low light conditions. This is due to its contrast. The contrast allows the lure to stand out in muddy water and at night or in low light conditions.  
Best for: low light and muddy conditions
Yellow, Red & Orange
Yellow, red and orange are also very popular and effective trout lures. In most cases these colors are complimentary colors and are usually combined with another color.
These colors are great for drawing in and enticing nearby fish into striking the lure.
Best for: as secondary colors that will entice fish into striking
---
Best Color of Power Bait for Stoked Trout
PowerBait is perhaps one of the most effective and easy ways to catch stoked trout. There are a ton of different colors and scents to choose from.
The best PowerBait colors in my opinion are: rainbow, chartreuse, and yellow. However, every angler seems to have their personal preference. So feel free to experiment and try out different colors.
Also make sure to check out these PowerBait fish tips that will help you catch more fish while using PowerBait.  
---
Best Spoon Color for Trout
Much like all of the lure colors we have discussed in this article the color of trout spoon can have a big impact on your catch rate.
The best spoon colors for trout really depends on the water and weather conditions. On clear water lakes you can't go wrong with the classic gold or silver with some blue or green mixed in.
If you are fishing in deep or stained water brighter colored spoons like yellow are going to be the most effective
For more information about trout fishing with spoons check out this in-depth guide by besttroutfishinglures.com.
---
Best Jig Color for Trout
Fishing a jig for trout is a great way to catch some big fish, but it often gets overlooked by many anglers. There are a lot of different jig colors out there. What's the best color? The best jig colors for trout at least in my opinion are: brown, green, black and white.  
---
Do Trout Like Bright Colors?
Many trout anglers often ask if trout like bright colors? The answer is yes, but it depends on the fishing conditions. Bright colors work well when used in stained water or when you are trying to make your lure stand out.
---
Trout Fishing Resources
Here are some other trout fishing related articles that will help you catch more fish:
---
Final Thoughts
Lure color can play a key role in your overall fishing success. Selecting the right color of lure based on the available forage, light penetration and water clarity will give you the best odds at catching fish.
I hope you have found this trout fishing color guide to be helpful and that you practice what you have learned on your next fishing trip.
Tight lines
Aaron