Brook trout are a popular target for many anglers and are one of my personal favorite fish to catch. They are known for their beautiful colors and tough spirit. One of the most important factors when fishing for brook trout is selecting the right baits and lures to use. This is a critical component if you wish to land one of these beautiful fish. For that reason, I have put together this list of the best lures and baits for brook trout, as well as some helpful tips and tricks that will help you have more success out on the water.   
The following list includes my favorite lures and baits for brook trout and are in no particular order. These lures are proven fish catchers and are all solid options when targeting brook trout.
Also, be sure to keep reading for some helpful tips on how to select the right lure and some important information about fishing for brook trout.
The 8 Best Brook Trout Lures and Baits
Rooster Tail
Perhaps the smoothest spinner on the list is the Rooster Tail. You would be hard pressed to find a more productive spinner. This is a super popular trout lure and is one of one my personal favorites for brook trout. One of the reasons this spinner can be so effective is its hackle tail and attractive spinning action. This is a deadly combination and will make any nearby fish strike.
My go to colors are black, brown, and red, but you really can't go wrong with most of the colors available (there are over 100 different colors to choose from). These spinners flat out catch brookies and are an excellent choice for any angler fishing for brook trout on a spinning rod.
Rapala Countdown Minnow & Original
The Rapala Countdown Minnow and the Original Rapala are some of my all-time favorite lures to catch brook trout with. I've been catching brookies on these tried and true Rapala's ever since I can remember. The brown trout and rainbow pattern have always produced for me in my local mountain lakes and streams. I always make sure to bring few different patterns and sizes with me which helps me to adapt to different conditions on the fly, but if I had to choose one I'd probably go with the Cd-5. These are overall great lures for catching brook trout in almost any condition.
Favorite patterns: Cd-5 in rainbow trout and brown trout
Flies
There is no doubt about it, flies are one of the best ways to target brook trout, especially in small rivers and streams. Dry flies are absolutely one of my favorite ways to catch brookies, but nymphs, streams and terrestrials also work really well. For more information about fly fishing for brook trout make sure to check out this article: How to Fly Fish for Brook Trout: A Complete Beginners Guide
If fly fishing isn't your thing, flies can also work well on a spinning rod with the right setup. There are a few different options. Many anglers will use a casting bubble, which is a plastic bubble that you place on your line, or some type of a strike indicator.
Both of these options will give weight to your line and allow you to cast out small light weight flies. Fishing with one of these options is easy and is a great way to fish flies on a spinning rod. To learn more check out this article: How to Fish a Flies with a spinning rod
Jigs
Small light weight jigs are a fantastic way to target brookies and often get overlooked by anglers. There is a huge range of jigs available. For me, a brown/orange or black Marabou Jig is tough to beat, but there are other great trout jigs out there. If the fish are holding to deeper water, I will slowly drag or swim the jig near on the bottom.
Little Cleo
The Little Cleo is a must have lure for any angler targeting brook trout. This lure gives off a unique and seductive wiggling action that is bound to draw in and trigger any nearby brook trout. You can't go wrong fishing this simple but effective lure in ponds, rivers, lakes, and other bodies of water. If you haven't already, I would definitely recommend giving this lure a try.
Mepps Aglia
The Mepps Aglia is a versatile spinner that creates a lot of water disruption and has a smaller appearance making it a great lure for smaller fish such as brook trout. This a great lure that works great in a variety of situations and excels in rivers, ponds and lakes.
It's been said that the Mepps Aglia has caught more record fish than any other lure out there. This spinner will flat out catch fish. If you have ever wondered what this lure looks and sounds like underwater, check out this YouTube video.
Panther Martin
The Panther Martin is a fantastic brook trout lure. The silver blade and yellow body with red dots is in a size 4 is a one of my favorites, but in reality any color they make will work depending on the conditions and fish's mood. This spinner works great for fishing in rivers, small streams, ponds, and lakes. The Panther Martin would be a solid addition to any brook trout lure collection.
Swimbaits
A 2" swimbait on a 1/8 oz jig head can be deadly on brookies! In the past I have exclusively only used swimbaits while bass fishing, but have recently discovered they are also a killer trout technique as well. One of the great things about fishing a swimbait is that you can cover any part of the water column and fish as fast or as slow as needed. A swimbait is a great way to imitate other fish and it gives brookies a different look that they may have not seen before. 
Other Great Brook Trout Baits and Lures
Selecting the Right Brook Trout Lure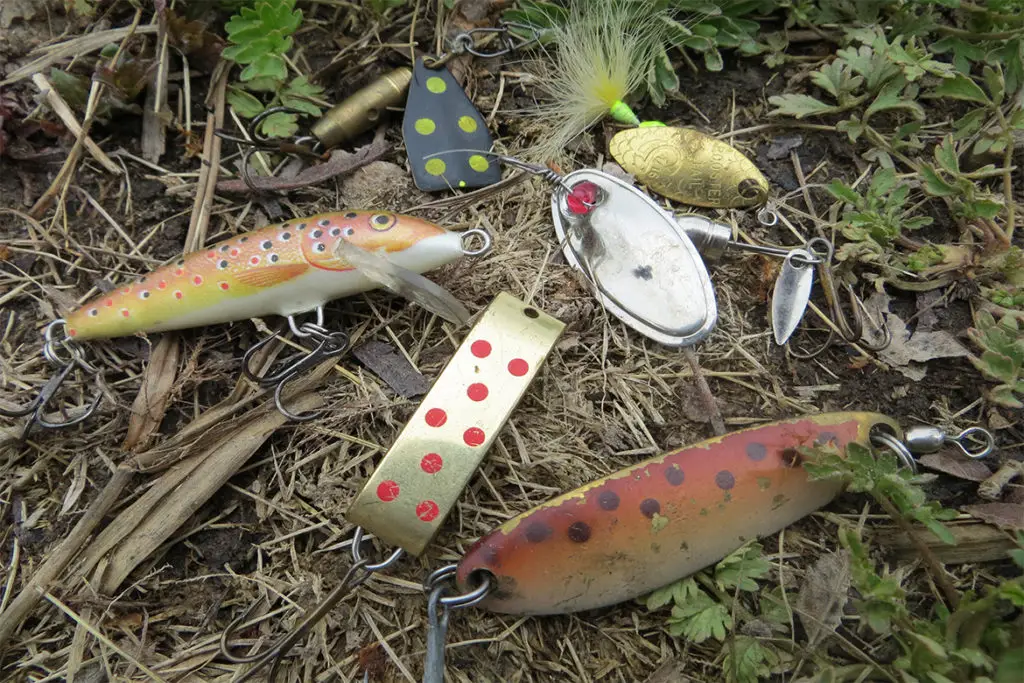 Most all of the lures that I mentioned in the list above come in several different sizes and colors. The best color and sizes to use for your lure will vary depending on the body of water that you are fishing, the conditions (weather, time of year etc.), and the fish's behavior. These factors will help you determine what the right size and colors best fit your situation.
In general, brook trout prefer smaller profile baits and lures with smaller hooks. But this also depends on the size of the brook trout you plan on catching.
To help you make the right lure decision I have put together some important factors that will help you determine what lure, color and size is right for you and your situation.
Depth – Often times the right lure choice and size is dependent on what depth you're trying to reach. If you are fishing in shallow water then you will want something small and light weight. On the other hand, if the fish are holding on the bottom, you will want to select a heavier lure to be able to reach them at that depth.
Water Clarity – The water clarity is also an important factor to consider when deciding what lure to throw. In clear waters, I like more natural looking bait. In murky or darker water clarity situations, bright or dark colored lures will produce more results in my opinion. The overall best colors for brook trout in my opinion are: yellows, browns, and light colors. Dark colors such as black also work well.
Fish Forage – 'Match the hatch' is one of the most common fishing terms for a reason. Knowing what it's your body of water, and what's on the brook trout's menu can give you a big advantage. If you are going to trick a trout into going after your lure, the color, size, and movement of the bait needs to closely imitate what they would naturally be eating, or at the very least make them curious.
Body of Water – Are you wading in a small stream? Or are you fishing on the bank in a large lake? The most effective lure size and weight will depend on what type of water you are fishing. If you need to get down deep and cast far, a heavier lure will be the way to go. If you are fishing in shallow or small rivers, a small lightweight lure will be more effective.
Fishing Conditions – What is the weather like? Are you fishing on a bright sunny day, or is it raining or cloudy? These factors can play a big role in determining what lures to choose and can ultimately decide how much success you have out on the water. In my experience gold colors tend to work better on overcast or cloudy days and silver is the best option on bright sunny days. However, it's important to experiment and find what works for you and your waters.
Fishing for Brook Trout
Brook trout are opportunistic feeders and will eat pretty much anything they can find. Fishing for brook trout is very similar to fishing for rainbow trout. Small spinners, spoons, and swimbaits work best. They will also hit worms and other natural bugs. Fly fishing with artificial flies is another great way to target brook trout. Here is some basic brook trout information to keep in mind as you target these beautiful fish.  
Where can I Find Brook Trout?
Brook trout are native to Eastern North America in the United States and Canada, but have also been introduced in other parts of North America, as well as other parts of the world such as Asia, Iceland, and Europe.  
Brook Trout Habitat
Brook trout can be found in lakes, rivers, streams, creeks and in some ponds. They tend to prefer clear water with high purity. When on the hunt for these fish, search for the cleanest and purest water you can find, that's where the brook trout will be.
Best Colors for Brook Trout?
Every angler seems to have their own personal preference when it comes to lure color selection and most of them will work in the right conditions. For me, I have had more success with light or natural colors like dark greens and browns. Yellows, browns, greens, blacks and red all work really well. From my experience this is what brook trout tend to prefer, but feel free to experiment and find what works best for you.
What do Brook Trout Eat?
Brook trout are opportunity feeders and will pretty much eat whatever they can find. A mature brook trout will eat minnows, small fish, worms, leaches, crayfish, amphibians and insects. Young brook trout feed primarily on small insects and plankton and progress to larger insects and invertebrates as they become older.
For more in depth information about brook trout be sure to check out this article: Introduction to Brook Trout
How Big do Brook Trout Get?
A brook trout size is mainly dependent on what stream or lake it comes from. A common brook trout size for most fished streams and lakes in the U.S is 6-10 inches. However, they can get as large as 15 inches and in some cases even bigger. The world record for brook trout is 14.5 lbs and was caught in Ontario, Canada.
How Long do Brook Trout Live?
Brook trout typically live for 3-4 years but some can make it to the age of 5 or 6 years.
Other Trout Fishing Resources
Finals Thoughts
Perhaps one of the most important and challenging decisions anglers are faced with is selecting the right lure. It can be a tough decision at times, but having the right trout lure tied on can be the difference between coming home empty handed and having a great day on the water. With the lures mentioned in this article you will be all set for your next brook trout fishing adventure.  I hope you found this quick brook trout lure guide to be helpful and that you use this information to go catch some fish.
Tight Lines