Artificial lure angling for trout has various popular lures to use, from the conventional hand-tied feather-based lures crankbaits, poppers, spoons, jigs, and spinners. As a beginner angler eager to fish for trout, the best lures to start off with are spinners.
They are easy to attach and easy to cast and fish. Both rainbow and brown trout find spinners irresistible as well as other species. Before you buy blindly, you might want to look at this list of proven trout spinners.  
In this quick trout spinner fishing guide I'll share with you my favorite spinners to use for trout and share with you some tips on tricks on how you can catch more fish with these simple yet effective lures.
Trout Spinners
Spinners can be fished in a number of ways giving you a lot of control over the movement and speed. When starting out as a novice or even at professional level angling, spinners are a staple in any tackle box.
What makes spinners so effective for trout and why they have been catching fish for decades is they can trigger a reaction or territorial strike from any nearby fish. The vibration of the spinning blades and the flash as it catches the sun will imitate smaller bait fish and will get their attention.
Depending on where you fish for the season, a good rule is always to check if spinners with treble hooks are allowed and whether you need to de-barb hooks.
Now that we have a basic understanding of what makes spinners a great option for trout, let's take a look at my go to trout spinners.
The 6 Best Trout Spinners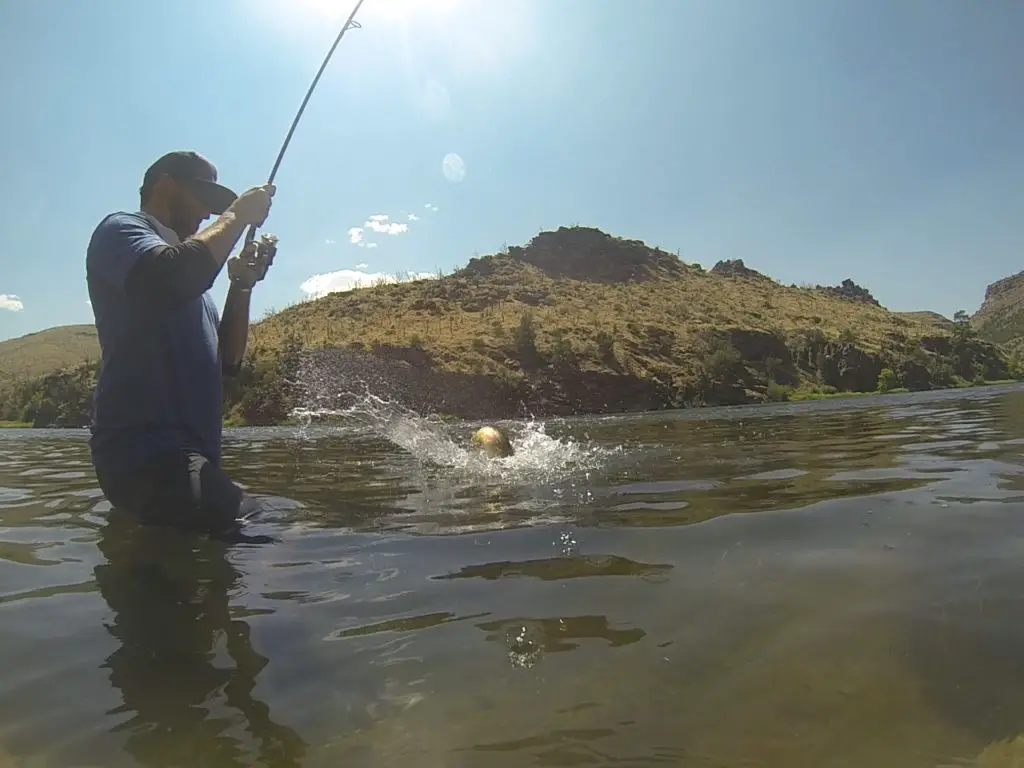 Blue Fox Vibrax
The best spinner for shallow waters, the Blue Fox Vibrax is a must have for any tackle box. It works best at the surface to around 2 feet in depth. The body has a laser holographic finish, and the blade is chrome plated.
When the outer bell gets struck by the blade, it emits a sonic vibration that the trout cannot resist. The tail is dressed with calf-tail hair with tinsel in between for extra flash and natural movement.
I always like to have a few with me and find it best to a variety of colors and patterns. You never know which one might be the deal on a given day. You can pick these up at a local tackle shop or you can find them on Amazon.com by clicking the button below.
Mepps Aglia
Because predatory fish like trout have excellent vision and can see color, Mepps Color Technology provides explicitly for this in their lure manufacturing. Fish strike lures they can see, so if you are fishing murky waters and dark bottom, you need a Mepps Aglia silver plated spinner.
The silver plating will create a continuous bright flash that will attract the trout. If you are fishing deep water or sandy bottom lakes,  the better option would be a brass or copper blade to attract the larger trout. 
Panther Martin
For bright or dark water conditions, the Panter-Martin Holographic lures are a top choice. Available in a comprehensive and exciting range of color combinations to match bait and fry in season. These vibrantly colored lures flash and sparkle in the sun, and the trout cannot resist them.
The Panther Martin seems to always produced regardless of where you fish it. I have had a ton of success throwing this spinner in small pounds, rivers, streams and just about every where trout can be found. This is all around great spinner at an affordable price.
Yakima Bait Wordens Original Rooster Tail White/Brown Trout
A spinner bait lure that has been successful since the 50's the Rooster Tail is unbeatable in the strike division. The Rooster Tail produces strikes even when other spinners are being unproductive. There are over 100 colors available and 10 sizes. The pulsating action of the natural tail hackles is what the trout cannot resist. The blades are manufactured from genuine brass copper and silver with a few UV finishes available.
Mepps Little Wolf
A simple yet highly effective design, the genuine silver-plated spoon creates a high intensity flashing. It can be fished at low or high speeds and maintains its action even on an active drop. This lure is perfect for light tackle between 2 to 4-pound lines and for novice anglers or children. You can find a variety pack on Amazon.com by selecting this link.
Ultimate Woolly Bugger Willow
A spinner that needs no introduction, the Ultimate Woolly Bugger Willow has proven irresistible to steelheads and trout for decades. This hand-crafted and tied spinner is excellent and a tremendous in-line lure, and with its treble hook, it will get the job done.
What Size Spinner To Use For Trout
The size spinner you use will depend on the water, the season, and the climate conditions. An excellent all-around choice for fish hesitant to strike is a 1/32-ounce spinner. For fish that are on a feeding frenzy, a 1/16-ounce will do nicely, and in streams, you can try out 1/8-ounce spinners.
More petite spinners work well in clear water, while you will find the more prominent, noisier, and flashier spinners will work better in murky water.
Are Spinners Good For Trout?
Spinners are incredibly versatile. They are available in various exciting and unique designs, colors, and sizes to match your experience, the water, and weather conditions. Spinners have a high rate of strike success, with very few fish getting off the hook.
Because trout are such aggressive eaters, spinners are perfect for luring them out for a strike. They find it hard to resist the flash, vibration, and noise produced. You can comfortably fish spinners all year round.
Things to Consider When Selecting the Right Trout Lure
Most of the spinners I've mentioned in this guide come in a variety of blades, color combinations and sizes. Understanding which ones to choose base upon you fishing conditions is extremely important. Here are some factors to consider when determining what spinner is right for you.
Depth – The water level of the water you are fishing at will help determine which lure to select. For example, if you are fishing a deep pool in a river and the trout are holding towards the bottom, then a deeper heavier spinner would be the better choice. Conversely, if you are fishing in a small stream that is only a few feet deep, then a smaller, lighter lure would be the better option.
Cover – Each section of the river or part of the lake that you are fishing might present you with different types of structure. You could encounter some vegetation, rocks, bushes etc. Spinners can sometimes easily get hung up around heavy vegetation making accurate casting key.
Water Clarity – The water clarity is also an important consideration when selecting the right lure. In clear waters, more natural looking bait are going to be the best trout lure. In murky or darker water clarity situations, bright or dark colored lures will produce more results.
Fish Forage – 'Match the hatch' is one of the most common fishing terms for a reason. You can increase your catch rate by simply matching what fish in your local river or stream would most likely be eating. This is especially true in clear water. If you are going to trick a trout into taking a swipe at your lure, the color, size, and movement of the bait needs to closely imitate what they would naturally be eating.
Fishing Conditions – What is the weather like? Are you fishing on a bright sunny day, or is it rainy cloudy? These things should be taken in consideration when deciding what lure to throw. Much like in murky water, dark and bright colored lures are going to do well in low light conditions. On clear sunny days your natural looking colors are the better option.
Tip: Use gold on cloudy days and silver on sunny days
Should You Use A Swivel With Spinners?
It is not recommended to use a swivel with a spinner if you are a novice angler. Learning how to tie knots correctly is part of the experience. Some professional anglers prefer not to use a swivel, and the correct way is to attach a swivel to your main line, connect a good length leader-line and then tie the spinner to the leader-line.
If you have experience and like using a swivel, then you can try using a snap-swivel directly to the spinner. This way, you can interchange the lures quickly if the fish are feeding on a specific bait.
Best Spinner Colors For Trout
All trout species have brilliant vision in the day and at night, thanks to their huge bulbous eyes. They react best to orange, blue, white, black, yellow, silver, pink, and red. Any combination of these colors is advisable.
Holographic finished tends to attract trout and spinners with this kind of finish consistently outperforms the plainer colored lures. Stay away from green lures as the trout do not see green very well.
For more insight on selecting the best lure color for trout make sure to check out this article: Best Colors for Trout Lures.
Trout Fishing Resources
Fishing for trout can be a lot of fun regardless of your angling method. If you would like to learn more about how to catch trout more effectively check out the following resources.
Conclusion
Fishing trout with spinners is an exciting pastime. Spinner bait lures elicit powerful strikes from steelheads, rainbow, and brown trout without fail. Unlike the more conventional method of fly-fishing that can take months to master, anyone can catch trout with a good spinner.
These top nine spinners are the best all-around trout lures available based upon success, popularity, design, and durability. I'd highly recommend picking up a few of these lures before you head to your favourite fishing spot.