Starvation Reservoir is an awesome fishery located in northeastern Utah. It's well known as one of Utah's premier walleye fisheries, but it also is home to some nice trout. I had one of the best fishing days I have ever had last spring at Starvation Reservoir. We caught over 40 rainbows (all in the same spot). In this article I'll go over the details of our trip including what we used, where we fished, and some tips and tricks we learned along the way.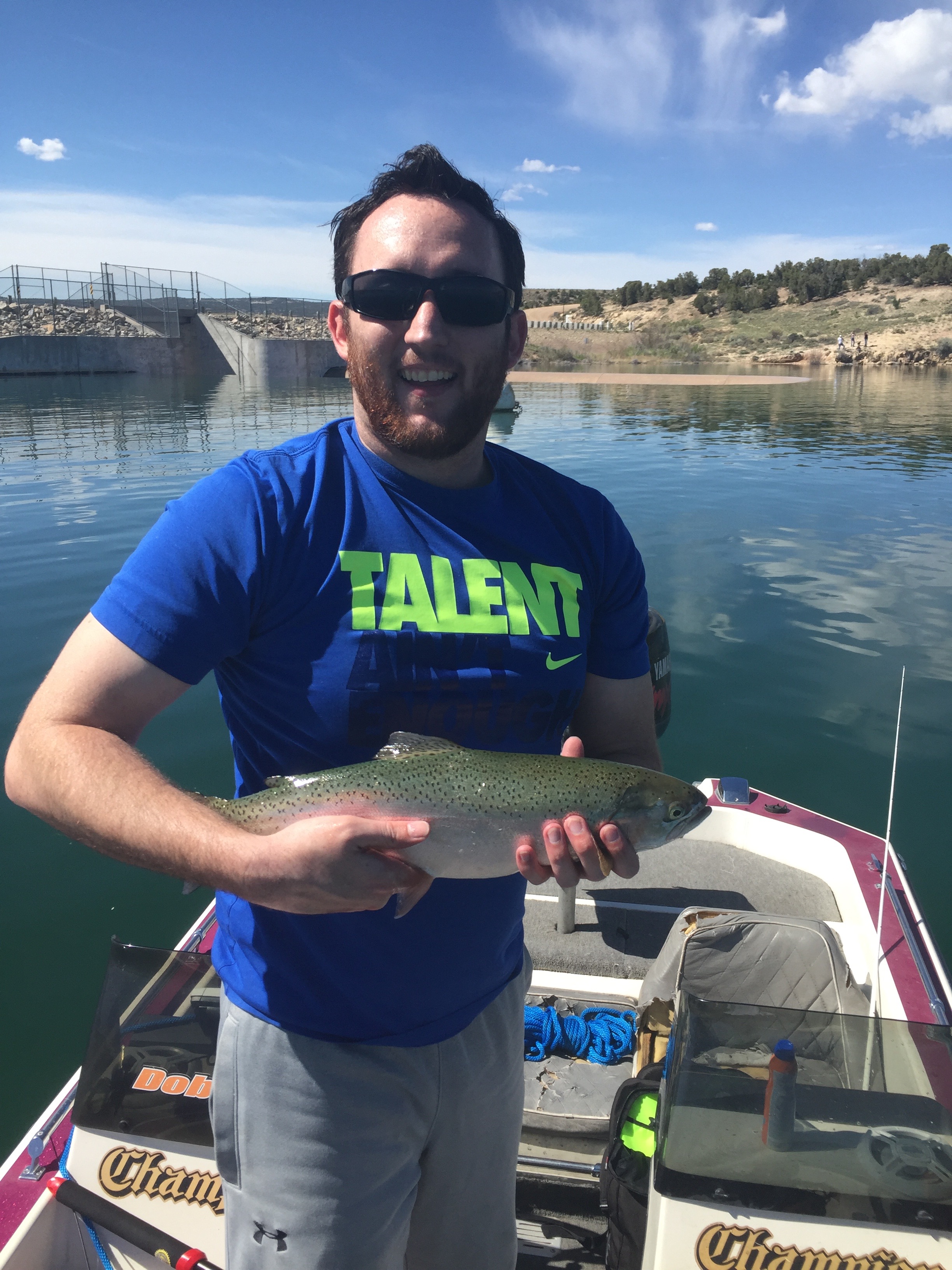 Introduction
Like a lot of people, I am passionate about fishing and spending time in the great outdoors. I have been on a lot of fishing trips and few have treated as well as our recent trip to Starvation Reservoir. 
A buddy of mine's favorite place to fish for trout is Strawberry Reservoir, But the last few trips out fishing was a little slow. We had heard Starvation Reservoir was starting to turn and produce some nice fish, so we made a game time decision right before the Strawberry Reservoir turn off to drive a little further and try our luck at Starvation and it couldn't have been a better decision.
Starvation Reservoir Conditions
We fished a full day from about 7:30am – 2:30pm
Water Clarity: 2-5 feet visibility
Wind: Calm day, not much wind
Starvation Fishing Report
We got a later start than we were hoping for and anchored down at our first spot around 8 am. We weren't having much success but noticed a bunch of anglers on the banks catching a few fish. We gave our first spot about an hour until we made a slight adjustment and moved towards the bank about 30 yards. This change ended up being a game changer and we spent the rest of the day anchored in this spot.
Where we fished
1st Spot: We started the day off fishing about a hundred yards from the middle of the dam. We stayed here for about an hour and didn't have much luck. We got a couple of bites and landed 1 or 2 fish.
2nd Spot (the honey hole): We moved about 30 yards towards pulley bend and we absolutely killed it in this spot. We ended up spending the entire rest of our day here catching fish. We caught the most fish casting towards the shore about 20 yards from our boat. We also caught some casting towards the dam, they seemed to have more size to them in the deeper water.
How we did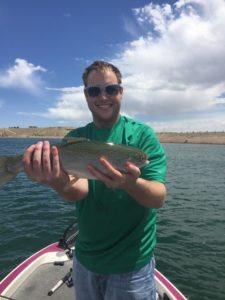 We caught over 40 rainbow trout through out the day. We didn't catch any record-breaking fish by any means but caught solid fish all day. The size of the fish ranged from12 -18 inches.
Fishing baits we used
PowerBait was the ticket. We tried of few different techniques, but ultimately ending up just using green garlic power bait until we ran out. Here are the baits we used to catch fish at Starvation Reservoir, and how we did with each one.
Green Garlic PowerBait – This bait was lights out for us and has quickly become one of my favorite baits. We caught over 20 fish with the green garlic and probably would have caught even more if we didn't end up running out.
Rainbow Garlic PowerBait – The rainbow garlic PowerBait is another one of our go to colors. We caught around 12 nice sized rainbows using this color.
Chartreuse PowerBait – We also had some success with the chartreuse color and ended up catching around 8 fish.
Gear Used
Rod & Reel:
6'6" Ugly Stik GX2 Medium Spinning Combo
6'6" Lews Medium American Hero Spinning Combo
Terminal Tackle:
Treble hooks: Eagle Claw (size 12-16)
Swivel
Bullet weight Egg Sinkers
Baits:
Green Garlic PowerBait
Rainbow Garlic PowerBait
Chartreuse PowerBait
What we learned
Sometimes it only takes a small move
Our first spot didn't produce any results, but we knew the fish had to be close. So instead of making a big change, we made a small adjustment. Just by moving our boat about 30 yards was the reason we had so much success.
Don't leave fish to find more fish
If we had made a big move and ran across the lake to a different spot I don't think we would have got into them like we did. We caught a few and knew they were in the area, we stayed patient and it ended up paying off.
Adjust you leader length
I started the day off fishing a set up that had smaller leader. After getting hung up with a snag, I tried using a longer leader and definitely saw more bites.
Additional Trout Fishing Resources & Techniques
Final Thoughts
Starvation Reservoir is a great reservoir that provides anglers with some awesome fishing opportunities. This was an all-round great trip. We had a blast catching rainbows near the dam and were able to spend some quality time in the great outdoors. It doesn't get much better.
I hope this information is valuable to you in some way or another. Best of luck out there.
Tight lines!