Florida's beautiful beaches retain a special place in travelers' hearts when it comes to fishing. Tens of thousands of traveling anglers flock to this location solely to go fishing. One of the fish they go for is marlin. Marlins can grow to be up to 14 feet long and 2000 pounds. You will need a complete guide to successfully fish for these behemoths.
Marlin Fishing In Florida
Marlin is billfish that can be found anywhere the water is warm. Therefore, it is no surprise that Florida is home to two types of marlin: white and blue. This fantastic fish is very popular among anglers, with many hoping to land just one. Trolling and keeping steady and calm is the best technique for landing a marlin.
Anglers do not even mind going during the early hours to have a chance with this billfish. Thankfully, many charters can make that happen. Furthermore, anglers have marlin tournaments to look forward to when marlin fishing in Florida.
The biggest marlin that can be found in Florida is a blue marlin, sometimes referred to as the Makaira nigricans. This gorgeous fish, like many other billfish, can quickly change color. However, the blue marlin is generally cobalt-blue and has a silvery-white underside.
Two dorsal fins plus two anal fins are present on the blue marlin. There are 24 vertebrae, with 11 precaudal and 13 caudal vertebrae in each sex. A blue marlin's typical weight range is between 400 and 600 pounds. The Atlantic and Indian Oceans have tropical waters where blue marlins can be found. 
White marlin, often referred to as the Kajikia albida, is one of the smaller, lonelier billfish species. White Marlin colorings are a dorsal side that is dark blue and a dirty white back side, with an upper spear jaw that is thinner.
Despite having the same color pattern throughout, the white marlin is dimorphic, with the females often being larger. The dorsal fin, which dominates most of this billfish's dorsal region of the body, is one of the species' most distinguishing characteristics. They have remarkable dark blue dorsal fins with markings that are almost black in hue.
Best Time & Season To Fish For Marlin In Florida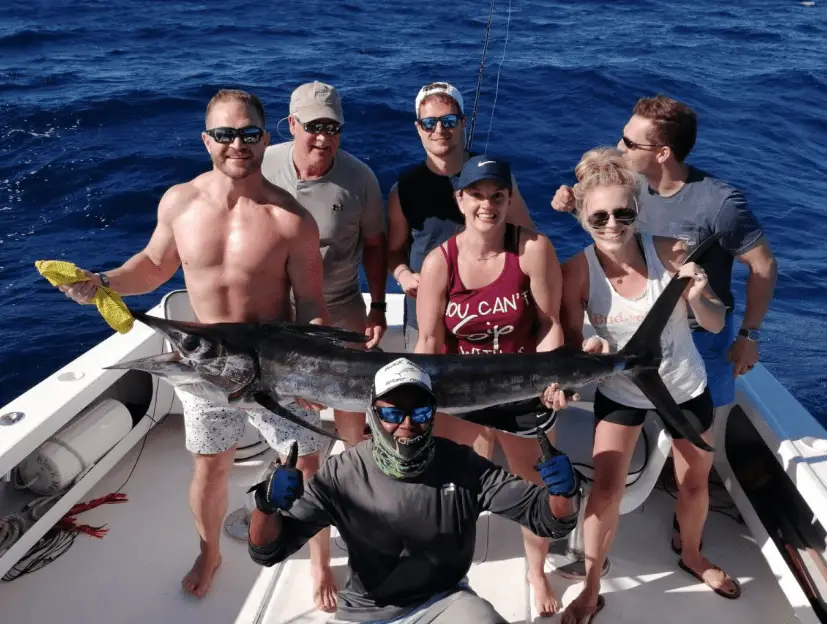 Here is the answer if you're wondering when the best time is to fish for marlin. A fantastic time to go fishing is always. Perhaps more significant than the time of day is the season. Additionally, the tide may have more significance than just the time of day. 
The fishing is excellent every month throughout the year. Having said that, there are undoubtedly specific times of the year when certain fish are easier to catch. Florida does indeed have a long marlin fishing season since the waters around the state are warmer for a longer period which ensures there is marlin available as they generally prefer warm waters. 
Marlin fishing is considered peak season from May to October, with late July to October being optimal. Mature marlin often swim up near the Gulf Coast's banks around this time. The off-season occurs between January and March and October and December. The marlin, however, starts to hibernate and move to deeper waters during this time, making it the poor season for marlin angling in Florida.
Fishing for marlin typically begins in the early morning, so be ready to endure the chilly mist that descends during this time. The best time of day to fish for marlin in Florida is typically before sunrise and also just before sunset.
Where To Catch Marlin In Florida

Unlike most other places, Florida is known for having a lot of interesting fishing areas where you can catch marlin. Although there are many other well-known places, here are the two that get the most angling action.
Key West
This Florida hotspot is becoming increasingly popular among anglers because of its exciting nightlife and diverse cultural heritage. Fishing enthusiasts get the chance to explore the pristine sea waters. In busy seasons, businesses that offer fishing charters offer flat discounts and enticing cashback programs. Fish of many kinds, particularly marlin, are abundant in this area.
Destin
This place in Florida isn't named the luckiest fish-catching village without reason. This town is definitely Florida's most well-loved fishing place when it comes to fishing for marlin. This is because this place has the perfect combination of offshore and inshore fishing. 
Not only is Destin amazing, but you are also able to choose a charter to help you explore and target billfish. Furthermore, anglers from all over the world target Destin to win big bucks in the Destin fishing rodeo.
How To Catch Marlin
The angling methods, lures or baits, and techniques used to catch Marlin in Florida are imperative if you want success. Marlin fishing is sometimes referred to as an art form by anglers, but every skilled angler has certain secret techniques. A few pointers to get you started on catching these apex predators are understanding the bait-and-switch approach and determining the ideal steady trolling pace.
Typically, massive spreads of lures or other rigged natural baits meant to resemble schools of fish are trolled in order to catch the blue marlin. Various hookless teasers are used to entice the marlin, including imitation squid and occasionally even a bowling pin, for whom the irregular motion can resemble a panicked fish.
Shimano Tiagra 80W or 50LRS reels are standard equipment, which are strong offshore fishing rods with huge reels. Your best bet is a 200-pound test line, a heavy-duty deep-sea fishing rod, reel, and live bait. Utilize 8–12 inch long live mackerel. Enable plenty of line to enter the water, relax the drag on your reel, and steadily troll the live mackerel above the water's surface. 
Because they are top feeders, marlin pursues fish to the surface before striking. Once you have marlin on your line, it can pull the fishing rod out of your hands, wiping out an investment of several hundred dollars. Be vigilant, keep a keen eye on your rod, and place it in a harness.
Other Florida Fish to Target
Marlin Florida Fishing Charters
Suppose you're wondering why a charter might be a good route to go. The reality is that fishing is quite difficult. When looking for large fish, even the finest hunters frequently fail. If you're serious about catching a blue marlin, go with a charter fishing boat where the captain and crew are knowledgeable about how to catch and manage these powerful fish, which can be perilous.
If you want to give it a shot, it is recommended you charter a guided service for lesser billfish first before taking on the bigger ones. Before spending thousands on a singular rod and reel that could easily sit in your closet, it would be completely worth the money to educate yourself on the sport. 
A fantastic method to shorten the learning curve is to go with someone familiar with the area's water, tides, seasons, baits, etc.
Here is a list of marling fishing charter recommendations from fishingbooker.com
Cost Of Marlin Fishing Charters
Suppose you're wondering what anglers should expect to pay for a Florida fishing charter targeting Marlin. In that case, Florida marlin charters can be found all around the state. The marlin fishing rates are different for each charter, which can be very confusing. Contacting the charter is the best way to learn the cost of a fishing trip. 
They usually go over all the alternatives, costs, locations, and availability of each boat's quoted rates. However, based on a study of the best Florida marlin charters,  4-hour fishing trips are offered at an average price of $825, with the highest price being $1010 and the cheapest being $905. These Florida marlin fishing trip prices are for a minimum of 6 people.
Here Is A Suggested Price List.
$ 1111 to $ 1313 for 6-hour trips
8-hour trips range from $1358 to $1615
Ten-hour trips cost $2000and more
Florida Marlin Fishing Tournaments
There are many fishing tournaments all over the world. However, no place does a better job at hosting marlin fishing tournaments than Florida. Florida is one of the most popular places for Marlin fishing tournaments. This isn't surprising as marlin fishing in Florida is popular. 
These tournaments allow many anglers to come to test their skills and compete against others. One of the tournaments is the Emerald Coast Blue Marlin Classic, which took place on June 22-26, 2022, in Miramar Beach, Florida. 
This saltwater fishing competition was a celebration and a fundraiser since it was held in undoubtedly one of the most prosperous fisheries and coincided with the peak of the blue marlin season. Blue marlin and white marlin were some of the fish species targeted. Another popular tournament that took place was the  Key West Marlin Tournament. 
This tournament was over 3 days, from July 20 to 23, 2022, in Key West, Florida. This exciting sport fishing competition took place in Key West in conjunction with the yearly Hemingway Days festival. This was great for those not only looking for a fishing tournament but a vacation as well. As you can see, there is a reason why Florida marlin fishing tournaments are a hit.
Florida Fishing Charter Resources