If the world has a favorite fishing spot, Florida is probably it. Florida is one of the biggest fishing capitals of the world. There are so many unique and thrilling species anglers can target in Florida waters. Mahi Mahi (also known as Dolphin Fish) are by far one of the most popular and sought-after fish of them all.
If you haven't had the chance to chase these trophy fish in Florida trying to find out where to go, what to use and how to target these fishing can be overwhelming.
For that reason, I have put together this Mahi Mahi Florida fishing guide where you'll learn tips, techniques, best times to fish, spots, recommend charters and everything you need to know about catching Mahi Mahi in Florida. 
Let's get started.
Mahi Mahi Fishing
Mahi Mahi is one of the world's favorite big game fish. They are super strong, fast, delicious and are a blast to catch. They are also super photogenic with their bright colors. An average adult Mahi Mahi weighs between 15 to 30lbs. Any Mahi over 40lbs would be considered a trophy catch. Florida can be a great place to go out and chase these beautiful fish.
Best Time to Fish for Mahi Mahi in Florida
The best time to fish for Dolphin (Mahi Mahi) in Florida is during their high season which starts in April and runs until the end of August. However, the fishing can be good for most months of the year. The toughest time of the year to fish for them is in October when it is considered to be their low season. There is no closed season for Mahi Mahi in Florida
Here is how well you can expect the fishing to be for Mahi Mahi in Florida each month.
Best Months to Fish Mahi Mahi in Florida
| Month | Fishing |
| --- | --- |
| January | Good |
| February | Good |
| March | Good |
| April | Excellent (High Season) |
| May | Excellent (High Season) |
| June | Excellent (High Season) |
| July | Excellent (High Season) |
| August | Excellent (High Season) |
| September | Good |
| October | Poor (Low Season) |
| November | Good |
| December | Good |
Where to Catch Mahi Mahi in Florida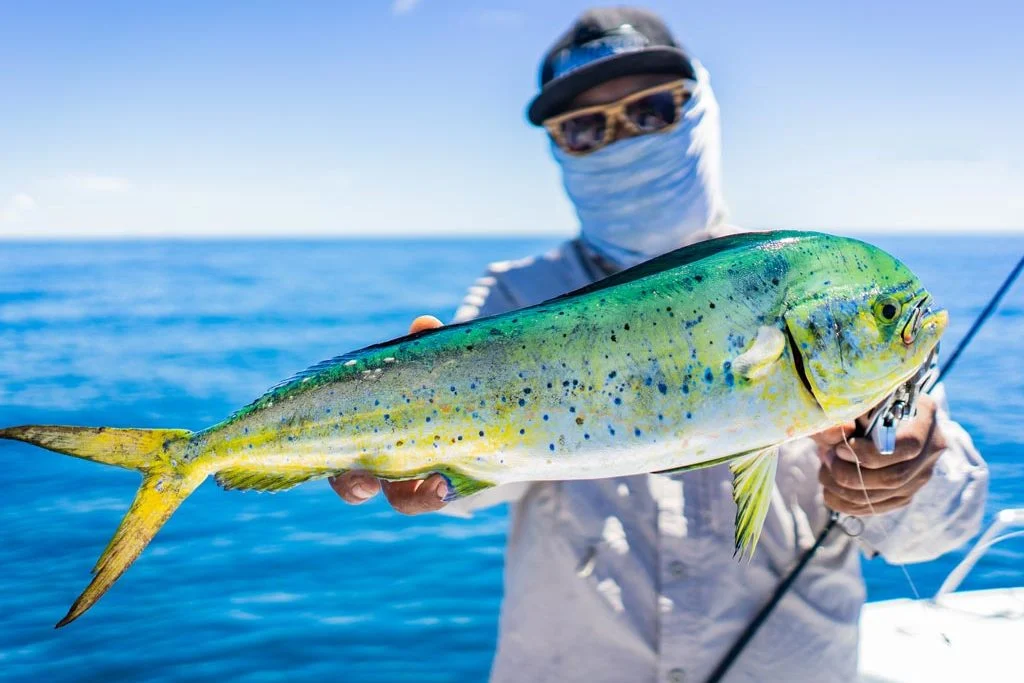 Florida is well known for being one of the best places in the world to fish for Mahi Mahi. These highly sought-after fish are a great challenge for any angler. The biggest Mahi Mahi are typically caught off the northeast par to Florida, but productive waters can be found all throughout the state.
Here are some of the top spots to catch Mahi Mahi in Florida.
Key West
Key West is hands down one of the most popular and productive spots to fish for Mahi Mahi in Florida. These fish love tropical waters making the coast of Key West an ideal home to these fun and unique fish. If you are wanting to target Mahi Mahi specifically, Key West would be my number one recommended place.
Recommended Fishing Charter in Key West, FL: Jolly Roger II
Stuart
Stuart is another popular spot to target Mahi in Florida waters. The coastal currents and weedline presence can draw in dolphins from miles away. This area is home to a healthy population of Mahi from Spring through September and some big bulls are caught here every season.
There are plenty of great guides and outfitters out of Stuart that can put you on trophy Mahi Mahi and other pelagic fish action. Stuart often gets overlooked but can be a great place to target Mahi Mahi in the spring and summer months.
Recommended Fishing Charter in Stuart: Kovach Fishing Charters
Port Canaveral
Another Florida fishing hot spot is Port Canaveral. Port Canaveral is nicknamed the safest port on the east coast and is located near Orlando, Disney/Universal Studios. This port is home to some incredible fishing charters and a healthy population of Dolphin fish.
Recommended Fishing Charter in Port Canaveral: Canaveral Offshore Adventures
St. Augustine
Another big player in the Mahi fishing world in Florida is St. Augustine. Much like Port Canaveral, this is a pass way for the Mahi Mahi along with a variety of other sportfish. St. Augustine has a range of diverse opportunities like deep sea, surf, pier, and bridge fishing, plus freshwater.
Recommended Fishing Charter in St. Augustine: Hooker Charters & Guide Service
Miami
Another fun and popular place to catch Dolphin fish is in Miami. In Miami Mahi Mahi fishing is pretty much a year-round staple, where fishing is always good. Bigger fish are typically caught in the spring and fall, but some of the best time to fish for Mahi in Miami is during the summer months. During the summer Mahi Mahi will school up in large numbers and are much more active.
Recommended Fishing Charter in Miami: Billin Office Fishing Charters
How to Catch Mahi Mahi
Trolling is one of the most popular angling methods to fish for Mahi Mahi. It's a pretty easy and relaxing way to fish that can be super productive. Trolling allows you to cover a lot of water, increasing your chances of success. However, trolling is the only way anglers target Mahi Mahi, bait fishing and fly fishing can also be effective.
Angling Methods
Trolling
Bait Fishing
Fly Fishing
Best Mahi Mahi Baits
Squid
Ballyhoo
Cut fish of all varieties
Best Mahi Mahi Lures
Diving plugs
Soft plastic jigs
Artificial squid
Spreader bars
Daisy chains
Other Florida Fish to Target
Mahi Mahi Florida Fishing Charters
If you don't have the boat, equipment, expertise or experience and are wanting to have success catching Dolphin fish (Mahi Mahi) , hiring a local charter in Florida can be a great option.
You aren't just paying them to take you out but you are hiring them for their experience and expertise. These captains are always dialed in and know exactly what to use, where to target and how to give you the best chance at catching fish.
 If you lack the experience or simply want a relaxing no pressure day on the water I'd highly recommend booking a charter for the day. It will be well worth the investment.
Cost of Mahi Mahi Fishing Charters
Booking a fishing Charter can be a fun and easy way to cross Dolphin off on your bucket list, but it does come with a cost. What should you expect to pay if you do hire a charter for the day?
On average anglers can expect to pay around $900 dollars for a private 4-hour trip while chasing Mahi Mahi. Full day charters typically cost between $1200 to $1500 for 7 or 8 hours. Most private charter boats will hold 1-6 anglers making the average cost per person $150 for a half-day and around $250 for a full day. (These numbers are based on prices on FishingBooker.com)
Best Mahi Mahi Florida Fishing Charters
With so many great places to fish in Florida it's no wonder that there are also a ton of fishing charters and captains you can choose from.
If you are planning on going on a guided trip where you will target Mahi Mahi and other popular sportfish here are the Florida fishing charters I would recommend checking out.
What to Bring on a Fishing Charter
Most of the charter boat captains will have water and some ice. You can store some drinks but there are plenty of things you'll want to make sure you bring. 
Here are the items I would recommend taking with you.
Fishing License (if needed)
Snack & Drinks
Sun Protection
Protection from Weather
Waterproof storage
Personal Care Items
Towels or Wipes
Flashlights or Headlamps
Camera
First Aid Kit
For more information on what to bring on a fishing charter trip check out this article: Fishing Charter Checklist: 15 Essential Things to Bring. 
Best Mahi Mahi Fishing in the World
Mahi Mahi are highly sought after for both sportfishing anglers and for commercial purposes. They are a blast to target and catch and make for some eating. In Florida you'll have access to a ton of great spots to target these beautiful fish. However, there are also other parts of the world that offer great Mahi Mahi fishing as well.
Here are the top spots to target Mahi Mahi in the world
Mexico
Florida (Atlantic Coast)
Costa Rica
Panama
Dominican Republic
Hawaii
Southern California
Louisiana
Final Thoughts
As we have mentioned previously, there are plenty of reasons why Mahi Mahi are one of the most popular sportfish in the world. They are fast, flashy and provide some exciting action to anglers targeting these beautiful fish. Once you experience the thrill of catching these fish it's hard not to want to come back and do it again. Now is the time to cross Mahi Mahi off your bucket list, book a charter and hit the water for an experience of a lifetime.
Additional Mahi Mahi Fishing Resources