Florida is one of the premier deep sea fishing destinations in the world and provides anglers with unique species to target and monster fish to catch. Florida is surrounded by both the Atlantic Ocean and the Gulf of Mexico where you can catch a variety of fish like tuna, grouper, snapper, and sharks, there seems like there is no end to the fishing possibilities. 
If you haven't had the chance to chase trophy fish at sea in Florida trying to find the right charters and fishing information can be overwhelming. For that reason, I have put together this fishing guide so you can learn what Florida deep sea fishing is all about. 
You'll learn everything you need to know about deep sea fishing in Florida including what you can expect to catch, best times and seasons to fish, fishing charter recommendations and what to bring and expect when you hit the water. 
Let's get started.
Best Time & Season to Fish Florida
In general the best time to go deep sea fishing in Florida is April through September. During these months most gamefish will be in peak season meaning you'll have a much better chance of a successful fishing trip. 
With that being said, the best time to go deep sea fishing will depend on the species you are targeting. Although most fish can be caught year round there are definitely times of the year that are much better than others. 
Here is a look at some of the most popular sport fish to target in Florida and when the best time is to fish for them. 
Deep Sea Florida Fishing Charter Prices
Booking a deep sea fishing Charter in Florida can be a fun and easy way to catch some fish, but it does come with a cost. What should you expect to pay if you do hire a fishing charter?
On average anglers can expect to pay around $600 dollars for a private 4 hour deep sea fishing trip. Private full day charters typically cost between $800 to $1000 for 7 or 8 hours. Most private charter boats will hold 1-6 anglers making the average cost per person $150 for a half-day and around $130 for a full day. (These numbers are based on prices on FishingBooker.com)
With that being said the cost of a Florida deep sea fishing trip can vary depending upon the captain, location, type of fishing, season, how many hours you book and whether or not you book a private or public charter.
For more information on the price of fishing charters check out this article: How Much Does a Deep Sea Fishing Trip Cost?
Public Vs. Private Fishing Charters
The difference between a party fishing charter and a private fishing charter is lower cost, more people on board (10-65 people), and possibly less attention from the crew. These bigger party boats tend to angle at certain spots only, like reefs, where a private charter has more flexibility.
Private fishing charters also employ a wider range of fishing techniques and typically hunt big game fish. Hence, many of these charters are equipped with fighting chairs. Whichever type you choose, you are bound to catch fish and have an incredible time on the waters of Florida
Best Florida Deep Sea Fishing Destinations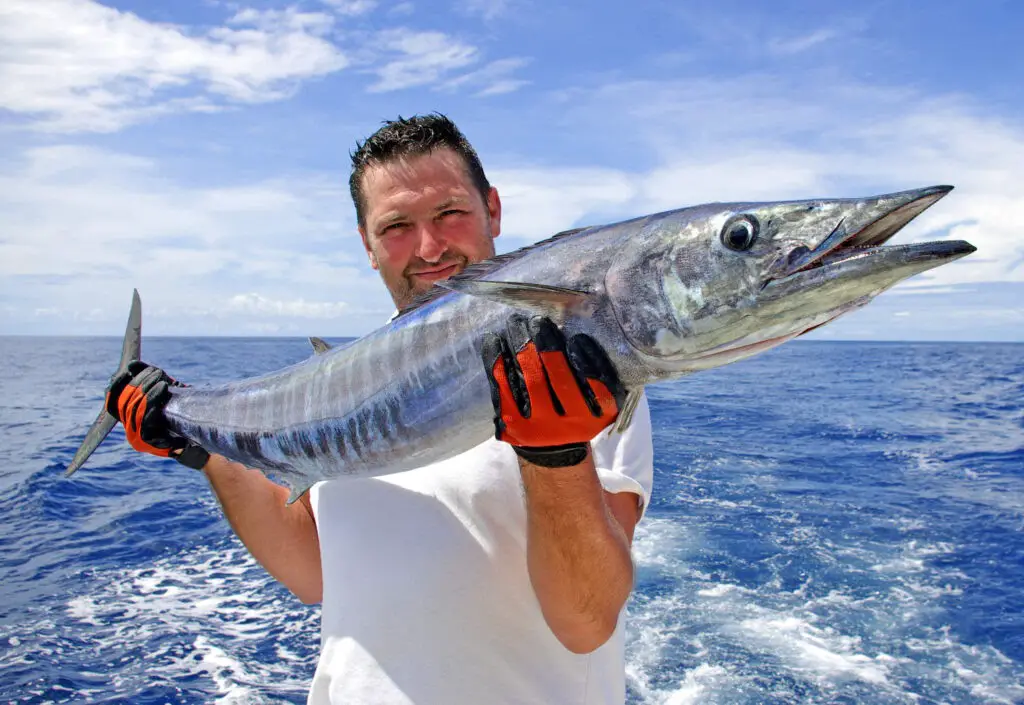 Florida is surrounded by productive fishing waters in both the Atlantic Ocean and the Gulf of Mexico. Deep Sea fishing has captivated anglers for years because of the thrilling search for monster fish you can't typically catch inshore. 
Here are some of the best waters and areas to go deep sea fishing in Florida. 
Key West
Key West is an incredible fishing destination for anglers and is considered to be Florida's the crown jewel of sportfishing. Key West sits between the Gulf and the deep blue of the Atlantic. Its tropical scenery and unbeatable mix of fish makes it a top fishing destination in the United States. 
If fly fishing is your thing, Key West offers some incredible fly fishing opportunities for popular fish like Bonefish, Tarpon, and Permit. If you'd rather focus on some good tasting fish, bottom feeders like Snappers, Groupers, Cobia and King Mackerel are all great options. 
If you are a serious and experienced angler don't forget about Tuna, Mahi Mahi, Blue Marlin and Sailfish. These fish will be sure to give you an adventure and take some skill and experience to catch. 
Top Fishing Charters in Key West
For more information about the best fishing charters and party boats in Key West check out this article. 
Islamorada
Fishing in Islamorada, Florida, is an exotic and unforgettable experience. Frequently referred to as the "sport fishing capital of the world," fishing in Islamorada includes coral reef fishing excursions, saltwater fly fishing, and pristine backcountry open water.  
The following selection of fishing charters and fishing parties belong to Fishing Bookers Angler's Choice Award Winners. The following winners meet the high standard requirements through continued adherence to customer satisfaction. They offer an exclusive experience.
Top Fishing Charters in Islamorada
For more information and insight about deep sea fishing charters in Fort Myers, Florida check out this article: The 12 Best Fishing Charters in Islamorada, Florida. 
Marathon
Marathon in another incredible fishing destination in Florida. Here you'll experience excellent fishing, unforgettable views and some unique species to target. Marathon is a 13-island paradise that will certainly live up to the hype. 
The shallow waters around the islands are home to Tarpon, Snook, Redfish, and different species of Shark. Hit the nearshore reefs and wrecks for some rod-bending action against Mackerel, Barracuda, Snapper, and Grouper, or head out further offshore for a taste of Marlin, Tuna, Wahoo, and Mahi Mahi.
If you plan on fishing in Marathon I'd highly recommend hiring an experienced guide that can help you catch a fish of a lifetime. Here are some great options. 
Top Fishing Charters in Marathon
Panama City Beach
If you are looking for a great place to fish in Florida that offers some incredible fishing opportunities to catch a variety of species including some of Florida's most sought after sport fish then Panama City is the right place for you. 
You'll get plenty of opportunities to catch big fish in the deep waters of the Emerald Coast. Marlin, Mahi Mahi, Tuna, Wahoo and Sailfish are all frequently caught in this area. 
You can also head over to the big reefs and try your luck fishing for snapper, grouper and big Amberjack. If you are super adventurous and want a big challenge you can try Swordfishing as well. 
Top Fishing Charters in Panama City Beach
St. Petersburg
If you are an angler looking for some of the best fishing acting in West Florida, St. Petersburg is one of the best spots where you can wet a line. There are as many types of fishing to try out in St. Pete as there are species. Whether you prefer fishing on your own, with a guide, or surrounded by fellow fishermen on a pier, St. Petersburg is a great place to fish. 
Here are some of the best local fishing charters located in St. Petersburg, Florida. 
Destin
Anglers from all over the world come to visit and enjoy the fishing charters Destin, Florida has to offer. Here is where some of the most sought-after game fish in the world can be caught which offers some incredible opportunities for anglers wanting a thrill of a lifetime.  
Depending on the time of year you visit, you land popular species such as Flounder, Sheepshead, Triggerfish, or Seatrout, along with tough-fighting Redfish, Jack Crevalle, and even Tarpon. And that's just inshore!
If you head offshore to deeper water you can try landing a true monster. Mackerel, Cobia, Amberjack, Groupers, and Red Snapper are some of the prizes you'll find nearshore. Meanwhile, Wahoo, Mahi Mahi, Tuna, Sailfish, Marlin, and even Mako Sharks await in the deep. The great fishing and endless opportunities make Destin a great designation for all anglers.  
Top Fishing Charters in Destin
Fort Myers
Fort Myers is an anglers paradise and gives you access to one of the best fisheries in the world – the Gulf of Mexico. Fort Myers is known for being a spot where you could land what locals call the "Backcountry Slam". Which is catching bonefish, snook, tarpon, trout, and redfish during the same year. There are some incredible areas to fish around Fort Myers as well as numerous deep sea fishing charters that can help you conquer the sea and land some lifetime catches. 
Top Fishing Charters in Fort Myers
For more information and insight about deep sea fishing charters in Fort Myers, Florida check out this article. Best Fishing Charters in Fort Myers Florida. 
Naples
Located in the heart of Paradise Coast Naples offers year-round fishing opportunities that you'll never forget. Here you'll find mangroves, shallow flats, inland canals loaded with fish, as well as productive reefs and even shipwrecks. Naples offers everything an avid angler needs.  
If you are taking the kids out or want a family adventure I'd recommend taking a half day trip where you'll be closer to town. On half day trips you can target fish like Snook, Redfish, Seatrout, Drum, Sharks and Flounder. 
If you want more of a challenge there are some great fly fishing opportunities for Tarpon or Silver King. 
If you have time , investing in a full day trip will allow you to target species like Snapper, Grouper, Cobia, Amberjack, King Mackerel, and Permit. If you have some big game to check off your bucket list like big tuna and monster Mahi Mahi an extender fishing charter or trip is what you'll want. 
With its great fishing reputation it's no surprise there are plenty of local guides and charters that can help keep you safe, follow Florida's fishing restrictions and ensure you have a great day on the water. 
Here are some of the best fish charters out of Naples Florida. 
Top Fishing Charters in Naples
Best Fish to Catch in Florida
Florida is home to some of the best fishing in the World. Anglers from all over will come and enjoy all that Florida fishing has to offer. Some of the most coveted and sought after sportfish can be found in Florida. 
Here are the most popular species you can expect to catch while fishing in Florida waters
Tarpon
Targeting Tarpon in Florida will be easily one of the most exciting experiences you'll ever have as an angler. The Tarpon population in Florida is impressive with not only the amount of Tarpon but also the size and quality of these awesome fish. Tarpon are big fast and will give any angler a run for their money. 
Dolphin (Mahi Mahi)
Mahi Mahi is one of the world's favorite big game fish. They are super strong, fast, delicious and are a blast to catch. They are also super photogenic with their bright colors. An average adult Mahi Mahi weighs between 15 to 30lbs. Any Mahi over 40lbs would be considered a trophy catch. 
Sailfish
There are few fish in the ocean that can be as exciting as reeling in a big Sailfish. These fish are freakishly quick, agile, and can swim up to 70 mph. Sailfish fishing in Florida varies throughout the year. High season is January to February, July and November to December. Low season is April to May and October. Sailfish should be a bucket list fish for any serious angler looking for a catch of a lifetime. 
King Mackerel
King Mackerel also known as Kingfish is super sought out in the sportfishing world and are known for the power and sometimes spectacular aerial displays. These fish are also a popular commercial catch and are highly abundant and easy to reach from the Florida coast.  
For more information on fishing for King Mackerel in Florida check out this article. 
Redfish (Red Drum)
Redfish are a very popular species to target and have a healthy population in the Gulf and Atlantic waters. They are a strong and hard fighting fish, with fast and aggressive runs,  giving any angler a thrill that has one hooked. Most Redfish that are caught typically weigh between 3-12 pounds. 
Grouper 
Another popular family of fish to target are Groupers. There are a variety of different types of groupers each having a unique look and are found in different areas. They are known for their stout bodies and big mouths. These things are tanks and can weigh up to 1000 pounds. Grouper are typically caught in deep water, over structure and reefs. Grouper are very fun to catch, offer a big fight and are one of the best tasting fish in the ocean. 
Spotted Sea Trout'
If you want to mix things up and try fishing with light tackle targeting Spotted Sea Trout can be a lot of fun. The Spotted (or Speckled) Seatrout might just be America's favorite light tackle game fish. They are fairly easy to find, a blast to catch and are delicious to eat. This species is a great option for younger kids, novice and expert anglers to target. They can reach up to 40' and grow to be around 18lbs. However, most anglers will catch specs up to 6lbs and anything great is referred to as a "Gator" Trout.
Red Snapper
Red Snapper are one of the most sought after fish in the Gulf of Mexico and along the Atlantic Coast. Their vibrant red tones, excellent flavor, distinct looks and sportfish game qualities make them a fun fish to target. Anglers can expect to catch Red Snappers between 3-10 pounds, but they can also get much bigger. Every once in a while you could run into a 20-40lb trophy. 
Amberjack
Amberjack or "Reef Donkeys" are not the best looking fish but they do put up a great fish. These fish are found in both the Atlantic and Pacific oceans around tropical reefs. Amberjacks are a structure oriented fish and tend to hang out on the bottom anywhere from 60-250 feet. They can grow up to 6 feet long and can weigh up to 200 pounds, but are most commonly found to be around 40 pounds. 
Wahoo
Wahoo are another sport fish that any angler should have on their bucket list. They are known for their dangerously sharp teeth and are a force to be reckoned with. These large fish are excellent predators and opportunistic hunters. Wahoo can reach an amazing 100", but the average adult will be between 40 and 65" and 15-35lbs. 
For more information about other Florida game fish to target check out this article: Top 21 Saltwater Game Fish to Target.
Other Florida Fishing Resources