If you have ever walked down your local tackle shop or looked online, you'll notice there are literally thousands of different rods, reels, bait and lures to choose from. With so many options it can sometimes be overwhelming.
For that reason I have put together this bass fishing gear and tackle guide to show you exactly what I'm using and whats been proven to work.
The five things I recommend every anglers gets for bass fishing are:
This line cutter/snippers on Amazon.com. Don't make the same mistake as I did and go years without having a solid pair of line cutters. This is a super affordable item that will make cutting and re-tying so much easier.
These fishing Pliers on Amazon.com. Removing baits and lures from bass can be a challenge at times, especially if its down deep. Having a quality set of fishing pliers will help keep you and the fish safe and is a must have for any angler.
A solid bass fishing spinning rod & reel combination. My favorite spinning rod & reel combo is the Dobyns Fury 7″0 paired with the Lew's Mach 2 Spinning Reel. This combination offers incredible value and high performance.
This baitcasting combo: Shimano SLX Rod & Reel on Amazon. A must have for any serious bass fishing angler is a baitcasting combo. This combination will allow to fish a variety of techniques, baits and lures.
The KastKing Polorized Sunglasses on Amazon.com. Being able to see fish and structure in the water is a game changer. These glasses will not only protect your eyes on longs days out on the water, but will also help you make the right casts and see whats down below.
Bass Fishing Tackle & Gear List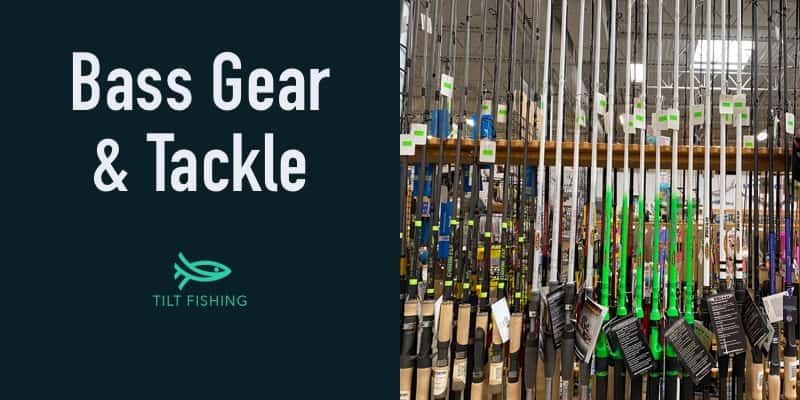 Rods & Reels
Spinning
A spinning rod & reel plays a big part in my bass fishing. Living in Utah the bite can't get tough making finesse techniques on a spinning setup critical. Investing in a sensitive rod is well worth the price. The Shimano SLX and the Dobyn's Fury are two dynamite rod's perfect for any spinning setup.
As far as reels go my favorite spinning reel for the price has been the Mach 2 by Lew's. However, the Lew's Team Lew's Custom Pro Speed Spin Spinning Reel is my ideal choice it's just a little more expensive.
Baitcaster
A solid baitcasting combo is a must have for any bass fishing angler. I highly recommend the Dobyn's Fury series of rod's. You simply can't beat the performance for the price point. As for reels, the Lews Speed Spool and Shimano SLX are two proven reels that work great for bass fishing.
The best budget reel that I have found is the Abu Garcia Max Black. I have a few of these reels they last a long time and are a great value. They just don't come with as many features as the other reels.
Fishing Line
My favorite overall fishing line is fluorocarbon (Sunline FC Sniper or Seaguar Invizx). Fluorocarbon is both sensitive and invisible helping you get more bites in clear water. I typically use 6-8lb test for finesse techniques like the drop shot or ned rig and will throw 12-20lb test for crankbaits, jigs, spinnerbaits, and other reaction style lures.
When I'm throwing big baits, throwing topwater lures or fishing around heavy structure braided line is my ideal choice. PowerPro is hands down the best braid out there. Braid is also great for finesse techniques when paired with a fluorocarbon leader.
If i'm throwing big swimbaits, punching or throwing a frog 65 or 80lb is my go to. When finesse fishing I stick with 10lb braid and a 6 or 8lb fluorocarbon leader.
Crankbaits
One of my favorite ways to target bass with is a crankbait. If the bass are up shallow I'm throwing a Strike King KVD 1.5 Shallow Square Bill Crankbait. If the bass are out deeper a the Spro Rock Crawler or Strike King 6XD Pro Model are dynamite options.
If I am fishing in the spring around grass or out deep there is no better bait than the LV500 by Lucky Craft
Swimbaits
If you are targeting big bass there is no better way to catch a giant than with a big swimbait, but the smaller ones are also extremely effective for catching a ton of fish as well.
If you have never thrown a glide bait before the S-Waver 168 by River2Sea (Color: Light Trout) is where you should start. This bait flat out smashes them. If you are after a fish of a lifetime the best glide bait is the Deps 250.
My all-time favorite finesse swimbait and one that I have caught a ton of fish on is the Keitech Fat Swing Impact (3.8). I pair it up with a Dirty Jigs Tactical Bassin' Finesse Swimbait Jig Head. This is a great way to catch both largemouth and small mouth bass anywhere in the country.
Top Water
There is nothing more exciting than seeing a big bass blow up on a topwater lure. My go to topwater lures are the River2Sea Whopper Plopper or Heddon Super Spook.
When targeting bass in the mats or in heavy vegetation a frog is tough to beat. My favorite frog is the River2Sea Bully Wa 2 Frog (TW Bluegill).
Favorite Bass Fishing Rigs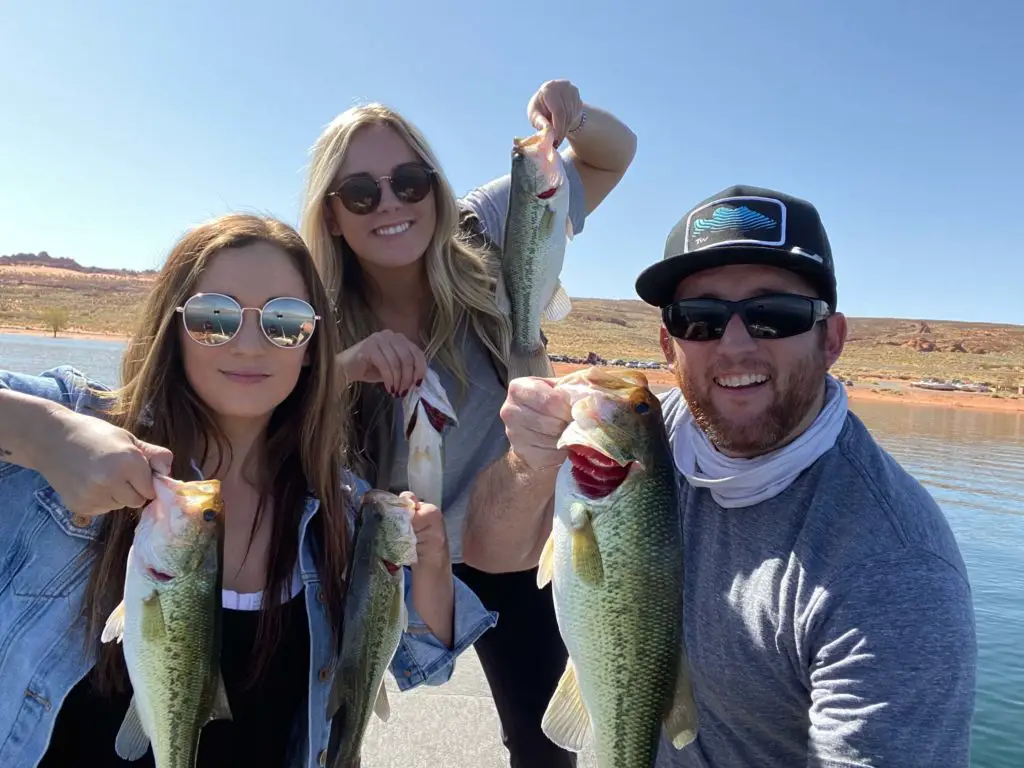 Drop Shot
I won my first college bass fishing tournament throwing a drop shot and it has been one of my favorite bass fishing techniques ever since. The best drop shot bait I've ever used is the Roboworm Fat Straight Tail Worm. The robo worm paired with a Gamakatsu Split Shot/Drop Shot Hook and Tungsten weight makes a deadly combo.
For more info on fishing a drop shot check out these articles:
Ned Rig
The Ned Rig flat out catches fish and is my number one bait I give friends and family to throw if they are new to bass fishing. The original Z-Man TRD paired with the Z-Man Finesse ShroomZ Jighead is my favorite setup.
For more in-depth information on how to fish a ned check out this: Ned Rig – The Ultimate Guide
Texas Rig
The Texas Rig is a staple for me and is something I always make sure I have tied on. My favorite Texas rig bait is the Reaction Innovations Smallie Beaver paired with a bullet weight, ewg hook and bobber stopper.
For more insights on how to fish the Texas Rig check out this article: The Texas Rig: Rigging, Baits, and Tips to Catch More Bass
Wacky Rig
I've caught more fish on a wacky rigged Senko than probably any other bait. For whatever reason bass simply can't resist this presentation. My go to combination for this rig is a Gary Yamamoto Senko 5″(Green Pumpkin with Red Flake) with a Gamakatsu Finesse Wide Gap hook.
For more insight on how to fish this rig check out this article: How to Fish a Wacky Rig (Easiest Rig Ever)