A wacky rig is a finesse bass fishing technique that every angler needs to know how to fish. It's one of the most effective and simplest fishing rigs.
In this wacky rig guide, you'll learn everything you need to know about how to fish the wacky rig including:
What is a wacky rig
The gear and tackle you'll need
When to Fish a Wacky Rig
How to Fish a Wacky Rig
And more tips and tricks
Let's get started.
What is a Wacky Rig
The Wacky Rig is a simple, yet killer bass fishing rig. It consists of a small hook (typically a wide gap finesse #1, 1/0, 2/0) and a Senko or stick style soft plastic worm. Some anglers will add an O-ring to the center (which I recommend as well) which helps your soft plastic worms last longer. It will also increase your hook up ratio, so you'll hook and land more fish.
Wacky Rig Setup
One of the great things about a wacky rig is the gear you'll need is simple and affordable. It doesn't require any specialized equipment and can pretty much be thrown on any setup for the most part.
Here is the tackle and gear you'll need to be able to fish this rig:
Rod & Reel
Because this rig is fairly light, I find it easiest to throw the wacky rig on a spinning rod. However, you can also throw it on a bait caster as well. The ideal wacky rig rod and reel setup is a 6'6" to 7' medium heavy/fast spinning rod paired with 6 to 10 fluorocarbon line.
Here is my favorite wacky rig combo:
Rod: Dobyn 7'0″
Reel: Lew's Mach 2 Spinning Reel (6.2:1)
Line: Seaguar Red Label Fluorocarbon Line (6-10lb)
Make sure to check out My Recommended Bass Fishing Gear and Tackle Guide to ensure you have the right gear for your next fishing adventure.
Finesse Hook
One of the most important components of the wacky rig is the hook. You want a fairly light wire hook that still has some power and won't get bent over by big fish.
Most hook companies make a specific wacky rig hook that is designed for this technique. My favorite wacky rig hook is a Gamakatsu Finesse Wide Gap in #1, 1/0, 2/0 or a Gamakatsu Split Shot/Drop Shot #2, 1, 1/0, 2/0.
Although I use these two hooks 95% of the time when throwing a wacky rig. There are two other types of hooks I'll use in certain situations. A wacky jig head and a weedless hook.
When I'm wanting to get my bait down deeper that's when I'll use a wacky jig head. You still get the same great action but your fall rate is much shorter. Allowing you to fish deeper and get down to where the bass may be sitting.
In situations where I am fishing around or in grass or some other type of structure. I like to use a wacky rig hook that has a weed guard. It doesn't completely make it weedless but it does a good job at keeping your bait clean and prevent it from getting hung up.
Best Wacky Rig Hooks
Gamakatsu Finesse Wide Gap
Gamakatsu Split Shot/Drop Shot
Gamakatsu Finesse Wacky Jig Head
Owner 5172 Weedless
Soft Plastic Bait (Senko or Finesse Worm)
One of the most important components of the wacky rig is the soft plastic bait. Having the right bait, size and color tied on will ensure you have success throwing this rig.
The Yamamoto Senko is by far one of the most popular and effective wacky rig baits. What really makes this bait special is the way it quivers down as if falls, making it almost irresistible for any nearby bass.
Although stick baits like the senko are the most popular. There are also a ton of other great baits you can use to pair up with your wacky rig. Here is a list of some of my all-time favorites.
Best Wacky Rig Baits
Yamamoto Senko
Yum Dinger
Strike King Rage Craw
Zoom Finesse Worm
Zoom Trick Worm
Zoom Super Fluke
Another important thing to consider when selecting a wacky rig bait is color. Color can be a big factor and can determine how many fish you end up catching.
If you want to increase your chances of catching bass, you'll want to adapt your color selection based on your current fishing conditions.  
To help make sure you choose the right color, I have put together this color guide: Best Senko Colors for Bass (10 Must Have Colors)
O-rings & Wacky Rig Tool
An O-ring is a small piece of tackle that will end up saving you a lot of money in the long run. Sure you can go without using one, but you'll end up going through a lot more baits. I have also found that my hook up ratio increases when I use an O-ring.
In order to be able to put place an O-ring on your soft plastic baits you're going to need to purchase a wacky rig tool. This tool will allow you to put your soft plastic stick bait in the tool and slide one or two of the O-rings over the top. This makes it easy to put the O-ring in the center of the bait.
If you are planning on fishing a wacky rig frequently then having O-ring and a wacky rig tool is a must. It will help your baits last longer and is well worth the small price.
How to Rig a Wacky Rig
Rigging a wacky rig is pretty simple and straight forward but there are a few things to pay attention to that can make a big difference.
Here are 5 easy steps to setup a wack rig:
Get your tackle together (senko, O-ring/wacky rig tool, hook)
Slide bait into wacky rig tool
Pop O-ring onto the plastic bait
Rig the hook just under the O-ring
You are ready to fish
How to Fish a Wacky Rig
The bread and butter of the wacky rig is the fall. This is an important thing to remember because you are going to catch the majority of your fish as its falling.
If you can get your wacky rig to flutter down right in front of bass, they are going to have a hard time resisting.
Here are some steps and tips to help you fish the wacky rig:
Cast out to your target and let your bait fall on slack line.
Watch your line carefully and look for any pops, jerks or twitches.
If you do feel something different, be ready to set the hook.
Let your bait fall all the way to the bottom.
Once you're on the bottom, lift up your bait with your rod and bring the bait toward you and let if fall back down.
Repeat this until your bait is out of position.
When you do feel a tick, jerk or see your line move. Set the hook and land your bass.
When to Use a Wacky Rig
One of the great things about the wacky rig is that it's a technique that works extremely well year-round. Although you can pretty much catch fish on it anytime and at any place there are certain situations where it really shines.
This is a rig that I'll turn to when the fishing conditions are tough and I'm fishing in high percentage areas around cover like docks and grass lines.
Water clarity is another important factor to consider. It's ideal in clear water conditions but can also work well in stained and muddy water as well. Although in super stained water it's not my ideal choice.
Because this is a slow finesse technique it's best used in areas where you know there is fish or when the fish are up shallow.
Here are some of my favorite times to use a wacky rig:
Best Times to Use a Wacky Rig
Spring & Fall
Fish are shallow
Clear water
Heavily pressured fish
Where to Fish a Wacky Rig
As I mentioned earlier the wacky rig really excels when fished up shallow. Not that it can't work deep, but the slow fall rate makes it difficult to effectively target deeper fish.
There really isn't a bad place to fish a wacky rig, it can pretty much work anywhere. However, there are certain areas where this rig can be a big time fish catcher.
Here are some of the best areas to target with wacky rig:
Best Wacky Rig Areas
Up shallow
Under docks
Around cover
Weed lines/grass edges
Drop-offs
Overhanging trees
If you are fishing in areas that are deeper, you can add a wacky rig jig head that will make your bait sink faster and get to the strike zone quicker. The added weight also gives your stick bait more of a quivering action which can trigger a lot of bites.
Tips on Fishing a Wacky Rig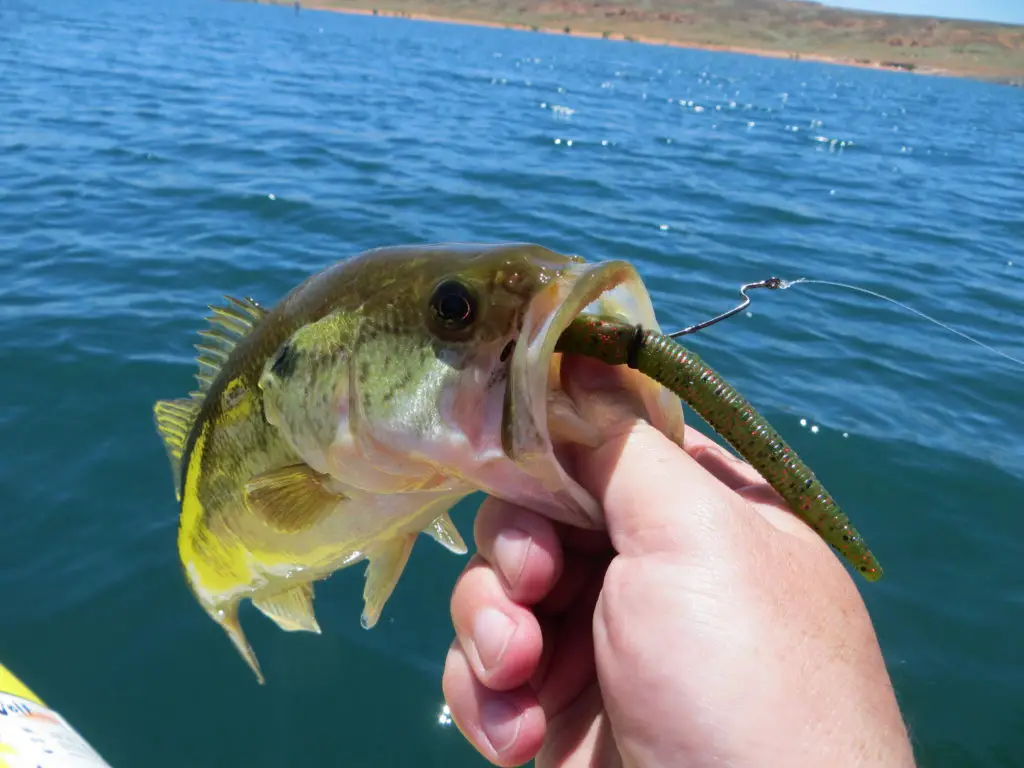 Over the years I have caught hundreds of bass fishing the wacky rig and have learned a lot during the process. There are small adjustments that you can make while fishing this rig that can make a huge difference.
Here are six wacky rig fishing tips that will help you catch more fish:
Mix it Up
A great tip that I learned years ago while fishing with a friend is to mix up how and where you place the hook. I always start by rigging my hook in the middle of the bait, but slightly adjusting your hook into different positions is a great way to mix up the action of your presentation and give the bass a different look.
Target High Percentage Areas
The wacky rig is a slow finesse bass fishing technique, because of this it's best to throw it in areas where you know there is fish. Use a search bait like a crankbait or spinnerbait to find where the fish are at.
Then you can slow down with the wacky rig and pick these high percentage areas apart. This will help you be more efficient and catch a lot more fish.  
Use the Right Color
Make sure to remember to adapt your bait color selection to the conditions you are faced with. In clear water, high visibility situations natural colors like green pumpkin and brown will be best. If are fishing in low water clarity or early in the morning darker colors like black and blue and junebug will outperform.
Try Different Sizes
Stick baits like the senko come in a variety of different sizes and depending on your fishery you might want to experiment with different ones.
For example, if you are targeting big fish on Clear Lake try using the larger 6" or 7" sizes. On the other hand, if you are targeting smaller fish or are struggling to get bit, down size to the 5" or 4".
Less is More
A common mistake that I see anglers make while fishing the wacky rig is that they over work the bait. The bait will do most of the action. Just make sure you are letting it fall naturally and are ready for when a bite comes.  
Try the Neko Rig
If you are fishing a wacky rig senko but find that the fish are holding more toward the bottom in deeper water. Try switching to the neko rig by simply adding a nail wait to the bottom of your senko.
This will allow you to fish your wacky rig at the bottom of the water column where you can catch those deeper fish. Here are some more tips on how to fish a neko rig.
Final Thoughts
When things get tough or you just want to catch a lot of fish you need to go with a finesse presentation. One of my favorite finesse techniques is a wacky rig.
A wacky rig is a great way to catch a ton of bass and is a rig that every angler needs to have in their arsenal. I would highly recommend you try out the things we have discuss in the article and you'll have a lot of fun and catch ton of bass.
Tight Lines