Braided fishing line has become a bass fishing staple and is widely used for may bass fishing rigs and techniques. Whether you are finesse fishing a drop shot on a spinning reel or flipping heavy grass with a jig on a bait caster, using braid will elevate your fishing game. Braid will allow you to detect more bites, pull big bass out of heavy cover and it's also a great way to save money in the long run.
One thing that I've learned over the years while fishing with braid is the importance of making sure you select the right size, color and type of braided line for each lure and technique. It's easy to misuse and become frustrated while using braid, especially if you are just getting started.
For this reason, I've put together this braided bass fishing line guide. In this post I'll share the best braided fishing lines to use for bass as well as some tips and tricks to help you catch more bass using braid.
Let's get started.
Best Braided Bass Fishing Line (Quick Overview)
Don't have a lot of time? No worries. The following lines are the best braided fishing lines to use for bass. These are all proven, high quality braided lines that will help you catch bass with any technique and in the toughest conditions.
The 6 Best Braided Fishing Line for Bass
Now days there are so many different companies and types of braid that bass anglers can choose from. However, not all braided lines are created equal, so it's important you select the right lines that will hold up over time and give you the performance you need.
The following list is of the 7 best braided fishing lines to use for bass. All of the lines are premium products made by the best companies and would be great additions to your bass fishing rod and reel setups.  
Power Pro Spectra
There are a lot of high quality braided fishing lines to choose from, but if I could only pick one I would easily choose the Power Pro Spectra to be my number one choice. This line is incredible and is perfect for most any bass fishing applications and techniques.
This is the ultimate braid and is made out of the same material as bullet proof vests. Not only is it super strong but it's also incredibly smooth. You won't have to worry about friction as it moves through your rod guides allowing you to increase you casting distance.
The Power Pro Spectra offers premium line performance, is incredibly durable and come at a great price point. This line is by far my favorite braided line to use in bass fishing and is one I'd recommend to anyone angler.
Power Pro Maxcuatro Spectra
The Power Pro Maxcuatro line comes with the latest Spectra fiber technology and is 25% thinner than the other PowerPro lines, but still has the equivalent strength.
You would think with a smaller diameter this would impact strength, but you would be wrong. All of the anglers that I have talked to haven't had any issues with this line and say it's just as strong as the Pro Spectra.
The thinner line diameter allows you to improve your casting distance, and also increase the line capacity on your reels. With braid that's a big deal, because often times your tying a connection knot which can get hung up in the guides and cause potential casting issues.
The small diameter, strength, sensitivity and all-around performance is what makes the Power Pro Maxcuatro Spectra an incredible braided fishing line that's perfect for any bass fishing angler.
This would be my number one choice but it's a little more expensive than the original PowerPro, but it's definitely worth the extra price for the added strength and thinner diameter if it fits within your budget.
Make sure to check out My Recommended Bass Fishing Gear and Tackle Guide to ensure you have the right gear for your next fishing adventure.
Sufix 832 Braided Line
Another braided fishing line that has won over thousands of anglers is the Sufix 832. This is one of the strongest, most durable, and smallest diameter braided lines on the market.
This line is constructed from 8 fibers and 32 weavers per inch giving the line superior strength and consistent performance in a small package.
The make-up of this line will allow you to get great distance out of your cast and increase  your rods sensitivity making it easy to detect even the subtlest of bites.  
If you are looking for a high quality braided line that's great for just about any bass fishing application than the Sufix 832 is a great option that you'll be happy with. I'd highly recommend giving this line a shot.
Seaguar Smackdown
Seaguar has recently become one of my favorite fishing line brands. I've tried a variety of their products from their most affordable to their most expensive lines and they have all been impressive. Their Smackdown braided line is no different.
It's a super thin braid and one of the best in its class. It offers anglers with some unique and key advantages, like it's tight weave that allowing to it to fly through the guides and it doesn't dig into the spool on a hook set like other braids tend to do. This line is thin but incredibly tough and durable.
The Seaguar Smack down comes in two different colors, a stealth gray and a flashy green. The stealth gray blends in perfectly with the water making it less noticeable making it easy to sneak up on the fish. The flash green color helps your line stand out helping you detect and observe every bite.
This braided fishing line offers everything a competitive angler looks for in an advanced braid and is one you should add to your line collection.    
Berkley Fireline
Another all-around quality braided line is Berkly's FireLine. This is not a conventional braid its thermally fused giving it a different overall texture than most other braids. Which is one of the reasons you'll often hear it called a 'super line'.  
This braided line is well known for being a great line to use on spinning reels but they also work great when paired with a bait caster as well.
One thing you'll notice with this line is that it can be pretty stiff at first, but once you cast it a few times it will really start to shine as you break it in a bit.
This line comes in three main colors options original, crystal and smoke. Their original color is a dark green color, while their smoke line is more of a dark gray and the crystal is a solid white colors. All of these colors are great options and the best will just depend on personal preference.
Overall this is a premium braided super line that is both sensitive and durable. I prefer pairing the line with my spinning setups, but it always works great for other fishing applications as well. I would highly recommend this line to every angler looking for a quality braid.
SpiderWire Stealth Braid
Another premium and popular blade you should consider adding to your arsenal is the SpiderWire Stealth braid. This line is super quiet and it flies through your line guides to give you ultimate casting distance.
This is a round shape line that helps reduces backlashes and doesn't dig-in on your reels. This braid is ideal in almost any bass fishing condition and will help you pull big fish out of the heaviest of cover.
Another benefit to the SpiderWire is that the color of the line tends to last much longer than other brands. You won't have to worry about the color fading any time soon.
If you're looking for a premium braided line to try, check out the SpiderWire Stealth braid. This is a quality line that will last a long time and won't disappoint
When to Use Braided Fishing Line for Bass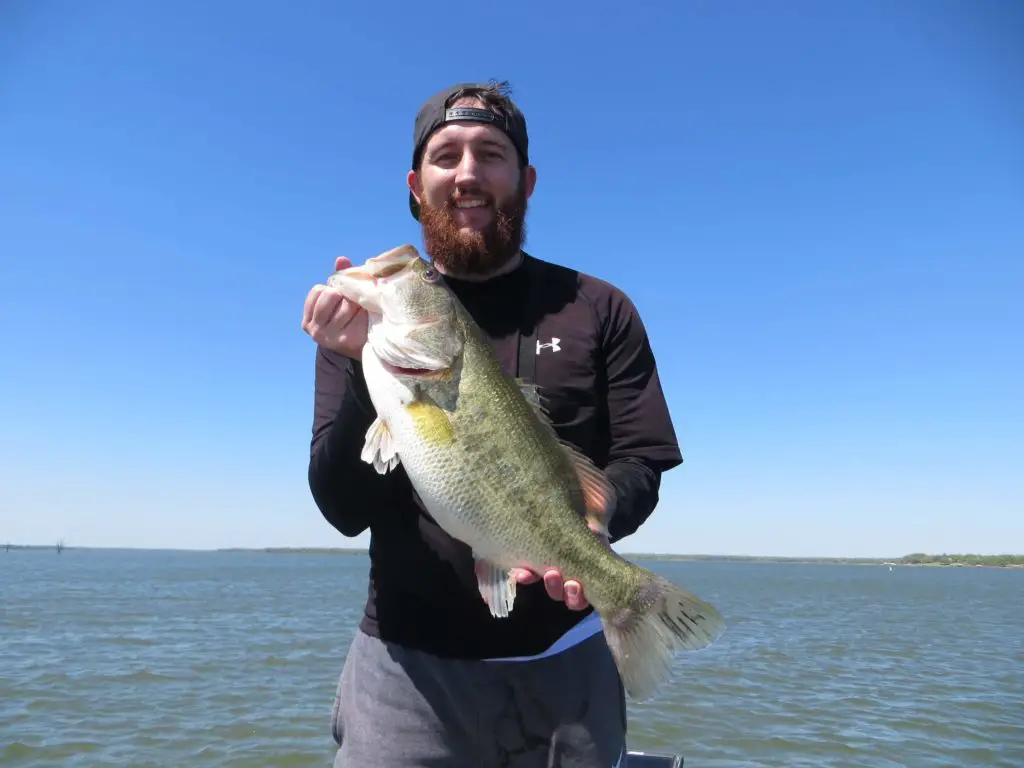 More and more bass fishing anglers are switching to braid even in clear water and when using finesses fishing techniques. Braid is ideal as a main line. It's sensitive, extremely strong & durable and is perfect for pulling bass out of heavy cover.
One of the main drawbacks of using braided is that it's more visible in the water. However, by adding a fluorocarbon or monofilament leader you will get the strength and sensitivity of braid while also making it less visible. This is a deadly combination.
Understanding what the right size, color and brand of braid to use and when to use them is extremely important.  
Here are some of the benefits and disadvantages of using braided fishing line for bass.
Benefits of Braid
More sensitivity
No stretch
Less line twists
Lasts longer
More cost effective
Smaller diameter
More strength
Braid floats
Disadvantages of Braid
High visibility (fish can see it)
Needs a leader (in most cases)
Potential knot issues
Difficult to break when snagged
Low stretch
Expensive
Harder to cut (need sharp tools)
Difficult to fix back lashes
Colors tend to fade
What Pound Test Should You Use
There are a lot of things to consider when deciding what pound test you should use while bass fishing with braid. Understanding the bass fishing techniques, size of lures and caliber of fish you are targeting will help you determine what pound test of braid you should use.
If you are finesse fishing with a spinning reel then a light braid (10-20) is a great choice. On the other hand, if you are punching in heavy vegetation a heavier braided line (50-80) is a must.
To help you get a better idea of what size of braid you should be using, I have put together the following list that will help get you started.
Braided Line Size Chart
Best Braided Fishing Line Colors
There are a lot of different color options anglers can choose from when buying braided line. Green, gray, yellow, black, white, red and blue are all popular colors. So, you might be wondering does the color of braid matter?
Yes, the color of braid does matter and can have a positive or negative impact on your fishing. The best overall color of braid in my opinion is dark green or gray. I feel like these two colors look the most natural and are less visible in the water.
However, if you are using a long enough leader the color might not matter as much. If so, you can use colors that allow you to easily see your line like yellow or red are great options for detecting subtle bites
Tips for Using Braided Fishing Line
Braided line is a phenomenal tool that every bass fishing angler should use. However, it can also be frustrating and challenging at times, especially if you are getting started with braid.
Here is a list of tips that will help you get the most out of braid while targeting bass:
Use Braided Line Scissor
If you aren't familiar with braided fishing line, one thing you'll notice when you first start using it is that it can be difficult to cut with regular scissors or snippers. Buying some sharp line snippers or scissor that can handle cutting braid is a must have.
Use a Leader
In most bass fishing situations, you'll want to add a 3- to 4-foot leader of fluorocarbon or monofilament. This leader gives your line some stretch making it harder for bass to bend out your hooks and keeps them pinned as you reel them in. It will also make your line more less visible to the fish which will help get you more bites.
When throwing reaction style baits the best leader choice is going to be monofilament. If you are finesse fishing with a spinning rod fluorocarbon leader is going to be your best bet. However, feel free to experiment and find what works best for you and your fishing style.
Select the Right Line Size
Selecting the right line size for the lures and techniques you are planning to use can make a big difference. The wrong line size can cause frustration and can potential determine if you land your big fish or not.
Tips on Spooling Braid
Spooling braid onto your bait casters and spinning reels and be a little bit different than what you are used to. Here is a video tutorial on how to properly spool braid.
Tie the Right Knots
Using the right knots while using braided line can be the difference between landing your prized catch or watching it swim free in the opposite direction as it swims off with your lure.
Braid is made with a different material compared to other types of fishing lines and tends to be more slippery. This makes tying the right knots critical.
Here are the best knots to tie for braided fishing line:
Palomar Knot
Double Uni (for leaders)
FG Knot (for leaders)
Alberto Knot (for leaders)
Blood Knot (for leaders)
Use Line Conditioner/ Re-Color Faded Line
A simple tip that can help your braid last much longer is to periodically treat it with line conditioner. This will help keep your line from breaking down over time and will keep it performing at a high level. Some anglers will also re-die their braided line as they tend to fade over time.  
Braided Fishing Line FAQ
How Long Does Braided Fishing Line Last
One of great things about using braided fishing line is that it lasts much longer than monofilament and fluorocarbon. Braid can last anywhere between 2-5 years (or longer) depending on how often its used and how well its maintained.
If your braided line does start to fray and begins to break you can take it off the spool and put it back on backwards and get a couple more years out of it before you need to replace it.
Should You Use a Leader with Braided Line?
Braided fishing line isn't transparent like monofilament and fluorocarbon, because of this it's more visible to fish in the water. So, should you use a leader when fishing with braid?
The short answer is yes, when using braided fishing line, you should use a leader 95% of the time. The only situation that I would recommend using straight braid is if you are fishing in heavy vegetation or muddy water. Line visibility doesn't seem to matter as much in those conditions.
For more information on the importance of using a leader while fishing for braid check out this article by Back Country Cariboo.
Final Thoughts
Braid is a popular bass fishing line that is used all over the country. Anglers have found it to be more sensitive, more effective for strong hook sets, and there is no better line to haul big fish out of heavy cover.
In this braided bass fishing line guide, we have gone over some of the best braids on the market as well as some tips and tricks that will ensure you get the right braid and have the best overall experience using this line to catch bass.
Whether you are punching heavy vegetation, throwing top water frogs, tossing big swimbaits or finesse fishing braided line can be an excellent choice. I would recommend using this article as a guide and picking up yourself one of the braided lines we discuss in this article.