The Ned Rig has been taken the bass industry by storm recently and for good reason this simple rig flat out catches fish. It's a killer finesse bass fishing technique that excels in clear water and in tough fishing conditions.
If you are just getting into fishing a Ned rig or are looking to add some more baits to your fishing arsenal, then you are in the right place. Because in this article I'm going to share with you six must have Ned Rig baits as well as some tips and tricks to help you catch more fish on the Ned Rig.
The Best Ned Rig Baits
Z Man Finesse T.R.D
Robo Ned Worm
Z Man TRD BugZ:
Z Man TicklerZ
Missile Baits Ned Bomb
Make sure to also check out The Ned Rig Ultimate Guide for more information about fishing the Ned Rig.  
Z Man Finesse T.R.D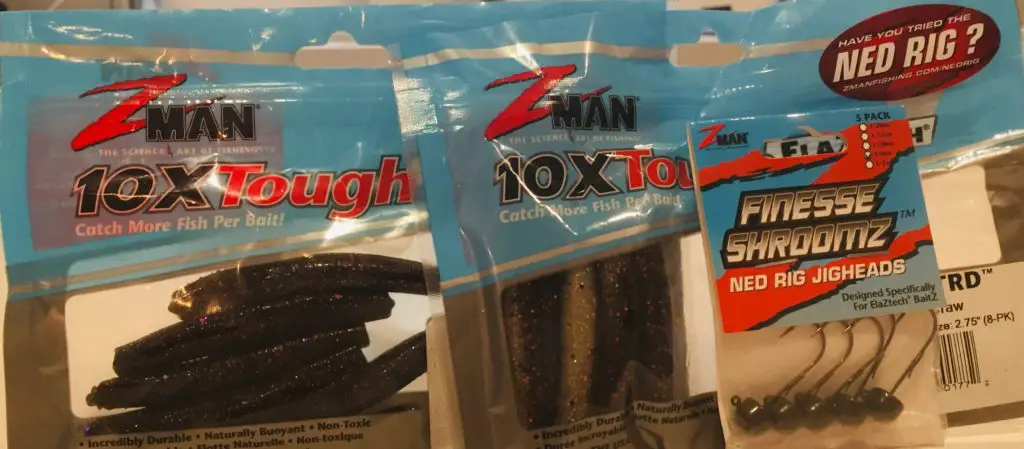 The Z Man Finesse T.R.D is the original Ned Rig bait that started it all and it's by far one of my favorite baits to tie on. This bait is essentially a really small stick bait that is made out of ElaZtech.
The ElaZtech material makes the bait stretchy and super durable. I've heard of guys catching hundreds of fish on the same bait.
When I'm fishing the Ned Rig the Finesse T.R.D is one of my top choices. It's super effective last a long time and flat out catches bass.
If you are targeting bigger bass another great option is to upsize to the Big T.R.D. which is 4″ instead of the standard 2.75″. It's the same great bait but the bigger profile will allow you to target bigger fish.
If you haven't fished the Ned Rig before, or just want a bait that catches them. Then I would highly recommend starting out with this bait.
Robo Ned Worm
The Robo Ned Worm is also one of my favorite Ned Rig baits. If I want to give the bass a different look or if a lot of other anglers are fishing the Ned Rig as well. This Ned Worm is a great option.
I've fished this bait in a variety of different places and it doesn't matter where I go this bait works extremely well.
This bait isn't made out of ElaZtech. Instead it has a lot of salt, so instead of floating and standing up like the Zman baits do, it will lay down providing a different kind of action.
The other benefit of this bait is that it comes in all of the great colors that Robo Worm is famous for. My go to color is by far the dessert craw. This color always gets the job done.
If you are looking for a great bait that comes in a lot of killer colors and give the bass a different action, then what they are used to seeing. Check out the Robo Ned Worm. It's a great Ned Rig bait.
Recommended Colors
(Desert Craw, Aarons Morning Dawn, Bold Bluegill)
Z Man TRD BugZ
Another one of my favorite Ned Rig baits made by Z Man is the TRD BugZ. The BugZ is a creature style bait that is made with the same ElaZtech material as the original T.R.D.
It features body rings, legs and tail all compacted into a Ned Rig profile. This design gives this bait a unique style and presentation. When bass are keying in on crayfish is when this bait really shines.
The Z Man TRD BugZ is an all-around great bait to pair with a Ned Rig and is definitely worth trying out.   
Recommended Colors
(Canada Craw, The Deal, California Craw)
Z Man TicklerZ
The TicklerZ by ZMan is another Ned Rig bait winner. This bait is very similar to the finesse T.R.D but it has 4 appendages up at the top of the bait.
This small addition may not seem like much just looking at it, but under water it looks completely different. It adds a lot of action and gives the bass a unique presentation.
When you are throwing this bait don't over work it. Less is more. It's a dead bait meaning that its designed to sit still or to be slowly dragged. As you do this the appendages will ceate all of the action needed and you'll trigger a lot of bass into striking.
Go check out the Z Man TicklerZ it's one of the best Ned Rig baits out there and it will you help you catch a ton of fish.
Recommended Colors
(Canada Craw, Green Pumpkin, Sprayed Grass)
Missile Baits Ned Bomb
Another one of my all-time favorite Ned Rig baits is the Ned Bomb by Missile Baits. What separates this bait for others in this category is its unique tail.
The body is very much like the T.R.D, but at the top of the bait it has a beaver style tail. When you are fishing this bait on the bottom the tail will subtly move back and forth creating an enticing action.
This is a great bait when paired with a Ned Rig especially if you are looking to give the bass a different look. Make sure to check out this bait, it won't disappoint.  
Recommended Colors
(Fishalicious, Super Bug, Green Pumpkin)
Best Ned Rig Colors
An important component of the Ned Rig is choosing the right color for your baits. The best overall and most versatile color Ned Rig color is green pumpkin. You can catch bass on this pattern pretty much in any condition.
With that being said, you should always adapt your color selection by the conditions you are faced with while fishing.
Here is a bass fishing color guide that will help you choose the right color in every condition: How to Choose the Right Bass Fishing Colors
Make sure to check out My Recommended Bass Fishing Gear and Tackle Guide to ensure you have the right gear for your next fishing adventure.
Best Ned Rig Jig Heads
Having the right size and style of jig head can make a big difference when fishing the Ned Rig. I've experimented with several different jig heads over the years and I have found the Owner Block Head and the Z Man HD Lockz to be the best.
As far as weight goes you want to use the lightest size of jig head that you can get away with. Fish will commonly hit this bait on the fall and a lighter jig head will allow you to stay in that strike zone longer. A lighter head also tends to hang up less.
When you are fishing out deep a heavier jig head is the way to go. If you are fishing in 20 or more feet of water a 1/6 or 1/5 oz head is ideal. On the other hand, when fishing shallow in depths that are less than 10 feet a 1/10/, 1/15 is what I recommend using.
Final Thoughts
The Ned Rig is a simple bass fishing rig that flat out catches bass. Whether you are fishing in clear water for smallmouth or targeting big shallow largemouth bass the Ned Rig a rig you need want to have tied on.
The Ned Rig baits that we have discussed in this article are all proven winners and stand out from other baits in this category. I'd highly recommend giving these baits a try the next time you fish a Ned Rig.
Tight Lines