When I purchased my fishing kayak one of the first things I wanted to add to it was a fish finder. However, I wasn't sure where or how to mount the fish finder's transducer on my kayak.
After some struggle, research, and experimentation I found the perfect way to mount the transducer to my kayak and have really enjoyed having a full functioning fish finder out on the water.
I know firsthand it can be frustrating and confusing trying to mount and install a fish finder transducer at times. For that reason, I have put together this guide to share with you the best ways to mount a transducer to your kayak.
In this guide you will learn about:
Best ways to mount your transducer
Tips on selecting the right mount and installing your transducer
Things to consider when setting up your fish finder on your kayak
Other tips and questions answered
Let's get started
6 Simple Ways to Mount a Transducer to a Kayak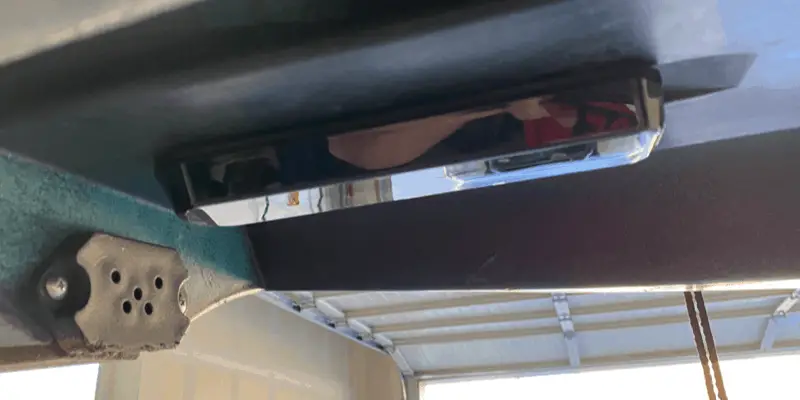 It's probably not surprising that there are multiple ways you can mount a transducer to your kayak. The best option for you will depend on the type of kayak you have and the size of the transducer you plan on mounting.
Each kayak and fish finder transducer may require a slightly different approach. To help you find the right option for you I have put together the following list of the 6 best ways to mount a transducer to a kayak.
Let's begin.
Yak Attack Switch Blade
One of the simplest and easy ways to mount a transducer to your kayak is with the Yakattack Switchblade. This pre-built arm mount will make your life a whole lot easier. You can attach it to your deck mount, cell block or on a track system.
The Switch Blade easily mounts to your kayak's track system and comes with a compact adjustable arm that allows you to easily lower and raise the arm and your transducer in and out of the water.
For kayaks or paddle boards that don't come with a standard mounting place this mount is a great option. It's simple to install, adjust, is durable, and easy to switch over from kayak to kayak.
You can find this mount on Amazon.com by click this link or at most outdoor retailers that sell kayak fishing equipment.  
Scotty Kayak Arm Mount
Another solid arm mount you can use to mount your transducer is with a Scotty Kayak Arm Mount. It's similar to the Switch Blade by Yakattack, but has some subtle differences.
This transducer mount is also designed to fit on your track system and allows you to easily raise and lower your transducer out of the water. This comes in handy when launching and docking your kayak.
If you are looking for an easy and affordable way to mount your transducer than the Scotty Arm Mount is a great choice. You can find it on Amazon by click this link or you can find it and some outdoor retailers.
If you want to learn more about how you can use this mount on your kayak check out this video.
Scupper Whole Mount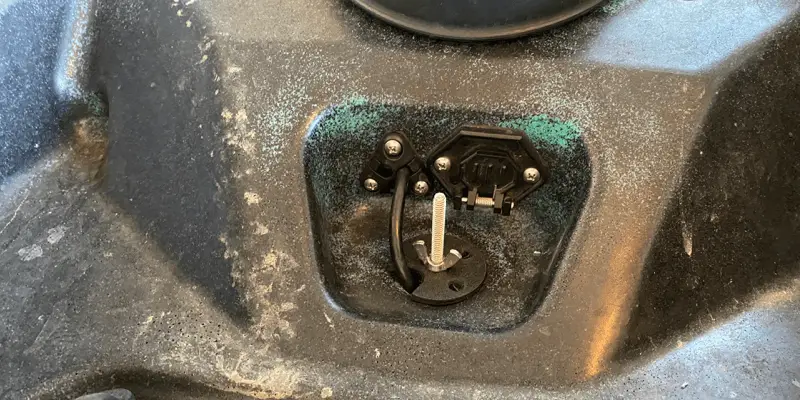 When I purchased my Helix 9 Mega SI/DI fish finder, I soon realized that the huge transducer that came with it wouldn't fit my kayak's universal transducer mount. So, I did some research and found a great alternative. The scupper whole transducer mount.  
A scupper whole transducer mount allows you to install your transducer on any one of the scupper holes on your kayak. These are easy to install and doesn't require any drilling potentially damaging your kayak.
There are a lot of scupper whole mounts out there and you can certainly create one for your kayak if you have the skills. I ended up buying mine from Navarrekaykfishing.com and have been really pleased with the results.
One of the problems with mounting your transducer on the side of your kayak is that it can easily get in the way when you're trying to land fish. With a scupper mount, your transducer is out of the way and protected underneath the kayak.
Directly to Bottom of kayak
Some of the higher end kayaks nowadays will come with a designated spot that has been designed for you to easily attach a transducer. If your kayak has one of these it can be one of the easiest ways to install your fish finder's transducer.
For example, I bought the Old Town Sportsman's 106 Powered by Minn Kota and one of the features it came with is a designated spot where I could attach my transducer to. This universal transducer mount makes the installation process a breeze and ensures my transducer is protected.
The only downside to some of these pre-built transducer spots is they aren't designed to fit larger transducers that come with some of the more high-end fish finder models or potentially some fish finder brands.
If your kayak has a universal mounting spot and it will fit the fish finder, you have or plan on purchasing then it can be a simple and easy way to get your transducer mounted.
Magnetic Transducer Mounting Kit
Another great option that will allow you to easily install a transducer to your kayak is by purchasing a magnetic transducer mounting kit.
This mount works basically like an invisible clamp. You can put of the magnetics in your kayak and the other one outside and it will hold the transducer arm in place and keep it secured.
No holes, glue or drilling are required to install this mount and you can attach your transducer just about anywhere. It works great on a kayak and is easy to transport to other fishing vessels.  
For more information about this mount check them out at fishfindermounts.com or watch this video to learn more.
Suction Cup Transducer Kit
If portability is something high on your priority list than purchasing a suction cup transducer kit for your kayak and fish finder is something you should look into
A suction cup transducer kit is designed to mount on the transom or side of a boat that has a smooth surface of wood, aluminum or fiberglass.
The advantage with going this route is that you can easily move your transducer from boat to kayak and vice versa.
However, there are two major downsides with using this transducer mount on a kayak. 1) They don't stick to kayaks as well as they do to aluminum and fiber glass boats.  2) They aren't as strong as other mounts and aren't built for high-speeds. This isn't a huge deal for a kayak but it's something to think about.
In my opinion I would recommend going a different route and choosing one of the other transducer mounting options on this list. They are more durable and will do a better job at keeping your transducer attached and in place.
Things to Consider When Installing a Fish Finder On a Kayak
Understanding how and where to mount your fish finder transducer is important, but there are also some other things you should think about as you're installing your fishing finder.
Here are some things to consider as you install your fish finder on your kayak:
Head Unit
Planning out where you want your head unit of your fish finder to be will make your life a whole lot easier in the long run. I'd recommend deciding where you plan on mounting your head unit first and then you can figure out the best place to store the battery, wires and place the transducer.
Wiring
Another thing to think about is how and where you are going to run the wires to your fish finder, battery, and your transducer. You'll want to make sure your wires are long enough and that they stay protected and out of the way while you are fishing.
Transducer Placement
Deciding where to place the transducer on your kayak is an important decision. Before deciding where to install your transducer consider the following factors:
Does your kayak have a designated area for a transducer?
Will the spot you selected keep your transducer protected?
Will its location get in the way while fishing?
Do you have or can you install a gear track system?
Does your transducer fit the existing universal mount?
Answering these questions can help you decide how and where the best place is going to be to mount your transducer.
Battery
Where you are going to store your battery is something else you should consider when planning out your fish finder installation. It's important to find a place on your kayak that is protected from the elements and that won't interfere with your fishing.
A lot of fishing kayaks have a place where you can store your batteries and other gear. If not, you can look at purchasing a cell block or something to protect your batter if it's exposed. This will keep your battery safe and help it last longer.
Tips on Installing Transducer
While installing a transducer on my own fishing kayak, I've certainly made some mistakes and have learned a few things along way.
 To help make sure you don't make the same mistakes that I did. I've put together some tips I've learned while installing my own transducer.
Before purchasing a transducer mount or kit make sure its compatible with your fish finders transducer
If you have to drill any holes make sure you triple check everything before you start.
Choose a spot for your transducer that will keep it protected when loading and unloading it from your truck or trailer. It can be easy to break one if you don't
Make sure your transducer mount allows a little give in case you hit a rock or stump in shallow water.
Kayak Transducer Q&A
Can you put a fish finder on a kayak? –  A fish finder can easily be installed on most kayaks and paddle boards with a few simple accessories. Having a fish finder on your kayak will allow you to see key structure, fish and give you mapping options. Having a fish finder on a kayak will make you a more effective and productive angler.
Where should a kayak transducer be placed? There are several ways you can mount a transducer to your kayak. You can mount it in the hull, through scupper holes, on the side via an arm mount, in a built-in space under your kayak or on the transom. The best location will be where the transducer is protected while still allowing it to function properly in the water.
Can you mount a transducer inside a kayak? Yes, you can mount a transducer directly in the hull of the kayak. This is usually done via duct seal or plumber's putty. This is a good option for 2D sonar units only. Most kayakers opt to mount their transducers on the side of their kayak or at the bottom to allow better imaging.
Is a fish finder worth it on a kayak? In my opinion, fish finders are absolutely worth purchasing and installing on a kayak. Having a fish finder on your kayak will allow you to view depth, water temperatures, structure, mapping and find key fishing spots.
Does side imaging work on a kayak? Side imaging works extremely well on a kayak and is an effective tool allowing anglers to scan large areas quickly, find key sports and structure.
Keep in mind, side imaging requires movement to get the best image, I've found that moving at a speed of 4 mph on a kayak will give you the best image quality from side scan.  
Final Thoughts
Installing a fish finder on our kayak can be an easy and effective way to level up your fishing game and help you find and catch more fish.
I hope this kayak transducer installation guide has given you some ideas on how you can easily mount a transducer to your kayak.
With a properly installed transducer and fish finder you'll be well on your way to having more success on your next fishing adventure.
Kayak Fishing Resources