We headed down to southern Utah in search of some good weather and great springtime bass fishing. During our stay we took the opportunity to go see the falls at Gunlock Reservoir and get some fishing in. Here are some of the details of where we went, what we fished with, and how we caught some fish at Gunlock Reservoir.
Gunlock Reservoir Fishing Conditions
Weather: Windy with 80 degree temperatures  
Wind: 5-15mph
Water Level: 100% full
Water Clarity: Stained water, low water visibility
Water Temperature: 66-68 degrees
Time of Day: 6:30-9:00PM
About Gunlock Reservoir
Gunlock State Park is located in southern Utah in the town of Gunlock, which is about 40 minutes northwest of St. George, Utah. It's red rock, dessert scenic views and largemouth bass fishing makes it a great destination for any angler. This reservoir was poisoned a few years back but is on the come back and is a good spot to target some largemouth bass.
In perfect conditions when the water is full and the dam is overflowing this combination creates some awesome waterfalls on the south end of the reservoir. We were fortunate enough to see the waterfalls this time around and they did not disappoint. For information about the water falls check out this salt project blog post.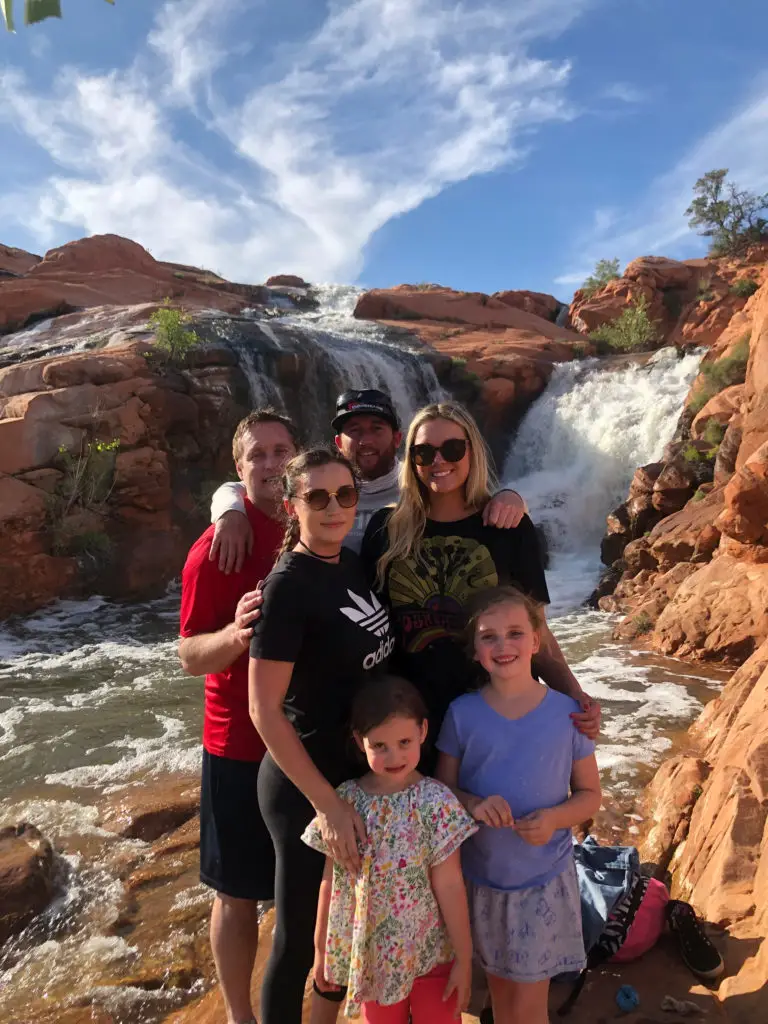 Gunlock Reservoir Fishing Report
This was my first time fishing at Gunlock Reservoir so I wasn't sure what to expect. I was impressed with the desert scenery especially on the west side. Fishing was pretty decent, we ended up catching around 7 fish but most of them were pretty small. We also talked with some other anglers fishing out of a kayak and they seemed to have a little more success but also caught mostly small fish using soft plastics. I felt like we were just starting to figure them out when it got dark and we had to head back.  
Fished from: 6:30-9:00
Areas Fished: West Coves, Around the Gunlock Campground
Fish Total: 7
Baits Used: Crankbaits, Jigs, Ned Rig
Our Gunlock Fishing Spots
North Shoreline of the Gunlock Campground
After our quick trip to the Gunlock falls we ended up getting to the lake a little later in the day. The wind had picked up and made it tough to navigate in our little lifetime kayaks, so we ended up fishing from shore on the north side of the Gunlock campground. We were able to catch a few smaller fish on the point where the wind was blowing in using a squarebill crankbait and a finesse jig.  
West Coves
Once the wind died down a bit we took our kayaks out and headed to west side of the lake and fished the red rocks and coves. We started off using the Ned Rig and Jig but didn't have much luck. I switched over to a crankbait and immediately caught a fish off a point.
After that I used a few different size and color of crankbaits and were able to have some success casting in and around points and cuts. They also seemed to be holding to big trees on rocky shorelines. I caught my biggest fish on the north cove in a big tree with a red crankbait.
Gunlock Reservoir Lures and Baits
Crankbaits
We had the most success fishing crankbaits off points and cuts and around trees and brush. I started off throwing a squarebill but had better luck throwing a Strike King Series 6 XD Crankbait. I would make long cast over points and to the shore.
Best Crankbait: Strike King Series 6 XD (Color: Cold Blooded)
Black and Blue Jig
With the stained water we thought a black and blue jig would be a good option. This turned out to be a decent choice and we were able to pick up a few bass on the Strike King Bitsy Bug Jig paired with a black and blue create trailer.
Best Jig: Strike King Bitsy Bug Jig, black and blue 1/40z
Final Thoughts
We had a time visiting the Gunlock falls and fishing the reservoir. We were able to enjoy the desert scenery and catch a few bass. This is a great fishing destination and we will definitely will back. Interested in other great bass fishing spots in Utah? Check out our post: The 12 Best Bass Fishing Spots in Utah
Tight Lines!