We are truly blessed to have several bass fishing opportunities in the state of Utah. Each fishing destination contributes something a little different and unique. With so many solid options, it can be overwhelming to decide where you should go fishing.
The following list includes 12 of the best bass fishing waters in Utah. These lakes all have solid reputations and are well worth the trip. This list takes in consideration largemouth and smallmouth as well as both size and quantity.
These lakes are in no particular order and are all worthy of your time in search of some great Utah bass fishing.
Top 12 Bass Fishing Locations in Utah:
Lake Powell
Sand Hollow Reservoir
Flaming Gorge Reservoir
Qual Creek Reservoir
Starvation Reservoir
Pineview Reservoir
Deer Creek Reservoir
Mantua Reservoir
Echo Reservoir
Minersville Reservoir
East Canyon Reservoir
Utah Lake
Make sure to check out My Recommended Bass Fishing Gear and Tackle Guide to ensure you have the right gear for your next fishing adventure.
Lake Powell
Lake Powell is huge body of water formed by the Colorado river that features islands and cliffs of brilliant orange and crimson rock. You won't find a more scenic and productive lake in all of Utah.
This dessert paradise is probably most well-known for its striper boils, but it also supports a healthy population of both large and smallmouth bass.
Its scenic views and fast fishing makes one of the best fishing destinations in all of Utah.  
Species:  Striped Bass, Largemouth and Smallmouth
Location: On the boarder of Utah and
Arizona 
Sand Hollow Reservoir
Sand Hollow Reservoir is the most well-known bass fishery in Utah and for good reason. This blue ribbon fishery is located in Washington County about 15 minutes from Saint George.
This premier bass fishery provides anglers with great opportunities to catch largemouth bass all year round and supports a healthy population of eight to sixteen-inch bass, as well as a number of large bass ranging to over five pounds or more.
Sand Hollow Reservoir is easily one of the best bass fishing destinations in Utah but it sometimes can come with a crowed. Unless you don't mind battle through a crowded lake its best to go early or start late.
Sand Hollow is not just for the boater fishermen but can also be great from the bank as well. Whether you're a beginner, advanced angler or have a boat or not Sand Hollow offers something for everyone.
Species: Largemouth Bass
Location:  Southern Utah, Washington County 
Flaming Gorge Reservoir
Located on the Utah Wyoming boarder Flaming Gorge is well known for its trophy lake trout, but don't sleep on the smallmouth bass in this lake. This is an excellent place to target smallies.
Flaming Gorge is a huge body of water that covers roughly 3,788,900 acres.
The Gorge is an excellent fishing destination for any angler with smallmouth bass on their mind.
Species: Smallmouth Bass
Location: Northeast Utah, Daggett County
Quail Creek Reservoir
Quail Creek is known as one of Utah's best bass fisheries and can produce some tanks. This small reservoir is located about 10 miles northeast of St. George just off Highway 15.
The largemouth bass can be a bit more finicky at Quail Creek compared to Sand Hallow, but you'll be rewarded with larger sized bass and less crowds.  
Quail Creek has a solid reputation of being a great bass fishery that produces some toads. Every bass fishing angler should have this one on their destination list.
Species: Largemouth Bass
Location: Southern Utah, Washington County
Starvation Reservoir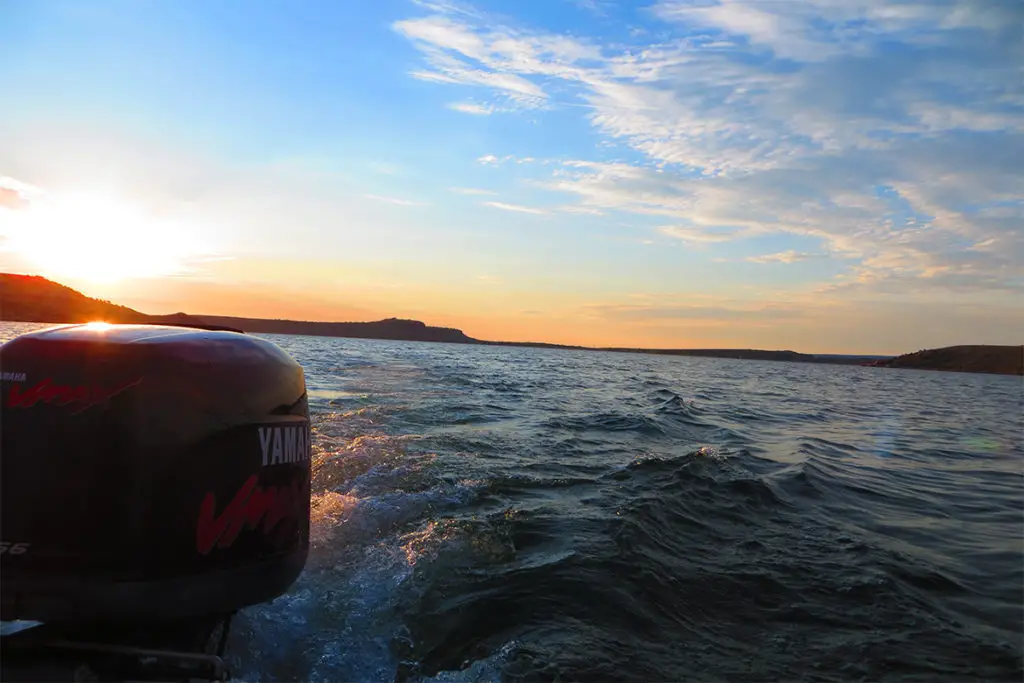 The straggling waters of Starvation Reservoir offers some great fishing opportunities. It's primarily known as a premiere walleye fishery, but also offers some strong Utah bass fishing.
Located in the beautiful and rugged Unita Mountains, it's scenic dessert mountain views and excellent amenities makes it a great place to spend some time with the family and fish for the weekend. It's also a perfect spot for the avid angler looking to find some nice bronzeback's to target.
Smallmouth are the prominent bass in this reservoir. However, there are anglers that have had some success going after largemouth, but they can be few and far between.
Starvation Reservoir is a classic Utah Reservoir filled with desert mountain views, great amenities, beautiful blue-green water and excellent fishing making it a must visit for any Utah angler.
Species: Smallmouth and Largemouth Bass
Location: Northeastern Utah, Duchesne
Pineview Reservoir
Pineview Reservoir is a well-known as a tiger muskie is a great place to catch smallmouth bass.
Pineview Reservoir is a great place to catch smallmouth bass in Utah.
Species: Smallmouth and Largemouth Bass
Location: Ogden Canyon, Weber County
Deer Creek Reservoir
Located about 30 minutes from Provo, Deer Creek Reservoir is the perfect place to catch some Utah Bass. Both smallmouth and largemouth bass can be caught here.
Smallmouth bass are the more abundant of the two species and although most of the population is on the smaller end you can find some nice sized smallies with a little hard work and persistence.
Largemouth bass can be a little harder to come by, but you can still have some good success targeting the largies.
Deer Creek is also well known for its strong summer winds and high reactional boating activity, the best time to fish is in the early mornings and evening hours.
Species: Smallmouth and Largemouth Bass
Location: Southwest corner of Heber Valley
Mantua Reservoir
This charming fishery located just east of Brigham City in northern Utah. It has a healthy population of bluegill and plenty of trees and structure making it an ideal spot for largemouths.
Mantau Reservoir has the reputation of having some nice sized largemouth bass and is a solid fishery.  
Mantua is fairly remote, so it doesn't get a ton of boat traffic like some of the other reservoirs in the state. It's remote location, nice sized largemouth bass, and scenic views (especially in the fall) makes it an optimal spot for some Utah bass fishing.
Species: Largemouth Bass
Location: Box Elder County
Echo Reservoir
Echo Reservoir lies in the Wasatch Range near Coalville an old mining town which is about 45-minute drive from Salt Lake City and just off I-80. The reservoir consists of 1,450 acres and is a great spot for bass anglers.
Like a lot of Utah's mountain reservoir, you can find some nice sized smallmouth bass. Echo is no different and depending on the year might be one of the best.
Echo Reservoir is well worth your time and a nice place to catch some smallmouth bass.
Species: Smallmouth Bass
Location: Summit County, north of Coalville
Minersville Reservoir
Minersville Reservoir is managed to produce trophy-sized trout, but it also is a great smallmouth bass fishery.
The Southern Utah Bass Anglers club often holds bass fishing tournaments, which is always a good indicator of the productivity of a reservoir. This is a smaller sized reservoir that covers roughly 900 acres when full. Both size and quantity of smallmouth can be found fishing the waters of Minersville.
You can't go wrong with making a trip to Minersville Reservoir and going after some smallmouth bass.
Species: Smallmouth Bass
Location: Beaver County
East Canyon Reservoir
East Canyon Reservoir is another high mountain reservoir that supports a healthy population of small mouth bass. I have caught some tanks here.
Tucked away in northeastern Utah, East Canyon is only about 45 minutes from Salt Lake City , making it a popular fishing destination. The reservoir sits on 685 acres and has some great amenities including campsites, yurts and cabins.
The best part about Easy Canyon is that it is home to some big smallmouth bass. Bass fishing tournaments are often held here, and smallmouth can be caught in the 3-5lb range on a consistent basis.
Species: Smallmouth Bass
Location: Morgan, Utah
Utah Lake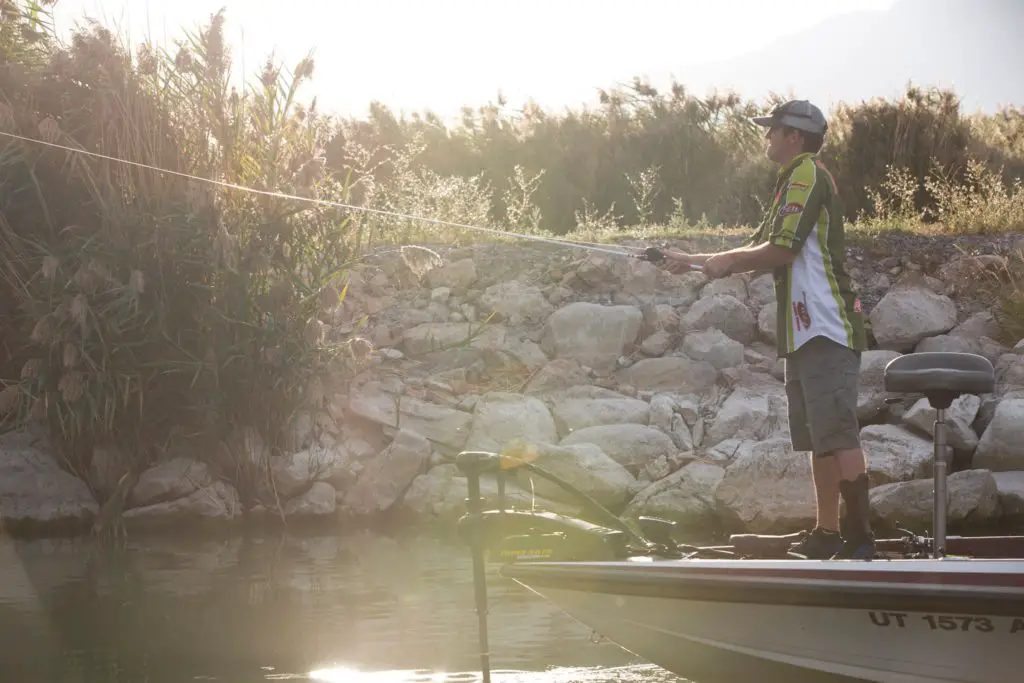 Utah Lake is the largest freshwater lake in Utah and is underrated largemouth bass fishery. It's mostly known for is abundance of white bass and its big catfish. But this lake is home to some awesome largemouth bass.
Utah lake is a shallow lake that lies in Utah Valley. Most anglers are after other species which helps make it a good spot to target for bass anglers.
Although Utah Lake is massive it fishes pretty small. Popular spots to target largemouth bass are the boat harbors: Lindon, American Fork, Provo, Saratoga etc. Mud lake, and Powell Slough.
Its close proximity and big largemouths make it an ideal fishing destination.
Species Largemouth Bass
Location: Utah County 
Other Good Bass Fishing Spots
Big Sandwash Reservoir
Rockport Reservoir
Jordanelle Reservoir
Gunlock Reservoir
Salem Pond
Other Bass Fishing Resources
Final thoughts
There are many great bass fishing locations found throughout Utah, with each destination providing something different and unique. If you are looking for some great Utah bass fishing that's worthy of your time. These bass fishing locations are tough to beat.
Tight Lines!