Lake Fork is a phenomenal fishing lake that is considered to be one of the premiere trophy bass fishing lakes in the country. In fact, I recently traveled to Texas from Utah just to experience this amazing fishery. 
What makes Lake Fork so special is that it gives anglers a legitimate shot at catching the coveted 10lb bass, but it also provides opportunities to catch plenty of numbers and has a variety species to target. 
The best time to fish Lake Fork for giant bass is in March and April which is during the pre-spawn/spawn. The easiest time to catch fish at Lake Fork is in October or November when the fish are heavily feeding as they prepare for winter. 
With this being said, Lake Fork can be a productive fishery year round and as long as you understand the seasonal patterns of the fish you are targeting you'll be able to catch them all throughout the year. 
In this seasonal Lake Fork fishing guide, I'll break down the best time of year and day to catch each species of fish at Lake Fork. After you read this article you'll know exactly when and where to fish to give yourself the best chance of success fishing this famous lake. 
Let's get started.
Best Time of Year to Fish Lake Fork
If you are planning a fishing trip to Lake Fork soon you might be wondering what time of the year is the best time to fish Lake Fork. The truth is you can catch fish year round at Lake Fork, but there is no doubt there are certain times of the year and day where the fishing is much better than others. So when is the best time to fish Lake Fork?
The best time to fish Lake Fork for Trophy Largemouth Bass is in March or April. If numbers are what you are after October or November is a great time to fish Lake Fork. With that being said, fishing can be great all year round. The spots and techniques will just change based upon the season, conditions and fish you are targeting. 
Here are the best times of the year to fish Lake Fork for each species.
| | |
| --- | --- |
| Species | Best Time to Fish  |
| Largemouth Bass | Best bass fishing is in March & April for trophy bass, October/November is best for numbers. |
| Crappie | Best time to fish for Crappie on Lake Fork is late spring and early fall.  |
| Catfish | Best time to catch catfish is in the spring. |
| Sunfish | Best time to fish for sunfish is in the spring . However, they can be caught year round. |
| White Bass | Best time to fish for white bass is in April and May. |
Best Time of Day to Fish Lake Fork
If you have a fishing trip planned at Lake Fork it's also important to know what times of the day are going to be most productive. This knowledge will help you maximize your time on the water and give you the best chance at catching a trophy Lake Fork Bass. 
In general best time of day to fish for bass on Lake Fork is typically at dawn and at dusk. These low ligh hours of the day are a great opproutnity for anglers and they can be really productive. The best time of day to fish also depends on the time of year you are fishing in. For example, during the summer one of the best times to fish is at night. However, night fishing in the winter is not as productive. 
Here is a seasonal break down on when the best fishing times are at Lake Fork. 
| | |
| --- | --- |
| Seaons | Best Time of Day to Fish |
| Spring | Late mornings & early afternoons  |
| Summer | Dawn, dusk & at night |
| Fall  | Mornings & afternoons |
| Winter | Afternoon |
Now that you have an idea on what are some of the best times of the year and day is to go fishing on Lake Fork, let's talk about what you should expect during each season.
Lake Fork Seasonal Fishing Guide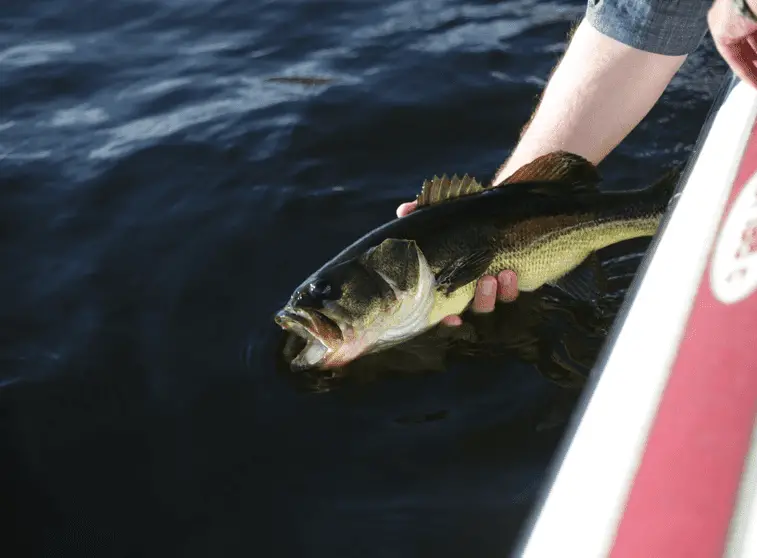 Spring
Spring fishing at Lake Fork can be phenomenal. This is one of your best chances to catch a double digit bass. The bass will be up shallow feeding and will spawn when the conditions are right. The spawn is usually in full force by April, however this can vary each year. The crappie and perch will also spawn during this time. One of my favorite baits to throw in the spring is a lipless crankbait. You can cast them a country mile , cover a lot of water and it can be a very effective technique during the spring. 
Summer
At Lake Fork you can expect temperatures to be in the high 80's to mid 90's on most days with the water temperatures sitting around the 80°F mark. This is a great time to bust out the frogs, other topwater baits, big swimbaits, and moving baits that will allow you to cover a lot of water.
The best time to fish for bass at Lake Fork during the summer is early in the morning or late in the evening. As well as on cloudy days. During these low light periods the bass will be more active, aggressive and easier to catch. 
Fall
In the fall water temperatures will drop about 30 degrees in about a two month period, beginning in October to the end of November. During this time, the fish will go on a feeding frenzy as they fatten up preparing for the winter. This is a great time of year to be fishing. Many anglers will be off and focused on hunting. Resulting in less boat traffic and more relaxing fishing. The fall can be some of the best fishing at Lake Fork of the year. 
Winter
Many anglers often think winter is a time to put the fishing gear away and focus on other hobbies. This can be a big mistake, especially on Lake Fork. Many local anglers say that the Winter time is your best bet to catch a bass over 13 pounds. According to Bassfishing.org 7 of the top 10 fish in Texas to 50 Bass list were caught from in November to the first part of March. 
Although the temperatures are colder and bass and other species might not be as aggressive, the Winter can be a great time to fish at Lake Fork. Especially if you are after a trophy Largemouth Bass. The best time of day to fish during the winter is in the late mornings and afternoons when the sun gets a chance to warm things up. 
Best Lake Fork Fishing Guides
If you haven't been to Lake Fork in Texas or simply want to make sure you have a comfortable and successful day out on the water then I'd highly recommend hiring a local guide.
When you are hiring a guide, you aren't just paying for a day of fishing, but are also hiring them for their experience and expertise. The guides on Lake Fork have put in the time to understand exactly what the fish are eating, where they are located and how to catch them. Hiring a guide or charter drastically increases your chances of catching fish and can be much more relaxing.
Best Bass Fishing Guides on Lake Fork
Best Crappie Guide on Lake Fork
Best Catfish Guide on Lake Fork
For more insight on fishing guides at Lake Fork check out this article: Selecting a Fishing Guide at Lake Fork [Everything You Need to Know]
Monthly Lake Fork Fishing Guide
January
The fishing on Lake Fork in January is a lot better than most people would expect. Most anglers shy away from the cold but are missing out. In January you typically won't catch a ton of fish but the fish you do catch are going to be big. The best time of day to fish in January is in the afternoon on sunny days. I'd recommend targeting shallow warmer water. If you don't mind the cold and are looking to catch quality over quantity January can be a great month to go bass fishing on Lake Fork
February
In February you can expect the water temperatures at Lake Fork to be hovering around the high 40s to low 50's on most areas of the lake. Most anglers will still be waiting for the weather to warm up but February is another good opportunity to catch some big fish. Bass will start moving into their pre-spawn patterns and you should look to target them up shallow and as deep as 14-18 feet. The best time of day to fish Lake Fork in February is mid to late afternoon when the sun warms up.
March
Perhaps the best month to catch a trophy largemouth bass on Lake Fork is in March. During March a lot of the biggest bass will move into shallow water and begin their spawning ritual. This can be an excellent opportunity to catch a fish of a lifetime.
April
The month of April is another prime opportunity to catch big fish at Lake Fork. A large number of bass will be spawning during April and other fish will either be getting ready to or have already spawned. Site fishing is often one of the most effective ways to catch bass in April. This is especially true when the water is clear and there is little to no wind.
May
With summer just around the corner anglers can expect the productive fishing to continue and can have a lot of success this time of the year. Bass will begin transitioning into their post spawn rituals and will start preparing to move to their summer haunts. Fishing this time of year is often best in the morning and evening hours. 
June
As the temperatures continue to rise bass and other species will leave the shallows and find relief from the heat in deep water. Offshore humps, structure and points can all be really productive fishing spots this time of the year. Prime time fishing hours in June early morning and evening hours. 
July
The month of July can be a great time to fish at Lake Fork. Targeting catfish and crappie can be really productive this time of year. Big bass can also be caught in July. The best time to fish Lake Fork in July is early in the morning or at dusk. Night fishing this time of year can also be really productive. 
August
The heat of the summer usually peaks in August and it can get very hot. However, don't let the heat prevent you from going out because there are still plenty of fish that can be caught. One of the great things about summer fishing is you can catch bass and other species with just about any lure or technique. If you do decide to fish Lake Fork in August I'd recommend going really early or around dusk. Also, don't forget about night fishing during the summer months as they can also be a great time to catch fish. 
September
September can be an excellent time to fish Lake Fork. Largemouth bass and white bass will begin moving back to shallow water looking to feed and will start to transition into their fall seasonal behavoirs. Fishing in September can be productive in the morning, afternoon and evening. 
October
The month of October really kicks off the start of fall seasonal fishing patterns at Lake Fork. This is the best time of the year to catch numbers. Making the fall months a great opportunity to take family, friends and children out for some fast action fishing. Focus your efforts on transition areas and start to look for fish up shallow again. The best time of day to fish Lake Fork in the fall is in the morning and late afternoon. 
November
In November the hot fishing continues as bass and other species are feeding up aggressively as they prepare for the winter season. They key to success this time of year to to imitate bait fish and to throw lures that allow you to cover water. Often times bass will group up this time of year and can be caught in bunches. 
December
During the winter months the finds don't tend to feed as much and they can be harder to come by during this time of the year. However, it's not all bad news at Lake Fork. The lake will be far less crowded and the fish that you do catch will mostly likely be pretty big fish. Most anglers shy away from fishing in the cold, but December can be a great opportunity to catch some big fish. 
When to Fish Lake Fork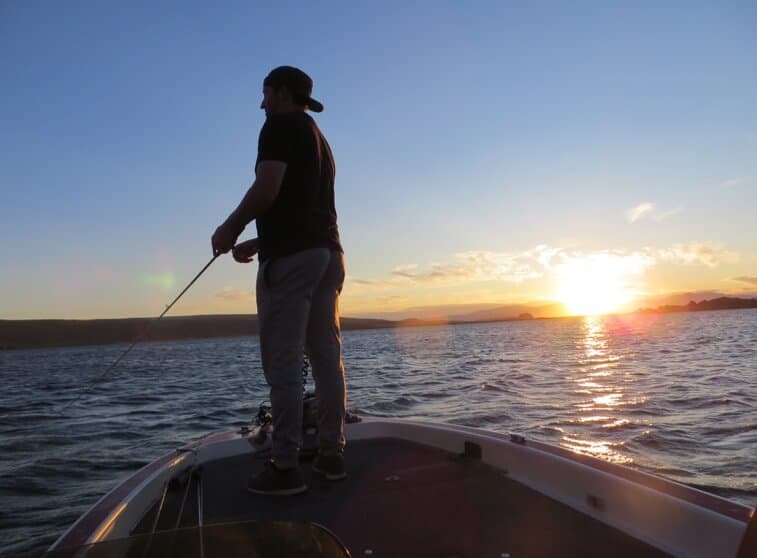 Light Wind
Sligth to mild wind can give anglers a huge advantage and can allow you to throw fast moving baits like spinnerbaits, crankbaits, chatterbaits and others. The wind will cause ripples in the water making it harder for the fish to see you coming.
Prime Water Temperature
Laremouth bass behavoir can be greatly influenced by water temperatures. Bass prefer water temperatures between 60 and 75 degrees Fahrenheit. This is when they will tend to head to shallow water in the spring and will feed like crazy in the fall. Try fishing when water temperatures are within that range and you'lll have a lot of succes. In the summer when temperature exceed this try fishing at night when things cool off. 
Rain Days
During the summer one of the best times to fish Lake Fork is on cloudy and rainy days. When it rains, runoff starts to occur in most lakes and reservoirs. This water that comes into the lake is carrying little insects and tiny food that baitfish just love to eat. This type of weather the fish will feel more comfortable, be more aggressive and will roam around looking for feeding opproutnites. 
Check out this article for tips on how to captizlie on rainy fishing days: Bass Fishing in the Train – Complete Guide. 
Right Time of Day
The best time of day to go fishing at the lake will depend upon the season you are fishing in. During the winter & early spring late fishing late afternoons tend to be the best. During late spring and early summer early morning and late evening tends to be the most productive time. Night fishing is the best time during the summer months. The most productive times during the day in the fall are usually late morning and afternoon hours. 
When Not to Fish Lake Fork
Cold Fronts
Catching fish during or after a cold front and be big challenge at times. Don't get me wrong you can still catch them but it's not going to be fast and furious by any means. If you have the choice, I'd shy away from fishing during a cold front and wait until the weather stabalizes for a few days. This will give you a much better chance of having success out on the water. 
Dropping Water Levels
When the water drops rapidly the fish will head off shore and can be more difficult to locate and catch. Ideally you want sta
Bright Blue Sunny Days 
Another challenging condition anglers face while fishing is during bright sunny days with blue bird skys. If you do go fishing on a day like this make sure to go early in the morning or at dusk. This wil give you the best odds of catching fish. 
Heavy Wind
In general, the wind is considered a positive thing for anglers. However, there are certain times on Lake Fork where the wind can be to much and can be dangerous to go out and fish in. Make sure to check teh weather ahead of time so you can come prepared and ensure your not out fishing in dangerous conditions. 
For more information on when to go and not to go fishing at Lake Fork check out this article by Bassfishing.org. 
Best Time to Fish Lake Fork by Species
Largemouth Bass
The best time to fish Lake Fork for Trophy Largemouth Bass is in March or April. If numbers are what you are after October or November is a great time to fish Lake Fork. With that being said Lake Fork has a reputation for being a great bass fishery year round and giants can be caught all during each season as long as you adapt your techniques and strategies. 
Catfish
Catfishing can be really productive during the spring, summer and even fall at Lake Fork. Your best chance at catching catfish is between sunset and midnight. This is when catfish are more active and you'll have a better chance at catching them. 
Crappie
Lake Fork has a very healthy population of black and white crappie. Crappie can be found all over the lake and can be caught through out the year. The most productive time to fish for crappie at Lake Fork is during the spring and summer. 
Sunfish & Bluegill
Another fun fish to target at Lake Fork are bluegill and sunfish. These panfish are typically pretty easy to locate and catch and can be caught through out the year. However, the best time to fish for bluegill and sunfish is in during the spring and summer months. 
White Bass
The best time to target white bass at Lake Fork is April and May. These are typically the most consistent months and many of the white bass have finished spawning and are hungry as they migrate back out into deep water. 
Lake Fork Fishing Reports
When I booked my first fishing guide on Lake Fork I did a ton of research and wanted to know exactly what the best time of year was to catch a trophy bass. A great resource to check the latest fishing report on Lake Fork is the Texas Parks & Wildlife website. Here they give weekly fishing reports so you can know exactly how the fishing is before you book your trip. 
Another great resource that I found helpful was the ETS Systems website where several local guides will submit weekly fishing reports. These reports cover Bass, Crappie, and Catfish information by local guides. Here you can get a great feel on how each species is fishing on a given week.