While there are many species anglers can choose from on Lake Fork, Largemouth Bass are by far the most popular. In fact Bass put Lake Fork on the map which is well known for being one of the best fishing destinations in the world. 
If you haven't had the chance to chase these trophy fish at Lake Fork trying to find the right charters and information can be overwhelming. For that reason, I have put together this Lake Fork charter guide to help you book the right fishing guide so you can spend less time stressing and more time chasing a fish of a lifetime.
You'll learn everything you need to know including the besk Lake Fork guides, best times and seasons to fish, what to bring and expect when you hit the water. 
Let's get started. 
Fishing at Lake Fork
Lake Fork is a phenomenal fishing lake that has turned into one of the country's premier trophy bass fishing lakes. Lake Fork has produced numerous largemouth bass over 13 pounds and is home to the current state record. If you're looking to catch a trophy bass, Lake Fork gives you an incredible opportunity to catch a bass in the double digits.  
In addition to its great bass fishing, crappie fishing can be really good as well. Channel catfish and white bass are also popular species to target.
One of the best ways to fish Lake Fork is with a local guide that has the knowledge, experience and expertise to help ensure you have a great day out on the water. Fishing from shore or your own boat is also a great way to experience Lake Fork. Just watch out for the submerged timber!
Why Hire a Fishing Guide
When you hire a fishing guide, you aren't just paying for the day of fishing. What you are really paying for is their experience, expertise and knowledge of the body of water. Most guides have spent hundreds of days each year guiding. By hiring a guide you'll dramatically increase your chances of catching fish. You'll learn new techniques, how to break down the water, where to fish and so much more. 
Here are some of the top reasons why hiring a fishing guide can be well worth it. 
Increases your chance of success
They have a ton of knowledge and experience they will share
Learn the lake
Learn proper fishing techniques
Can help save you money if you don't have the right tackle and equipment
Make a new friend
Lake Fork Guide Prices
Booking a fishing guide on Lake Fork can be a fun and easy way to catch some fish, but it does come with a cost. What should you expect to pay if you do hire a charter for the day on Lake Fork?
On average anglers can expect to pay around $350 dollars for a private 4-5 hour trip at Lake Fork. Full day charters typically cost between $400 to $500 for 7 or 8 hours. Most private charter boats will hold 1-4 anglers. Making the cost per person $115 for a half day and around $150 for a full day. These numbers are based on prices on FishingBooker.com)
Best Season to Fish Lake Fork
The best time to fish Lake Fork for Trophy Largemouth Bass is in March or April. If numbers are what you are after October or November is a great time to fish Lake Fork. With that being said, fishing can be great all year round. The spots and techniques will just change based upon the season, conditions and fish you are targeting. 
Here are the best times to fish Lake Fork by season.
Fishing Lake Fork Seasonal Guide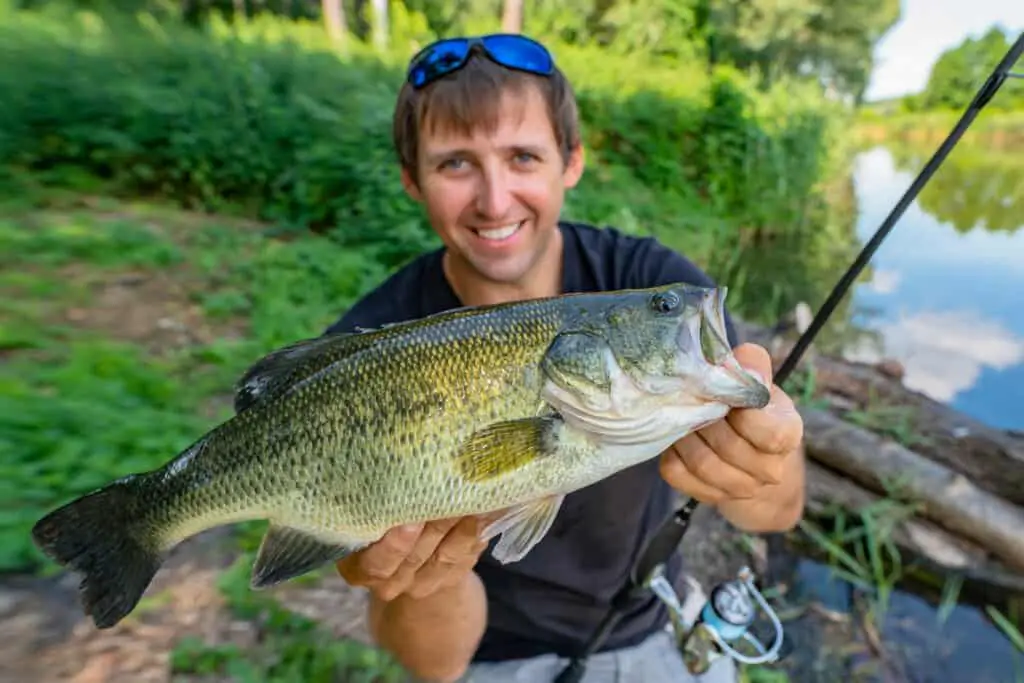 Spring
Spring fishing at Lake Fork can be phenomenal. This is one of your best chances to catch a double digit bass. The bass will be up shallow feeding and will spawn when the conditions are right. The spawn is usually in full force by April, however this can vary each year. The crappie and perch will also spawn during this time. One of my favorite baits to throw in the spring is a lipless crankbait. You can cast them a country mile , cover a lot of water and it can be a very effective technique during the spring. 
Summer 
At Lake Fork you can expect temperatures to be in the high 80's to mid 90's on most days with the water temperatures sitting around the 80°F mark. This is a great time to bust out the frogs, other topwater baits, big swimbaits, and moving baits that will allow you to cover a lot of water.
The best time to fish for bass at Lake Fork during the summer is early in the morning or late in the evening. As well as on cloudy days. During these low light periods the bass will be more active, aggressive and easier to catch. 
Fall 
In the fall water temperatures will drop about 30 degrees in about a two month period, beginning in October to the end of November. During this time, the fish will go on a feeding frenzy as they fatten up preparing for the winter. This is a great time of year to be fishing. Many anglers will be off and focused on hunting. Resulting in less boat traffic and more relaxing fishing. The fall can be some of the best fishing at Lake Fork of the year. 
Winter
Many anglers often think winter is a time to put the fishing gear away and focus on other hobbies. This can be a big mistake, especially on Lake Fork. Many local anglers say that the Winter time is your best bet to catch a bass over 13 pounds. According to Bassfishing.org 7 of the top 10 fish in Texas to 50 Bass list were caught from in November to the first part of March. 
Although the temperatures are colder and bass and other species might not be as aggressive, the Winter can be a great time to fish at Lake Fork. Especially if you are after a trophy Largemouth Bass. The best time of day to fish during the winter is in the late mornings and afternoons when the sun gets a chance to warm things up. 
Best Time to Fish Lake Fork
As many anglers know, fish will bite at different times of the day. The best time of day to fish Lake fork year round is the first hour of light in the morning and the last hour of light. These hours tend to align when fish feed and are most active. 
If you are booking a local guide on Lake Fork or just heading out on your own boat I recommend waking up early and taking advantage of the low light period first thing or fishing in the evening. This will give you the best chance of success. With that being said fish can be caught all day long as long as you adapt and change to where the fish may be located. 
Lake Fork Fishing Reports
When I booked my first fishing guide on Lake Fork I did a ton of research and wanted to know exactly what the best time of year was to catch a trophy bass. A great resource to check the latest fishing report on Lake Fork is the Texas Parks & Wildlife website. Here they give weekly fishing reports so you can know exactly how the fishing is before you book your trip. 
Another great resource that I found helpful was the ETS Systems website where several local guides will submit weekly fishing reports. These reports cover Bass, Crappie, and Catfish information by local guides. Here you can get a great feel on how each species is fishing on a given week.  
Best Lake Fork Guides & Charters
If you haven't been to Lake Fork in Texas or simply want to make sure you have a comfortable and successful day out on the water then I'd highly recommend hiring a local guide. 
When you are hiring a guide, you aren't just paying for a day of fishing, but are also hiring them for their experience and expertise. The guides on Lake Fork have put in the time to understand exactly what the fish are eating, where they are located and how to catch them. Hiring a guide or charter drastically increases your chances of catching fish and can be much more relaxing.
Best Bass Fishing Guides on Lake Fork
Best Crappie Guide on Lake Fork
Best Catfish Guide on Lake Fork
Popular Species to Target at Lake Fork
As we have mentioned before, Lake Fork is one of the best bass and crappie fisheries in the country. However, there are also some other popular sport fish anglers love to target in the same water. 
Here are species you can expect to catch at Lake Fork
Largemouth Bass
To give you an idea of the kind of fishery Lake Fork is Bassmaster.com recently wrote an article where they revealed the Top 10 Best Bass Lakes of 2021, Lake Fork was number one on that list. The state for Largemouth Bass in Texas is over 18 pounds and was caught at Lake Fork. This gives you an idea of the caliber of bass that can be caught at this lake. This is a true trophy bass fishing lake that is hard to beat. 
Crappie 
Another popular species that anglers like to fish for at Lake Fork is Crappie. They can grow up to 3.5 pounds and sometimes get into the 4 pound range depending upon the year. They are typically easy to find and catch and are a great species to target with kids, friends and family. 
Catfish
At Lake Fork the catfishing population is dominated by channel catfishing, but flathead and a few blue cats can be caught as well. Most anglers target these catfish with cutbait or live bait. Lake Fork is a great place to catch catfish and the fishing is typically pretty good most of the year. 
White Bass
White Bass or as the locals like to call them "Sand Bass" can grow fairly large at Lake Fork due to the abundant food. Anglers fishing for Largemouth Bass will often catch them as they will eat the same lures and be in the same areas. If you are targeting them specifically, jigging spoons and live bait fish works really well. They can also be caught on small crankbaits and topwater baits as well. 
Sunfish
Another fun species to target for young anglers and families is sunfish. Sunfish like BlueGill can be caught  in the spring and early summer, in shallow water, using crickets, earthworms or small spinners. For the rest of the year they can typically be found around piers, boathouses and submerged humps.  
What to Bring on a Guided Fishing Trip
Most of the guides will have water and some ice. You can store some drinks but there are plenty of things you'll want to make sure you bring. It's best to check with before your trip to make sure you are both on the same page on what you need to bring. 
Here are the items I would recommend taking with you.
Fishing License (if needed)
Snack & Drinks
Sun Protection
Protection from Weather
Waterproof storage
Personal Care Items
Towels or Wipes
Flashlights or Headlamps
Camera
First Aid Kit
For more information on what to bring on a fishing charter trip check out this article: Fishing Charter Checklist: 15 Essential Things to Bring.
Additional Lake Fork Fishing Resources