Pineview Reservoir is one of my favorite places in Utah to target smallmouth bass. It has a healthy population and gives you a great shot at some of the bigger smallmouth bass in the state. It also gives you an opportunity to catch some giant Tiger Muskie which is always a plus.
I was fortunate to be able to take the day off and take my dad and cousin up there to chase some bass. We ended up having a great trip and landed over 30+ bass and even caught a few smallmouths that were in the 4lb range.
Here are some of the logistics of where we went, what we used and how we were able to catch fish at Pineview Reservoir.
Fishing Conditions
Weather: Sunny, little to no clouds with the wind picking up in the afternoon
Wind: 3-10mph
Water Temperature: 64-69
Water Level: Full
Water Clarity: Stained 1-2ft visibility
Date: 6/4/20
Time: Fished from 7:00am to 1:30pm
Pineview Reservoir Fishing Report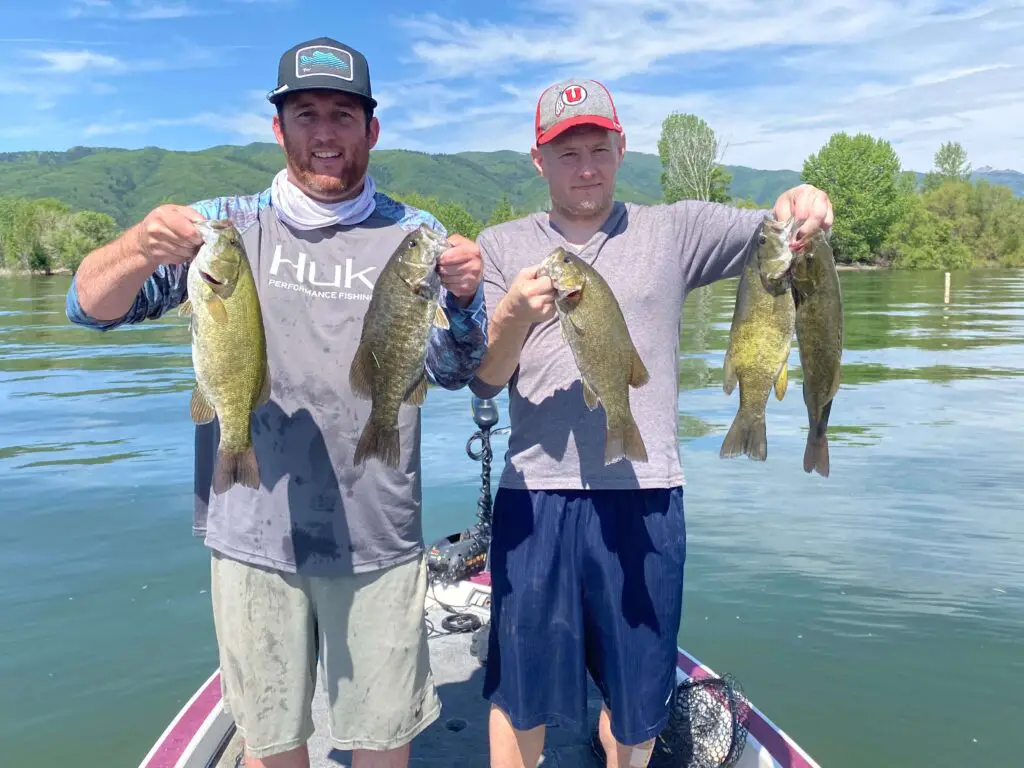 Heading into the trip I knew the bass were either spawning or getting ready to spawn with maybe even a few just getting done. I had also heard some other anglers were having some success so I knew that we had a good chance of having great day of fishing.
Early on the bite was pretty slow we started off using some top water lures and moving baits like the spinnerbait and chatter bait, but we figured out they preferred more of a finesse presentation.
We ended up switching to a Senko and Drop shot and caught a ton of fish in a quick amount of time and they were all quality and we even caught a few tanks. We ended up catching 20+ nice sized smallmouth bass and caught 15 or so smaller ones.
Overall, we had a great day on the water bass fishing for smallmouth bass. For more specific details about our trip continue reading below for additional information.
What We Used: Best Pineview Baits & Lures
We got to our first spot just in time to try a little top water action. I started off throwing a 130 whopper plopper and stuck with that for a while but wasn't able to get any bass to commit.
We also tried throwing a spinnerbait and vibrating jig, but didn't have much success with those either. We switched things up and went with more of a finesse approach and that seemed to be the ticket. We caught a ton of nice sized fish with stick baits, drop shot and small swimbaits.
Here are the specific bait and techniques we used to catch fish at Pineview Reservoir:
Senkos
For whatever reason the smallmouth were crushing the 5" Wacky Rig Senko. This bait by far caught the biggest and most fish on the trip. My only regret was not having more with me on the boat. I ended up running out and I had to switch to other stuff.
We fished the Senko in shaded areas in about 1-12 ft of water and would cast it out and let it slowly go to the bottom and then lift it up and reel it in a bit and let it fall to the bottom again. Most of our strikes came on the initial fall, but there were a few that we caught right at the boat.
Yum Dinger
The Yum Dinger was also a killer bait for us on this trip. We had a ton of success throwing the 6" green pumpkin with a chartreuse tail color. We fished it weightless and would switch from a Texas Rig to a Waky Rig on and off depending the type of structure we were fishing.
Drop Shot
Another effective technique that helped us catch some smallmouth bass was the drop shot. This finesse presentation was effective up shallow in in 1-12ft. We were using fishing mostly a dream shot green pumpkin bait and robo worm (Aaron's Magic) on about a 6-inch leader with a lite weight.
Swimbaits
Another bait that we were able to catch some quality fish on was a finesse swimbait. The Keitech Fat Swing Impact (3.8") caught us some nice fish. As far as patterns go we used mostly green pumpkin and bluegill flash.
Where We Fished
I knew the bass were either in pre-spawn or spawning mode, so my game plan coming in was to target staging areas where I thought the bass might be sitting in waiting to spawn. Or if they had already spawn they would be in these same areas perhaps looking to feed.
My hypothesis ending up being correct and we were able to have a lot of success fishing in secondary points and structure that were at the front of coves. We caught the majority of our fish in these areas.
Here is a screen shot of one of our more productive areas: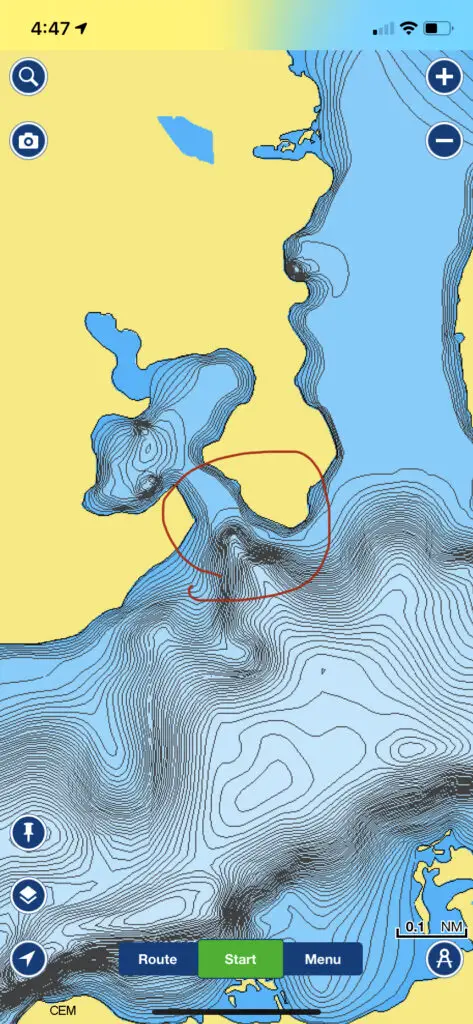 Utah Bass Fishing Resources
Final Thoughts
Pineview is well known for its Tiger Muskie and its healthy population of smallmouth bass and on this trip it definitely lived up to its reputation. We were able to catch 20+ nice sized smallmouth and a dozen or so smaller fish. No Tiger Muskie were caught but we will save that for another trip.
In my view Pineview Reservoir is one of the best places to target smallmouth bass in Utah. If you haven't already I would definitely encourage you to check it out. The only downside is it tends to get over crowded with other reactional activities. So it's best to go early in the morning or on weekdays.
I hope you have found this information to be insightful and that it helps you catch some more smallmouth bass the next time you are fishing at Pineview Reservoir. If you have any questions about Pineview or bass fishing in general feel free to comment below.
Tight Lines
Aaron