Lake Erie is a popular vacation destination for many, but anglers see it as a bucket list lake to fish. While there are many species anglers can choose from on Lake Erie, Walleye fishing is by far the most popular. Walleye put Lake Erie on the map which is well known for being one of the best fishing spots in the world. 
If you haven't had the chance to chase these trophy fish at Lake Erie trying to find the right charters and information can be overwhelming. For that reason I have put together this Lake Erie Walleye charter guide to help you book the right charter so you can spend less time stressing and more time fishing. 
I've also included a ton of great Lake Erie Walleye fishing information, tips including techniques, spots and everything you need to know about catching Walleye at Lake Erie both through a charter and from shore. 
Let's get started. 
Walleye Fishing at Lake Erie
Walleye fishing at Lake Erie is world class and is absolutely a great place to target these big eyed, toothy creatures. It's often said that Lake Erie is the Walleye capital of the world. On Lake Erie an average size Walleye is typically between 3-7 pounds, but it's not uncommon to run into a 10-12 lb giant. 
The large population and trophy caliber of fish are big reasons why Walleye are so popular to fish for. Lake Erie has a ton of great fishing charters that can help you dial in these fish and ensure you have a great day out on the water. There are also some great fishing opportunities from shore as well, if that is more your style.
Lake Erie Walleye Charters Prices
Booking a fishing Charter on Lake Erie can be a fun and easy way to catch some fish, but it does come with a cost. What should you expect to pay if you do hire a charter for the day?
On average anglers can expect to pay around $450 dollars for a private 4 hour trip at Lake Erie. Full day charters typically cost between $650 to $850 for 7 or 8 hours. Most private charter boats will hold 1-6 anglers making the average cost per person $75 for a half-day and around $130 for a full day. (These numbers are based on prices on FishingBooker.com)
With that being said the cost of a Walleye charter will depend on the captain, boat, season number of hours and how many people are in your party. 
Best Season for Walleye Fishing on Lake Erie
The best time to fish for Walleye on Lake Erie is during the summer months. The summer is considered to be the high season for Walleye and is probably your best chance to catch both size and numbers. With that being said the fishing can be great year round the spots and techniques will just change depending upon the season.  
Here is what you can expect: fishing for Walleye in every season. 
Spring
In the early spring Walleye will spawn on Lake Erie. The Walleye spawn typically starts in February and runs through April. During the spawn the Walleye will be up shallow and feeding close to shore. Many charter captains say that Walleye fishing really picks up in April and is great all the way until November. 
The spring can be a great time to fish from shore or at night as the Walleye will be up up shallow and feed closer to the surface. If you do go fishing on Lake Erie in the spring make sure to come prepared with warm clothes. You never know what kind of weather you are going to get. 
Summer
The best time to fish for Walleye at Lake Erie is during July and the other summer months. The peak season for Walleye is during the heat of the summer. As the water warms and weather stabilizes the Walleye will move into deeper waters to find relief from the heat. 
During the warmest time of the year, you'll see a lot of charter boats on the lake, and even more excited anglers battling their prey on light tackle. Walleye set out offshore after spawning and can settle up to several miles from land. Casting and trolling with planer boards will reward you with trophy sized catches at the end of the day.
Whether you're in it for a new personal record, or you'd just like to stock up on delicious filets, Lake Erie is a great place to fish in the summer. This hot fishing will continue all through September and into October depending upon the weather conditions. 
Fall 
As temperatures cool down in the fall, Walleye will return to shallow water much like in the spring. September and October are your best months to go fishing for Walleye in the fall. You can still have some great fishing days in the fall but it can be more hit and miss. That's why it's important to have a good guide that can get you dialed in. On Lake Erie the Canadian waters is a popular area to target. If you do head that way make sure to bring your passport. 
Winter
Walleye fishing at Lake Erie is good all year round. That even includes the coldest months of the year when the lake is frozen. Most anglers put away their fishing gear for the year, but this can be a big mistake. The winter on Lake Erie just means its ice-fishing time. 
Before you hit the ice for some great Walleye fishing remember it's important to be safe. There are ice fishing guides who can help you find the best and safest spots out there. The waters between the islands are usually your safest bet. Make sure that the ice is thick enough to drill holes, always go out with someone, and remember to dress warm. It can get super cold on Lake Erie. 
Best Lake Erie Walleye Fishing Charters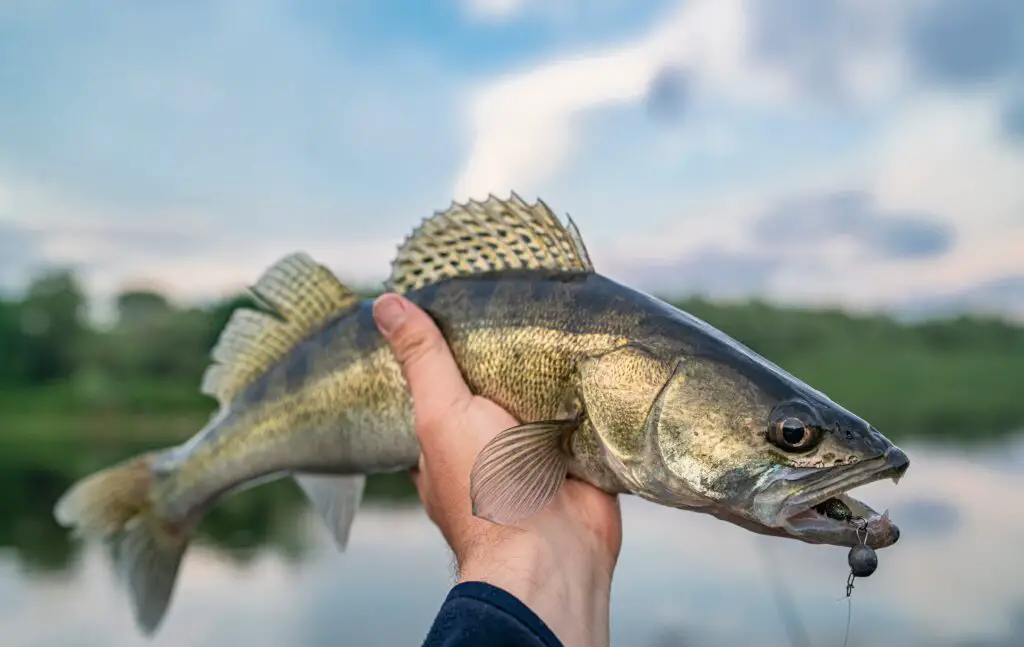 If you haven't been to Lake Erie or simply want to make sure you have a comfortable and successful day out on the water then I'd highly recommend hiring a guide or charter. 
When you are hiring a guide, you aren't just playing for a day of fishing, but are also hiring them for their experience and expertise. The guides on Lake Erie have put in the time to understand exactly what the fish are eating, where they are located and how to catch them. Hiring a guide or charter drastically increases your chances of catching fish and is much more relaxing. 
Here are some of the best Walleye fishing charters on Lake Erie
All of these fishing guides mentioned below have a ton of experience catching Walleye at Lake Erie and will help you get on some big eyes. I'd highly recommend checking them out if you are planning on making a trip to Lake Erie.
Affordable Walleye Fishing Guides on Lake Erie
Don't have a lot to spend? No worries, there are a lot of great local guides at Lake Erie that will take you out without having you spend your life savings. Some guides also offer half days which can be a great option if you don't want to spend a lot of money. 
Here are some of the cheapest and best Lake Erie fishing charters.
Best Walleye Lake Erie Charters by Location
Lake Erie is a massive body of water that spans two different countries and several states. This gives anglers a lot of options and a ton of different areas where guided charters can be found. 
Here are the best Walleye Lake Erie charters based on the most popular areas of the lake. 
Port Clinton
Port Clinton is known for its world class fishing. This is also one of the most popular places anglers book charters from. Port Clinton is located in Ohio on the north coast of Lake Erie. If you're looking to book a fishing trip in this area I'd highly recommend checking out Vitamin Sea Fishing Charters. They have an incredible reputation, are great people and will help you land some trophy fish. 
Lakeside Marblehead
Fishing for Walleye at Lakeside Marblehead on Lake Erie means you are in for some serious fishing action. Fishing is typically excellent April through the first part of November. Tail Chaser Fishing Charters runs a fantastic charter out Lake Marblehead and they will be sure to make your trip an enjoyable and memorable experience.
Lorain
Another popular and excellent location to book a Walleye fishing charter on Lake Erie is in Lorain, Ohio. One of if not the best charters out of Lorain is Possessed Again Charters. These guys run a full service charter on Lake Erie specializing in trolling for Walleye. These guys are always dialed in and will make sure you catch fish and have a good time. 
Oak Harbor
Oak Harbor is an excellent area and great place to visit and fish from. The best charter and one that I'd recommend in Oak Harbor is Erie Angler. Erie Angle is run by Jim Mitchell who has been fishing Lake Irie for over 50 years. In addition to Walley Jim will always get you on some Yellow Perch which can be a great fish to target for families and young anglers. 
What to Bring On a Fishing Charter
Most of the charter boat captains will have water and some ice. You can store some drinks but there are plenty of things you'll want to make sure you bring. 
Here are the items I would recommend taking with you.
Fishing License (if needed)
Snack & Drinks
Sun Protection
Protection from Weather
Waterproof storage
Personal Care Items
Towels or Wipes
Flashlights or Headlamps
Camera
First Aid Kit
For more information on what to bring on a fishing charter trip check out this article: Fishing Charter Checklist: 15 Essential Things to Bring. 
How to Catch Walleye at Lake Erie
Trolling
One of the most popular and productive fishing techniques for catching Walleye on Lake Erie is trolling. Chances are if you go on a charter or someone with experience you'll be trolling most of the time. 
The guides on lake Erie have trolling nailed down and utilize a lot of different approaches to trigger Walleye into biting. Your boat will be moving slowly, up to 2 miles per hour, with your fishing lines being dragged behind. Your guide might use planer boards, downriggers, flatlining or divers depending on the seasons you are fishing in. 
Trolling keeps your bait or lure in the strike zone and allows you to cover ground, which dramatically increases your chances of success. 
Jigging/Drifting
Another effective way to target Walleye on Lake Erie is to jig or drift. Trolling is by far the most popular way to catch them but jigging and drifting are more hands on and can be a lot of fun if the timing is right. 
Ice-Fishing
As we have mentioned previously, Walleye fishing is good year-round and that doesn't stop during the winter months. It just means the conditions and techniques will change. During the cold months Walleye will become more lethargic but you can still catch them with the right presentation. This is where Ice-fishing is the technique of choice. 
Shore Fishing 
If you don't have a boat and aren't interested in hiring a charter, fishing from shore is always a great option as well. The best time to fish from shore at Lake Erie is during the spring and fall when the Walleye are up shallow feeding. 
Using crankbaits and minnows are great ways to catch fish from shore. At Lake Erie there are plenty of spots and good areas that can be fished from shore. 
What Part of Lake Erie is Best for Walleye?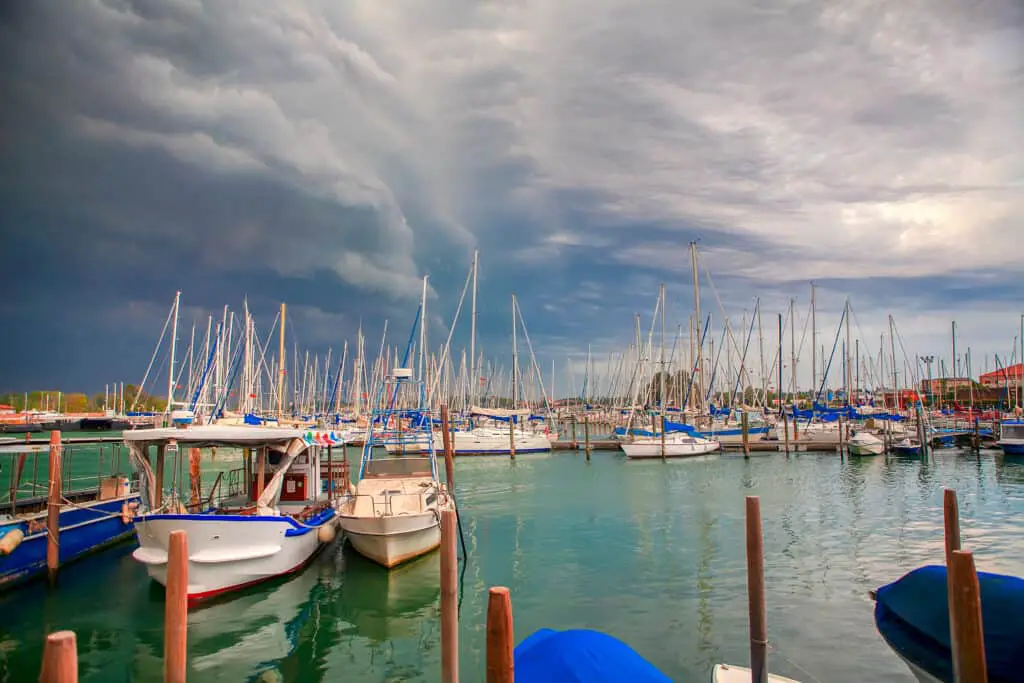 Walleye fishing on Lake Erie can be incredible, but just like anywhere you need to know where to find them. Lake Erie is a huge body of water and the fourth largest Great Lake. Canada, Michigan, Pennsylvania, Ohio and New York all touch the lake and great Walleye spots can be found pretty much anywhere.  
Here are a few of the many great fishing spots you should check out when you visit. 
Port Clinton
When it comes to great Walleye fishing spots on Lake Erie, Port Clinton is one of everyone's go to areas. You won't have to travel far from here to find some great spots. There are also a lot of local charters and guides that can take you out and put you on some fish. 
South Bass Island
Another great area to target Walleye on Lake Erie is South Bass Island. Walleye love to hang around here because there is a lot of cover to hide in and food around to eat. Don't be surprised if you run into a double digit fish here as they are known for producing some giants. 
Ashtabula 
One of the best and most popular places to target trophy Walleye on Lake Erie is at Ashtabula. This area is well known for holding some big fish and can be a great spot to fish year round. 
Toledo Shipping Channel 
One of the most popular and productive fishing spots in Ohio is the Toledo Shipping Channel. You have to travel a few miles out to reach the channel, but once you do it is well worth the trip. Size and numbers are found here and trolling is the best way to catch them. 
The Trenches
The Trenches are an excellent area all throughout the season and Walleye are constantly biting. This is also one of the top spots for late fall fishing. These Pennsylvania waters have a lot to offer to fishermen ready to explore Lake Erie.
Cleveland
Cleveland is a super popular urban area that is loaded with great spots and a lot of anglers as well. This is a great spot in the spring when the Walleye tend to roam more through these waters. 
Popular Species to Target at Lake Erie
As we have mentioned before Lake Erie is one of the best places to fish for Walleye in the country. However, there are also some other popular sport fishing anglers love to target in the same water. 
Here are species you can expect to catch at Lake Erie
Steelhead
Walleye
Largemouth Bass
Smallmouth Bass
Perch
Lake Trout
King Salmon
Rainbow Trout
Brown Trout
What Do Walleye Eat?
At Lake Erie threadfin shad is one of Walleyes favorite things to eat. If you are not sure what to use to catch fish at Lake Erie start off by using something that resembles threadfin shad. It's always a good bet. 
Another popular food item for Walleye on Lake Erie is Perch. There is what seems like an endless population of Perch and Walleye love to eat them. 
Other Walleye Lake Erie Resources