Lake Michigan is a popular vacation destination for many, but anglers see it as a bucket list lake to fish. While there are many species anglers can choose from on Lake Erie, trout, salmon and smallmouth bass fishing are by far the most popular. 
If you haven't had the chance to chase trophy fish at Lake Michigan trying to find the right charters and information can be overwhelming. For that reason, I have put together this Lake Michigan fishing charter guide to help you book the right guides so you can spend less time stressing and more time chasing a fish of a lifetime.
In this article you'll learn everything you need to know about fishing guides on Lake Michigan including who the best Lake Michigan guides are, best times and seasons to fish, what to bring and expect when you hit the water.
Let's get started.
What Can You Catch at Lake Michigan 
Rainbow Trout (Steelhead)
Lake Michigan has a healthy population of rainbow trout also sometimes referred to as steelhead. Rainbows are an extremely popular fish to target and stock. They are a blast to chase and catch and their colors are hard to beat. 
Brown Trout
If you haven't had the pleasure of reeling in a big brown trout then you have been missing out. These fish are a blast to target and catch and they can become quite aggressive. The best time of the year to target browns is during the early spring and fall months.  
Salmon
Salmon fishing at Lake Michigan is one of the most thrilling angling experiences you can have in North America. Anglers come from all over to seek out the Chinook (king) salmon and the coho (silver) salmon. There are a ton of great charters that can help you get on a salmon bite. You'll have a blast. 
Lake Trout
Lake Trout love cold deep water making Lake Michigan an ideal home for trophy lake trout. In the spring they will come up shallow 10 to 30 feet where they can feed aggressively. In the summer months they will head for deep cooler water. Trolling with a guide can be a great way to catch one of these monster fish. 
Smallmouth Bass
Lake Michigan is home to a healthy population of smallmouth bass and the fishing for them seems to get better each year. Anglers targeting bass often land 3 to 4 pound fish every time they hit the water, with the chance at a trophy 5+ smallmouth. If bass fishing is something you enjoy doing, Lake Michigan is a great destination to target giant smallmouth. 
Largemouth Bass
The largemouth bass population isn't as strong at Lake Michigan as the smallmouth but there are still some nice ones that call this water home. The largemouth often gets overlooked but can be a lot of fun to target in the spring, summer, and fall. 
Yellow Perch
Perch are a popular panfish that are native to Lake Michigan. They are known for being a great tasting fish that is easy to catch. Perch can be caught pretty much anywhere on Lake Michigan and is a perfect fish to target for young anglers, families and those looking for a tasty meal. Fishing for perch really comes into play in the winter when ice fishing begins but can be caught year round using simple techniques. 
Walleye
If walleye fishing is more your style you're in luck because Lake Michigan is home to some excellent walleye fishing. In fact many say it's one of the best walleye fisheries in the Midwest. Trolling, casting and bait fishing can all be effective for walleye depending upon the time of year. 
Pike
Pike aren't as abundant as some of the other game fish in Lake Michigan but they can still be targeted and caught. Pike can be found on the west coast of Michigan around where the rivers come in. Every once in a while you can expect to catch a pike while targeting other species. However, most guides on Lake Michigan will focus their efforts on trophy trout and salmon.
Lake Michigan Charters Prices
Booking a fishing Charter on Lake Michigan can be a fun and easy way to catch some fish, but it does come with a cost. What should you expect to pay if you do hire a charter for the day?
On average anglers can expect to pay around $500 dollars for a private 4 hour trip at Lake Michigan. Full day charters typically cost between $700 to $1200 for 7 or 8 hours. Most private charter boats will hold 1-6 anglers making the average cost per person $85 for a half-day and around $200 for a full day. (These numbers are based on prices on FishingBooker.com)
With that being said the cost of a Lake Michigan fishing charter will depend on the captain, season, length, target species and how many people are in your party.
Fishing Tip Etiquette for Guides and Charters
Going on a guided fishing trip or chartering a boat comes with a lot of payments and expenses. One of these is tipping the guide or the crew, and many people don't know how much they are normally tipped. How much should you tip a fishing guide or a charter crew?
Fishing guides are usually tipped 10-20% of the whole trip; this usually ends up being around $20 to $80. When using a chartered boat, tip about 15-20% total for the crew, and the captain typically doesn't get a tip. If the work of the guide or crew exceeds expectations, leave a higher tip.Check out this article for more information: Fishing Tip Etiquette for Guides & Charters.
Best Time to Fish Lake Michigan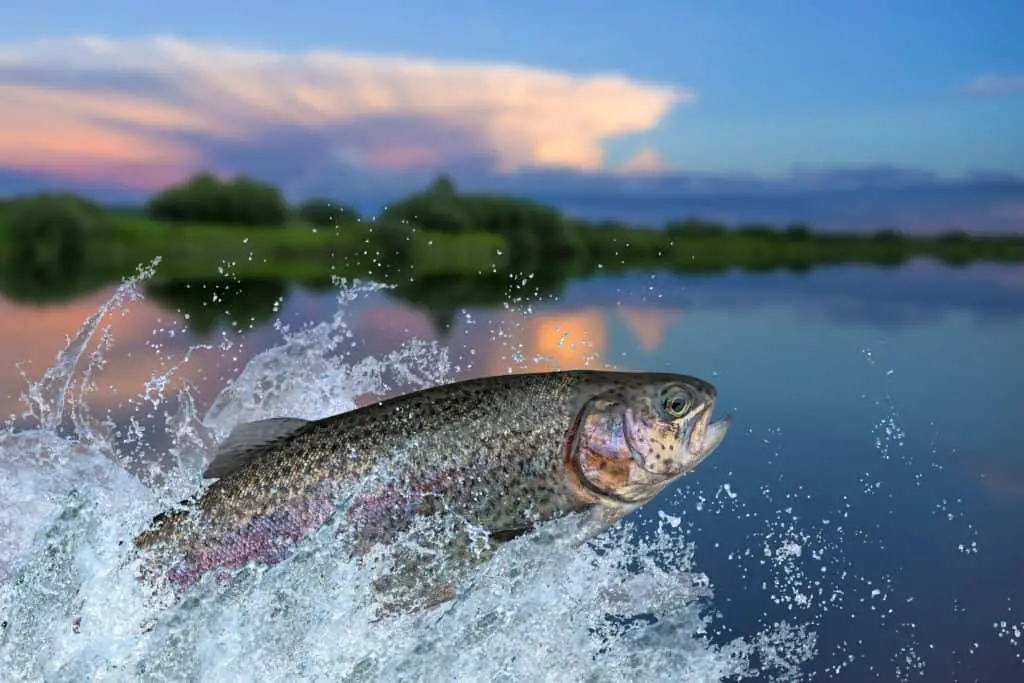 One of the great things about Lake Michigan is the fishing can be great year round. The techniques, baits and angling methods might change but most fish can be caught all through out the year. Although the fishing is always pretty good, there is no doubting there are certain times of the year that are more productive and others. 
The best time to fish Lake Michigan for lake trout and steelhead is May to June, with salmon fishing being the most productive in July and August. Bass fishing on Lake Michigan is the best in the spring and fall. Perch fishing on Lake Michigan can be geat in the spring as well but ice fishing for them in the wintertime is hard to beat.
Lake Michigan Seasonal Guide
When planning a fishing trip to Lake Michigan it's important to know what to expect during each seaon so you can know exactly what you are getting into. 
Here is what you can expect for fishing Lake Michigan in each season.
Spring
When the. Fishing at Lake Michigan in the spring really heats up in the middle of April and will be good all spring. Anglers can catch brown trout, lake trout, yellow perch, walleye, and coho salmon during this time of the year. Smalmouth bass will be in pre-spawn and will be feeding heavely as they prepare for the spawn in May/June. The best time to book a spring charter boat is early in the morning or mid day when it warms up a bit. 
Summer
As the weather heats up in the summer fish will become more active and aggressive with their metabolisms being high. This means you can have some awesome fishing days in the summer as long as you know where to target you desired specie. 
The fishing is typically best early in the morning and during the last few hours before it gets dark. The summer is a great time to target salmon, trout, bass and perch. Fish can be found feeding up shallow in the morning and evening and out deep in cooler water during the day. 
Fall 
One of the best times to fish Lake Michigan is during the fall. This is your best chance at catching a trophy fish. Big Browns, tasty perch, feisty Smallmouth Bass and a variety of Salmon are all great species to target this time of year. In addition to the great fishing there is typically less boat traffic out on the lake as well. This fall can be a great time to book a fish with a charter. 
Winter
Don't let freezing temperatures and a frozen lake trick you into thinking the fishing isn't very good. In fact it can be quite the opposite. Winter means only one thing at Lake Michigan and that is the beginning of the ice fishing season. 
This is when yellow perch become superstars and are highly targeted by locals. You can also catch walleye, rainbow and brown trout through the ice with the occasional bass. If hard deck fishing is something you are interested in, Lake Michigan is a great place to experience ice fishing.
Lake Michigan Fishing Charters
If you haven't been to Lake Michigan or simply want to make sure you have a comfortable and successful day out on the water then I'd highly recommend hiring a guide or charter. 
When you are hiring a guide, you aren't just playing for a day of fishing, but are also hiring them for their experience and expertise. The guides on Lake Michigan have put in the time to understand exactly what the fish are eating, where they are located and how to catch them. 
Hiring a fishing guide will dramatically increase your chances of catching fish and can be a fun experience for both family and friends. 
Here are some of the best fishing charters on Lake Michigan.
Best Lake Michigan Fishing Charters
Lake Michigan Fishing Charters by Location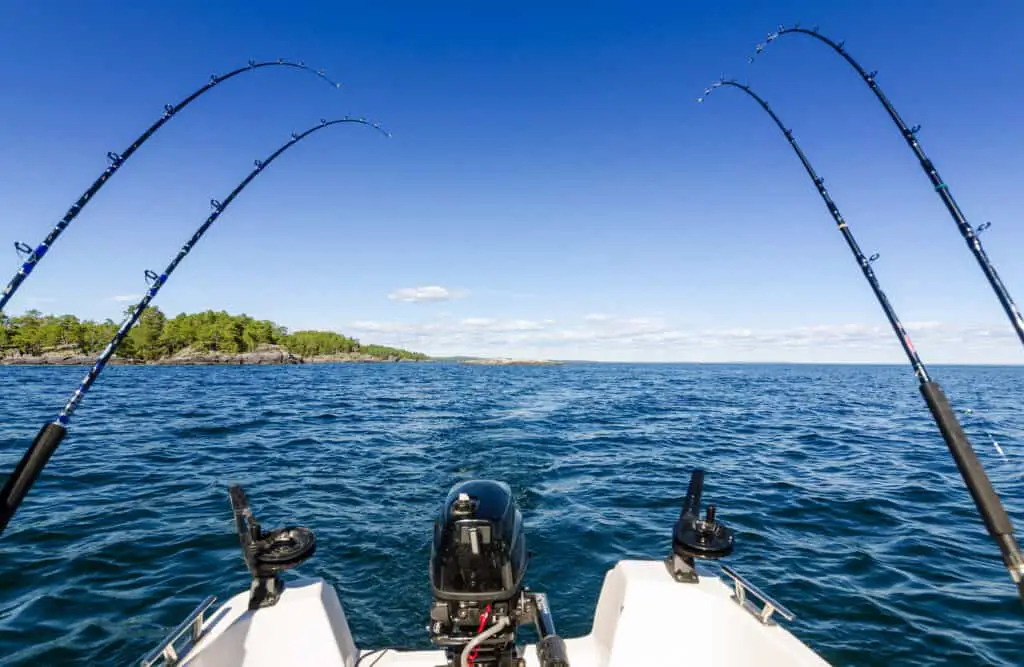 Michigan Lake Michigan Fishing Charters
Illinois Lake Michigan Fishing Charters
Wisconsin Lake Michigan Fishing Charters
Best Ice Fishing Charters on Lake Michigan
What to Bring on a Guided Fishing Trip
Most of the guides will have water and some ice. You can store some drinks but there are plenty of things you'll want to make sure you bring. It's best to check with before your trip to make sure you are both on the same page on what you need to bring. 
Here are the items I would recommend taking with you.
Fishing License (if needed)
Snack & Drinks
Sun Protection
Protection from Weather
Waterproof storage
Personal Care Items
Towels or Wipes
Flashlights or Headlamps
Camera
First Aid Kit
Nausea Medicine (if you get sea sick easy)
For more information on what to bring on a fishing charter trip check out this article: Fishing Charter Checklist: 15 Essential Things to Bring.
Additional Lake Michigan Fishing Resources
Final Thoughts
Whether you are targeting trophy trout, big bass, tasty salmon or ice fishing for perch Lake Michigan is an excellent place to cast your line. Anglers come and visit from all over the country to experience what the great lakes are all about. If you haven't had the experience of fishing Lake Michigan on a guided trip then I'd highly recommend it. The memories you'll make will be well worth the investment.