A largemouth bass is one of the most popular sport fish and can be found all over the world in lakes, ponds and reservoirs, but do largemouth bass live in rivers? This is a question many anglers have wondered.  
Largemouth bass can inhabit rivers and creeks but are most commonly found in large, slow rivers. They tend to stay clear of areas with heavy current and prefer quiet, clear water, but can adapt well to a variety of habitats.
There are many factors that go into where largemouth bass can live, including forage, oxygen, temperature among many others. The focus of the rest of this article is to help you understand a largemouth bass behavior in rivers and creeks. We will discuss productive areas, effective lures, and tips and techniques that will help you catch more largemouth bass.  
Where Do Bass Live in Rivers?
When targeting largemouth bass in rivers it's important to understand that they avoid areas with strong current. Current can be helpful, but too much current will keep largemouth bass away. Your high percentage areas for largemouth bass are going to be in backwaters of the main river. Most rivers have small creeks that branch off the main river and then reenter. These are excellent areas for largemouth bass.
If you can find calm areas with weeds and structure you will have no problem finding largemouth bass in both rivers and creeks. Here are some high percentage areas where largemouth bass are typically found:
Prime Areas for Largemouth Bass in Rivers
Backwater creeks
Clam spot near creek entrance
Heavy weeds
Run-outs
Target wood
Slack spots
Over hanging trees
Points
River Islands/Sandbars
Calm areas with structure
What Do Bass Eat in Rivers?
Largemouth bass are well known for being opportunistic predators that will eat just about anything that comes their way, however, they do have their favorites. Here are some things that largemouth bass will typically eat in rivers and creeks:
Minnows
Fish
Crayfish
Insects
Snakes
Rodents
Frogs
Small birds
Where do bass spawn in rivers?
When the water temperatures hits 55 to 65 degrees largemouth bass will seek a shallow and protected area for spawning. In rivers and streams they find spawning areas where the water is protected and more sedentary.
It's also important to keep in mind that since the water temperature in rivers and creeks doesn't warm up uniformly, not all largemouth bass will spawn at the same time.
Best River Fishing Baits for Largemouth Bass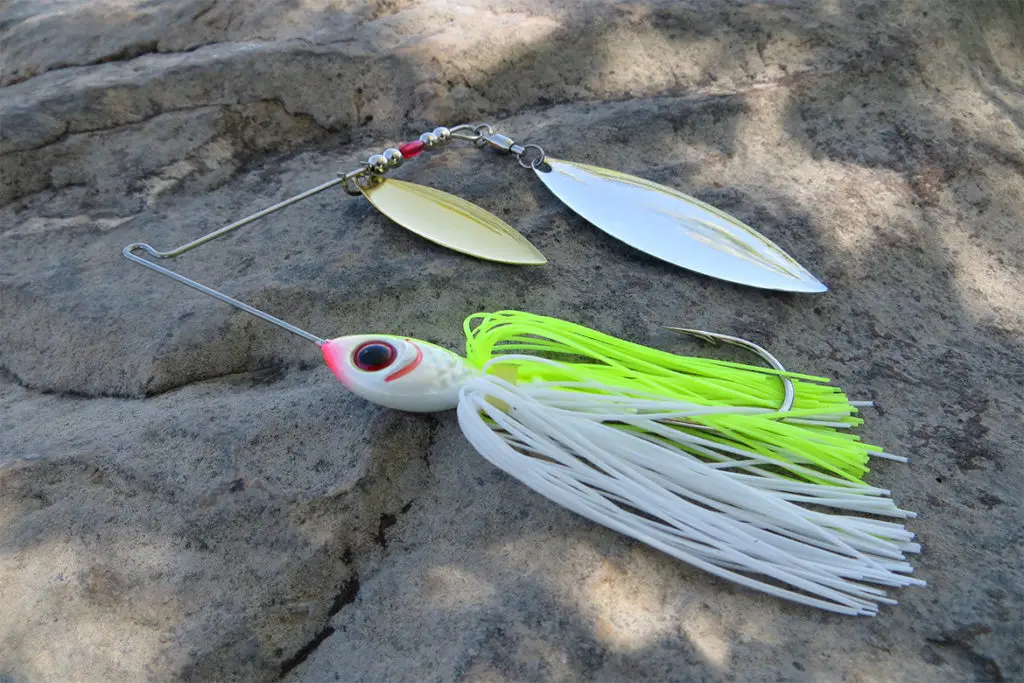 Just like any body of water there are certain lures and baits that will work well in some places but better in others. The key to finding the right presentation is understanding and adapting to the conditions you're faced with. Here is a list of some of the best lures for river largemouth bass that will work pretty much anywhere.
Spinnerbaits
A 3/8-ounce spinner bait with double Colorado blades is a great option for river fishing. The spinner bait allows you to cover a lot of water and also throws off plenty of vibrations calling the attention of surrounding bass.
Top Pick: 3/8-ounce spinner bait with double Colorado blades
Crankbaits
Crankbaits are also a great option for largemouth bass on the river. Much like a spinnerbait they allow you to cover a lot of water and draw bass into striking. You have a great chance at catching some nice river bass when throwing a crankbait.
Top Water Lures
Poppers, small buzbaits, and other top water lures can be a fantastic and fun way to catch river largemouth bass. Poppers are especially effective in slow rivers and streams because the work great in confined spaces and can be worked slowly. Cast your top water lures close to current-breaking objects and give it a couple twitches. If bass are close, they will come up and crush a popper.
Top Pick: Rebel Pop-R
Jigs
Another great option for river bass fishing is a 3/8 ounce brown jig with a green-pumpkin creature bait. Bass love crawfish and most river systems have plenty of them crawling around on the bottom and a jig is a great crawfish imitator.
Top pick: 3/8 ounce jig with Zoom Twin Tail
Finesse Plastics
Tubes, worms, ned rigs and other finesse tactics are an excellent way to catch bass in rivers. They work great in clear and murky streams and can especially be deadly around logjams in stream bends and other types of structure. You can't go wrong throwing finesse plastics on the river.
For some other tips on river bass fishing lures check out this article by Bassmaster called Lures for Stream Bass.  
How to catch bass in rivers?
Bass fishing in rivers and streams offers anglers with a change of pace and provides new opportunities and challenges. However, many anglers fish river and streams the same way they fish lakes, ponds, and reservoirs. Although many of these same techniques still work, river fishing is largely a different style that requires different strategies. Here are some tips that will help you catch more river bass.
Current
The key to river fishing is understanding how to manage and fish current. Much like trout in mountain streams, bass also use eddies, holes, logs, rocks and other irregularities in current to conserve energy and ambush their prey.  
Position
Largemouth bass tend to face upstream. Making sure you are casting the direction the fish are positioned is key. Casting up stream will allow your bait to float past them more naturally as they hide behind rocks, stumps, weeds and other structure.
Stealth
Go into stealth mode when fishing for bass in rivers and streams. Especially when you are fishing in the backs of creeks and channels. If you get too excited and aren't careful you can easily spook fish.
What are the best rivers for largemouth bass?
There are many great river systems where largemouth bass thrive and where the fishing is great. Listed below are some of the top rivers for fishing for largemouth bass:  
Potomac
Mississippi
Red River
St. Johns
James
Final Thoughts
Rivers and creeks are a great place to fish for largemouth bass and often get overlooked by anglers. Understanding river systems can help make your fishing trips more productive. We help these tips and tricks help land some more largemouth bass the next time you head to the river.
Tight Lines!