Destin, Florida, also known as The World's Luckiest Fishing Village, offers a wealth of incredible features that make it the perfect fishing destination for all anglers. The views, diverse and unique species to target make it a must visit.
If you haven't had the chance to experience the incredible fishing Destin, Florida has to offer trying to find the right charters and information can be overwhelming. For that reason, I have put together this Destin Charter Guide to help you book the right charter so you can spend less time stressing and more time fishing.
I've also included a ton of great Destin fishing information including tips, techniques, spots and everything you need to know about booking and fishing with a hired charter.  
Let's get started.
Fishing Destin Florida
Anglers from all over the world come to visit and enjoy the fishing charters Destin, Florida has to offer. Here is where some of the most sought-after game fish in the world can be caught which offers some incredible opportunities for anglers wanting a thrill of a lifetime.  
Depending on the time of year you visit, you land popular species such as Flounder, Sheepshead, Triggerfish, or Seatrout, along with tough-fighting Redfish, Jack Crevalle, and even Tarpon. And that's just inshore!
If you head offshore to deeper water you can try landing a true monster. Mackerel, Cobia, Amberjack, Groupers, and Red Snapper are some of the prizes you'll find nearshore. Meanwhile, Wahoo, Mahi Mahi, Tuna, Sailfish, Marlin, and even Mako Sharks await in the deep. The great fishing and endless opportunities make Destin a great designation for all anglers. 
Here are the species you can expect to catch in Destin.
Red Snapper
Amberjack
Dolphin (Mahi Mahi)
Wahoo
Grouper
Cobia
Tuna
Sailfish
Tarpon
Gray Triggerfish
And much more
Best Season to Fish Destin, Florida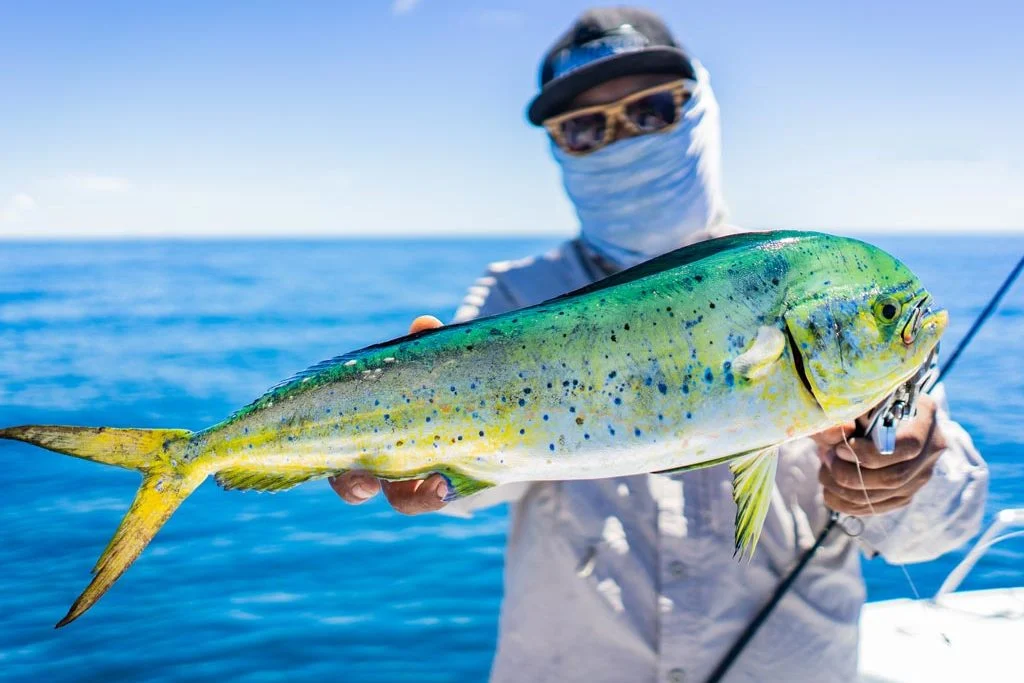 The best time to go deep sea fishing in Destin Florida is April through September. During these months most gamefish will be in peak season meaning you'll have a much better chance of a successful fishing trip. 
With that being said, the best time to fish Destin will depend on the species you are targeting. Although most fish can be caught year-round there are definitely times of the year that are much better than others. 
Here is a look at some of the most popular sport fish to target in Destin, Florida and when the best time is to fish for them.
Destin Fishing Charter Prices
Booking a trip with a fishing Charter in Destin, Florida can be an incredible experience for you and your friends and family, but it does come with some expenses. What should you expect to pay if you do hire a charter for the day?
On average you can expect to pay around $450 dollars for a private 4-hour trip in Destin, Florida. Full day charters typically cost between $650 to $850 for 7 or 8 hours. Party boats are often cheaper and can range from $80 to $120 dollars a person. In addition to your booking fee, most anglers will tip their captains 10-20% depending upon their trip experience.
Private charter boats will typically hold 1-6 anglers making the average cost per person $75 for a half-day and around $130 for a full day. (These numbers are based on prices on FishingBooker.com).
Charter Fishing Options
Private Charters
In order to get the most out of your trip to Destin I'd recommend booking a private charter if it fits within your budget. Most private charters will offer a combination of bottom fishing or trolling and a variety of different trip options. If possible, book a trip for the longest amount of time you can. The more time your captains have, the more spots you can try and the more species you can target. And of course the more time you have the better chance you have at landing a trophy catch.
Here are the private charters I would recommend checking out that are based in Destin, Florida.
Best Destin Fishing Charters
Party Boats
If you are looking for a cheaper alternative to booking a private fishing charter in Destin, going on a party boat can be a cheaper option. Deep Sea fishing party boats in Destin typically cost around $85 dollars per person. Party boats tend to stay about 20 miles from shore and don't offer the one on one coach that a private charter would.
However, they are often much cheaper and you can still catch Mahi Mahi, Wahoo, Tuna, and the coveted Red Snapper. Party boats can be a great experience for those starting out or anglers on a budget.
Here are some of the top Party Boats in Destin.
Affordable Destin Fishing Charters
Don't have a lot to spend? No worries, there are a lot of great local charters in Destin that will take you out without having you spend your life savings. Some charters also offer party boat options or shorter half day trips which can be a great option if you don't want to spend a lot of money.
Here are some of the cheapest and best Destin fishing charters.
Best Fishing Charter Lengths
Half-day
Many fishing charters will offer half day trips. If this is your first time going out on a fishing charter then I would highly recommend starting out with a half day trip. This will get you some experience and you can see how your body handles the big waves. Half day trips are also great for younger anglers or if you are short on time. 
Full-day
A full day for most fishing charters is 6 to 10 hours with the most common full day trip lasting 8 hours. If you have enjoyed a previous charter and have the time and budget I'd highly recommend booking a full day charter. When you go out on a full day your captain can travel further from the marina and hit a variety of spots. You'll have time to target different species and will be way more likely to have success on a full day trip. 
Multi-day
Some fishing charters will allow you to book multi-day trips. These can be a lot of fun for several reasons. You'll already be familiar with your crew and they can get a better idea of your fishing style and what you like to spend your time doing. And of course the more hours or days you are fishing the more likely you are to catch that trophy fish you are after. 
Destin Fishing Hot Spots
The Edge
Leave America behind and discover the riches of the deep water beyond the continental shelf. This is where big game fish come into play. Here you have the potential to catch Wahoo, Tuna, Marlin, and more.
100 Fathom Curve
This spot is located about 10 miles offshore, you'll find waters as deep as 600 feet. This is a great spot to catch some monster Groupers, Snappers, Mahi Mahi, Cobia, and more.
Okaloosa Island Pier
This Destin's fishing pier is just over 1,200 feet into the Gulf, giving you the chance to land some prized fish from the shore. Think only small fish live here? You wold be wrong. There are plenty of anglers that have landed some nice sailfish in this spot.
Navarre Beach Pier
Located on Fort Walton Beach the Navarre Beach Pier was renovated in 2010 and is a great space for anglers to get out and fish. This spot give anglers on the beach some great opportunities to catch some exciting fish.
Other Destin Fishing Resources