Are you planning a fishing trip and aren't sure what to bring? Just like any outdoor activity there are several things you should remember to take with you before you head out on the water.
Not only will bringing the right gear enhance your overall fishing experience, but it will also help keep you safe and prepared for whatever may come your way.
With so many things to remember it's often easy to forget something. For that reason, we have compiled this fishing gear checklist for you to follow to ensure you have everything you need for a fun, relaxing and safe day out on the water.    
Here is a list of 15 essential things that we recommend bringing with you on your next fishing adventure:
Fishing Trip Checklist: 15 Essential Things to Bring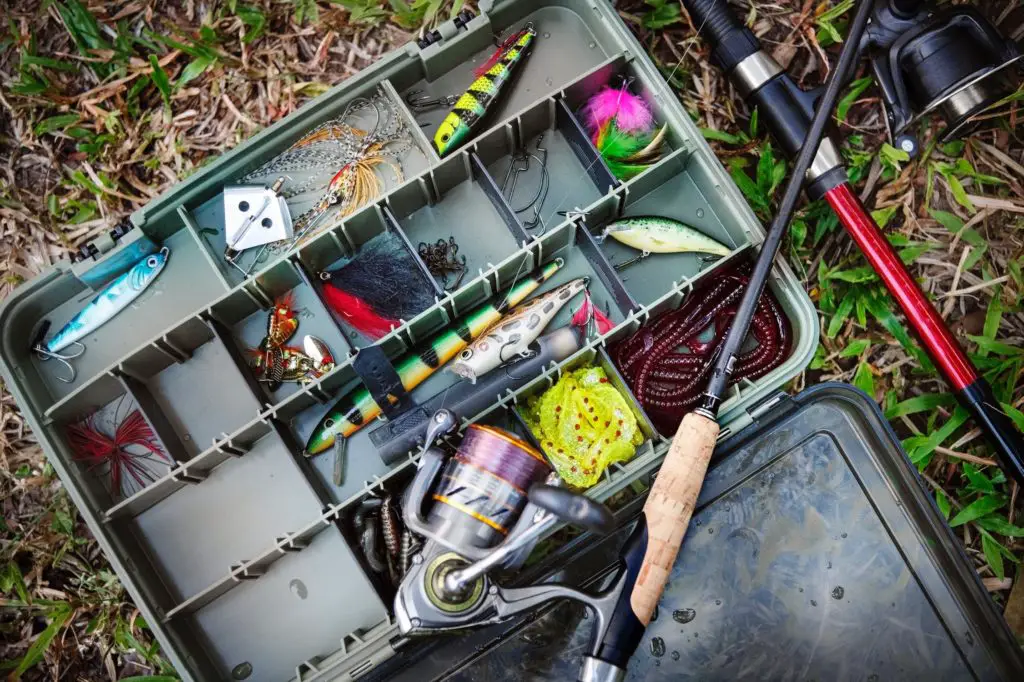 Fishing License
First and foremost, having a valid fishing license is a must. Nothing can ruin a great fishing trip like receiving a citation for not having a proper fishing license.
Do some research and make sure you have or purchase a fishing license that will fulfill the requirements of your fishing trip. If you already have one that's great, just make sure to bring it.
If not, you can usually purchase a day, week or year license depending on the state and body of water. Just get one that makes the most sense for you.
Standard Fishing Gear (Tackle, Rod's & Reels)
It's pretty obvious you'll need to bring some standard fishing items with you on your fishing trip but with so many little things to remember its often easy to forget something.
To help make sure you don't leave something behind here is a list of some standard fishing gear you'll want to make sure you bring:
Rod & Reels (you should also bring a back up)
Lures
Bait
Extra line
Plyers
Hook remover
Nippers
Terminal tackle (weights, hooks, swivels etc.)
Bobbers/Indicators
Fishing net
Stringer
Waders/Boots
Sunscreen
Another must have item for any fishing trip regardless of the season or weather is sunscreen. I can't tell you how many times I have either forgotten it or felt like I didn't need it, and I always end up regretting it.
Having the right type of sunscreen while fishing is also important. I would recommend bringing a broad-spectrum, water resistance sunscreen that is at least SPF 30. The higher the SPF the better, but whether you use 30 or 70, regular reapplication is key.
For more insight and information about sun protection for you skin check out this article: What's In Your Sunscreen?
Polarized Sunglasses
One of the most important pieces of fishing equipment that every angler should bring with them on a fishing trip is a good pair of polarized sunglasses.
Polarized sunglasses are built to reduce the amount of glare you'll encounter on the water and will greatly enhance your ability to see through the water with better clarity.
This combination makes having a pair of polarized sunglasses a must for any angler headed out on the water. If you don't already have a pair they are definitely worth the purchase.
If you need help selecting a pair check out this article: How to Choose the Right Polarized sunglasses for Fishing.
Insect Repellent
There might not be anything worse than spending hours in the outdoor elements being swarmed by bugs and insects.
Do yourself a favor and bring a nice bottle of insect repellent with you and ensure your fishing trip doesn't get ruined by mosquitoes, gnats, flies, ticks and other pesky bugs.
Waterproof Bag
Another thing you'll want to have with you on your next fishing trip is a waterproof bag. This simple item can become incredibly important when needed. Rain, water or other moisture can destroy your valuables like phones, keys, wallets and not to mention ruin your lunch.
A nice dry bag will help keep your food, phone and other precious items dry and protected from the elements. Whether you are out on a boat or fishing from the bank a dry bag should be on your gear list.
Personal Care Items (Toilet Paper & Medications)
Have you ever been fishing in a remote location and needed to use the restroom without toilet paper? Or forgotten your allergy medicine? I have and it's not pleasant. Make sure to bring some toilet paper and other personal care items like medications.
First Aid Kit
Whether you are fishing by yourself or heading out with a group of friends, it is critical you bring a first aid kit with you. This should be one of the first things packed and double checked.  
After all, you never know what can happen out there. A hook, rock, fish or some other unforeseen thing could easily cause an injury, so it's best to be prepared for the unexpected.  
For a full list of fishing first aid kit essentials check out this article by takemefishing.org.
Proper Fishing Apparel
Regardless of when and where you are fishing, bringing the right apparel for your fishing adventure is crucial. It's important to bring plenty of layers and to be prepared for all potential weather conditions.    
Here are some essential clothing items you should consider bringing with you depending on the time of year and expected weather:
Hat/beanie
Fishing mask
Long sleeves with SPF protection
Windbreaker
Jacket or coat
Shorts
Pants
Rain gear
Gloves
Change of clothes
Extra socks & shoes
Nothing can ruin a great fishing trip faster than not dressing right for the occasion. Just remember layers are key and it's always better to over dress.
Water & Food
Staying hydrated and giving your body the energy & fuel it needs should be one of your top priorities while out on the water. After all, you can build up quite the hunger and thirst during a full day of fishing.
Make sure you bring plenty of water, food and some easy snacks that will help get you through the day. For some good food and snack ideas check out The 10 Best Snacks You Should Bring on the Water.
Cooler & Ice
Whether you bring a small personal cooler or one large enough for your entire group, having a cooler while fishing can be a game changer. A cooler will keep your drinks cold, your lunch safe and will even come in handy when you are wanting to bring your fish home.
Towels & Hand Sanitizer
Whether you are cutting up bait or releasing your catch, fishing can get pretty messy. That's why I would highly recommend bringing some hand held towels and hand sanitizer. Another great cleaning option is some baby wipes. These items will help keep you clean and fresh.
Camera
Can you imagine catching a fish of a lifetime but not having a camera to document your big catch? Without a picture, your friends and family will have hard time believing you and will think it's just another one of those fishing stories.
Don't let that happen. Most phone cameras have all you'll really need to document your trip. Just make sure it's charged, and ready to go.
On longer trips I will often bring a portable phone charger and waterproof housing to make sure my phones battery stays strong and my phone is protected.
Head Lamp or Flash Light
More often than not the best time to go fishing is typically the hours that mark the transition period of dawn and dusk. These low light hours are great for fishing, but can make it difficult for anglers to see.
That's why having a nice head lamp or at least a flash light is highly recommend. After all you don't want to miss out on some great fishing opportunities because you couldn't see.
Make sure you bring a head lamp on your next fishing trip, it will keep you safe and allow you to be more effective during those low light periods.
Fishing Tools & Knife
Standard fishing tools such as nippers and needle nose plyers are something every angler needs to have regardless of the type of fishing trip you go on. We mentioned this one briefly earlier, but it's important enough its worth calling out separately.   
Also, if you plan on keeping your fish and want to clean them on the spot than a fillet knife, stringer, cooler and some cleaning tools are a must.
Final Thoughts
Bringing the right gear and equipment on your fishing adventures will not only keep you safe and protected, but will also make your trip a more enjoyable experience.
I hope you have found this fishing gear checklist to be insightful and that it helps as you prepare for your next outdoor adventure.
Be safe out there.