My wife and I decided that we needed to take a break from Utah's long winter. So we booked a trip centered around the sun, warm weather, horses (my wife's favorite), and of course fishing. Florida was the perfect February vacation destination, and it just so happened we were close to one of the best bass fisheries in the United States: Lake Okeechobee. When I first started researching fishing at Lake Okeechobee, I was overwhelmed and unable to find helpful information about what to expect. For that reason, I wanted to write about my experience and by doing so maybe help the next angler looking to take a trip here and catch a big trophy bass at Lake Okeechobee in Florida.
Our Experience Shiner Fishing for Big Trophy Bass at Lake Okeechobee
Where We Stayed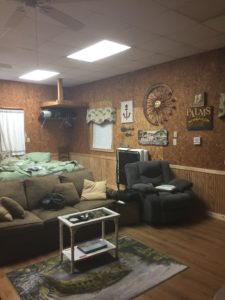 Initially we had a hard time finding a nice place to stay close to the lake. Luckily, Captain Mike, one of the fishing guides we reached out to ,had a little bungalow that he built for his customers that he offered for us to stay in the night before our fishing adventure.
He charged us a $100 dollars a night, which ended up being a steal. He didn't have any pictures of the place so we were a little skeptical at first, but once we arrived we were pleasantly surprised with how nice it was.
It was located on the north west part of the lake, and was a perfect fishing bungalow right next to the Lake. It had a little kitchen, fridge, shower, cable tv, and couch. It ended up being the perfect setup for our one-night stay. It was also located about 15 minutes away from Okeechobee Fishing Headquarters which is a cool little full service bait and tackle store.
Getting a Fishing License
Our initial plan was to buy a Florida fishing license online before our trip. But of course I procrastinated and my cell phone service was spotty at best where we stayed. Luckily we were able to pick up a fishing license at a local gas station (you gotta love fishing towns). We went with the cheapest option, which was a 3-day non-resident Florida fishing license that cost us $17 dollars a person. They also had a week license for $30 and full year for $47 dollars.
Hiring a Guide
Having never been to Lake Okeechobee before, and since we weren't bringing any of our own fishing gear on the trip, it was important to us that we hired a good guide that had plenty of experience and was good at what they did. After doing some research and contacting several guides, I ended up booking an 8-hour fishing trip with Captain Mike at okeechobeebassfishing.com. The cost was $400 dollars for the day trip which seemed to be in line with all of the other guides I looked into. Since we were going to be using mostly shiners as bait, he also charged $20 dollars a dozen for the live bait.
What We Liked
We really enjoyed our day out on the water with our guide. We booked through okeechobeebassfishing.com but ended up going out with captain Bob Stafford from okeechobeecharters.com. Bob has over 20 years of experience fishing Lake Okeechobee and really knew his stuff. He was also super nice and accommodating as well, and was great about helping us rig up are baits and teaching us all he knew about the lake and catching bass.
What We Wish Was different
I wish there would have been better communication on who we would be fishing with and how many shiners we were going to be expected to pay for. There was some lack of communication on Mike's part. We were under the impression that we would be fishing with the guide we booked and communicated through (Mike) and were surprised the night of when we were told we were going to be fishing with Bob instead. It ended up working out great, but I wish we would have known ahead of time.
The cost and amount of shiners that were going to be used on our fishing trip was also a little unclear. Based on our communications with Mike, we thought we were going to be fishing with 3 dozen shiners and then would use artificial lures once we ran out. But Bob ended up bringing more shiners than we expected, (6 dozen) and surprised us with a cost of $120 dollars which was a lot more than we had planned on.
Lake Okeechobee Fishing
Fishing Conditions
Here is what the conditions were like for us on our trip to Lake Okeechobee. We went out February 21st from 6:30- 2:45 pm.
     

Water Temp: around 70 degrees

     

Weather: 78 degrees, cloudy, sunny and windy

     

Water Clarity: Super Stained

     

Wind: 10-18 miles an hour
Fishing with Shiners
I had never used live bait before when fishing for bass, and when I learned we were only going to be fishing with shiners, I was a little hesitant at first. It was different than any other type of fishing I had done before. But it was a fun experience and one that I'm glad I was able to try.
How To Rig a Shiner?
We used two simple shiner rigs/setups throughout the day.  
Bobber Shiner Setup – This method is perfect for fishing the top half of the water column. This technique is best when the boat is anchored and you are fishing shallow structure.  We just used a standard bobber held in between two bobber stoppers. The distance from the bobber and the hook was about 2-3 feet, this allowed free movement for the shiner. We hooked the shiners in the front and behind the dorsal fin. This rigging method provided the shiners with a lot of upward action and was are most effective technique throughout the day.  
Split Shot Shiner Set Up –  This technique was perfect for targeting deep structure such as rock piles and stumps. This is a very simple set up with one split shot weight placed about 2-3 feet from the bait hook. The light weight split shot kept the shiner at the bottom, but also allowed it freedom to move around as well. We caught several fish on this technique targeting rock piles.
Tips, Tricks and Lessons Learned
     

Let the shiners do the work

     

Always have a lively shiner on

     

WAIT to set the hook (when you get a bite wait at least 10 seconds before setting the hook)

     

Patience is the key

     

Keep the shiners out of structure

     

A split shot setup is best for fishing deep

     

Anchor when fishing with a bobber
Fishing Rig Setup
Rod & Reel: Spinning Rod Medium Action
Line: 50 lb Suffix Braid (No leader)
Bait: Live Shiners
Hooks: Gamakatsu Shiner Hook
Where We Fished
Unfortunately, as luck would have it the conditions weren't ideal and we found ourselves faced with a strong wind throughout most our fishing day. This made Captain Bob adjust his strategy a bit and we found ourselves spending most of the day fishing in the canals to hide from the wind.  
First Spot
Our first spot was a rocky shoreline inlet located about 5 minutes from where we launched the boat. Bob had experienced success here before in the early morning as bass would warm up in the rocky shore and feed on bait fish. We had several takes and bites. There was definitely an adjustment period that we had to go through fishing with live bait. During this trial and error, we ended up missing a few fish as we learned the patience and technique required of shiner fishing. We ended up catching a few small fish, but after an hour or so we couldn't find the size we were looking for so we moved on to a different spot.
Second Spot
Our second spot was also located in the canal about 10 miles north from our first stop. This spot was a recently built inlet/canal that hadn't received much fishing pressure. After anchoring down for about 15 minutes, a big 5lb bass exploded on my bait and took me for a ride. We ended up catching about 6 nice sized fished here. All of the fish that we caught here was done using a bobber held up by two bobber stoppers about 3 feet from the bait hook, with the shiner being hooked on the side of the dorsal fin.  
Best Spot
We got some strange looks from some anglers fishing in a tournament while searching for this next spot, but it ended up being the highlight of the trip. We ended up targeting a bunch of boulders in the middle of the canal with a dock and reeds nearby. This by far was the most productive area we fished. We caught the majority of our fish here. Multiple 5lb + fish were caught on the reeds along the shoreline and we also caught some nice fish in the middle of the canal around the rock boulders.

Fishing Overall 
We ended up landing over 17 bass on our fishing adventure. We caught 3 5lb + bass and most of the others were around 2 lbs. Overall we had an awesome day fishing but according to Lake Okeechobe standards it was a pretty slow day.  A few days earlier before the wind started to pick up our guide had clients land over 50 fish.
Conclusion
We had a great time fishing at Lake Okeechobee with Captain Bob, and although it was a pretty expensive trip we were glad we hired a guide. Navigating through this giant lake would have been overwhelming having never been there before. Captain Mike's bungalow is a perfect place to stay while at Lake Okeechobee. Fishing with shiners was an absolute blast and is perfect for the whole family. Bass fishing at Lake Okeechobee was an experience that I won't forget and would recommend to any angler trying to land a trophy largemouth bass, and to any family looking to have a great time out on the water.