If you have been bass fishing for a while there is no doubt that you have fished with or at least have heard of a chatterbait or bladed jig. Chatterbaits are one of the most popular and effective ways to catch big bass.
Much like other bass fishing techniques having the right rod can play a big role in your overall success. The right chatterbait rod and setup will help you be more effective, efficient and will ultimately help you catch and land more fish.
The best rod to use for a chatterbait or bladed jig is a 7'2" to 7'4" medium heavy, fast action casting rod. An ideal chatterbait rod has the perfect combination of power and a soft tip to be able to pull through the grass, entice bites and strength to pull fish out of cover.
If you are looking to pick up a new chatterbait rod to add to your bass fishing collection or simply want to learn more about what rods should be used when fishing a chatterbait or bladed jig than you are in the right place.
In this chatterbait rod buyers guide, I'll share with you what are the best chatterbait rods, how to choose the right rod for you, as well as everything you need to know about this bass fishing technique and setup.
Let's get started.
My Favorite Chatterbait Combination (Quick Version)
If you are short on time and just want the quick version of what I would consider to be the best chatterbait rod, reel and setup. Here it is.
Considering all of the factors including sensitivity, reliability, feel and other things I believe the best overall chatterbait rod is the G Loomis IMX Pro 883 BJR. The price point, performance, and sensitivity of this rod is hard to beat.
If you are not looking to get a high end rod and want a more affordable option the best chatterbait rod for the price is the Shimano SLX 7'2" medium heavy. It's a great rod for an incredible price.
My Favorite Chatterbait Setup
Now let's go more in-depth.
The Best Chatterbait Rod's
G Loomis IMX Pro 883 (Best High End Rod)

If you are looking to get the absolute best chatterbait rod on the market and you don't mind paying for a high end rod than the G Loomis IMX Pro is the right rod for you. I don't think you can get a better chatterbait rod than this one.
The G Loomis IMX Pro is designed specifically to be a dedicated bladed jig rod. This rod has a crazy light tip section making it easy to pop your chatterbaits through the grass, but also comes with a fantastic mid-section giving you just the right combination of power and action.
G Loomis made two different versions of this rod the IMX-PRO 862C BJR which is a 7'2" medium action rod and the IMX-PRO 883C BJR which is a 7'4" medium-heavy. Both are great options, but I prefer the 883C. I like to that extra power when fishing around grass and the extra length helps with casting distance. This model is definitely the one you want to go with if you're going to be throwing full sized chatterbaits most of the time.
If you don't mind spending the money for a higher end rod it's going to be tough to find a better chatterbait rod than this one. It will be well worth the investment and will last you a long time.
Shimano Zodias
The new redesigned Shimano Zodias Casting Rod is another incredible chatterbait rod that is made by Shimano. It's a high end fishing rod that delivers tournament caliber performance for any angler at a great price.
This rod is extremely accurate and features a proven Hi-Power X blank construction, premium micro guides and a Carbon Monocoque handle designed to make the ultimate connection between bait and angler for added sensitivity.
The Zodias is a bit more expensive than the SLX (mentioned below). Both offer high end performance, but if I had to choose one than I would go with the Zodias. It gives you added sensitivity and durability. It is well worth the investment and is a great option for bladed jigs.
Dobyn's Champion XP (734, 744)
Ever since I picked up my first Dobyn's rod a few years back I have been a huge Dobyn's fan. They build some of the best chatterbait rods in the industry and are well respected by anglers. The Champion XP series by Dobyn's is perhaps their best and most popular rod line.
If you are fishing a chatterbait the best Champion XP model is either the 734 or the 744. The 734 is a 7'3" rod that is rated as a 4 power. This particular rod is an extremely effective for bladed jigs and is extremely accurate.
Their other chaterbait rod is the 744 which is a 7'4" rod that is also rated a 4 power. This one is my personal favorite it's still very accurate but I can get a lot more distance with the longer length. However, you can't go wrong with either one.
Shimano SLX (Best Value)
If the high price tag of the previous rod's mentioned in this buyer's guide scares you off, no problem. I get it. Some of those higher end rods are a lot of money. If you are looking for a more affordable option that is still a high performing rod than the Shimano SLX 7'2" medium heavy is the perfect rod for you.
Is it hands down the best chatterbait specific rod? Not really. However, is an extremely versatile rod that will allow you to effectively throw and fish a chatterbait in any situation. It's also an extremely versatile rod that will allow you to fish a variety of baits and techniques with.
The affordability, sensitivity and overall performance makes this rod a steal at this price point. You'll be super happy with this rod and enjoy if for years to come.
How to Choose a Chatterbait Rod
If you ask a hundred anglers what the best chatterbait rod is you might get 50 different answers. Each angler tends to have their favorites brands and models. This can sometimes make things confusing if you are not sure what to look for in a chatterbait rod.
Here are the basic things you should consider when deciding on which chatterbait rod would best match your fishing style and situation.
Action
When fishing with a chatterbait or bladed jig a fast action rod is ideal. Bladed jigs have a single hook and a fast action rod with the right amount of power will help you to detect bites and pull bass out of cover. If you are fishing a chatterbait in deep open water than a more moderate action rod might be slightly better to help you fight the fish more effectively.
For more information about rod actions check out this article: Fishing Rod Action: A Complete Guide.
Power
The best rod power to use for a chatterbait is a medium/heavy or heavy. When chatterbait fishing you need a rod with a lot of back bone to help you fish around and in grass and heavy cover. A more powerful rod will allow you to set that single hook quickly and give you enough strength to rip them out of the grass before they get off.  
For more information about rod power's check out this article: Fishing Rod Power: A Complete Guide
Length
The best rod length to use for chatterbaits is a 7' to 7'4" rod. This is the ideal length that balances both casting accuracy and optimal distance. Most rod manufactures will make their dedicated chatterbait rods in this range.
My personal favorite chatterbait rod length is a 7'2". I can be really accurate with my bladed jig around docks and other structure, but I also have enough length to make long cast when needed.
Type/Material
When selecting a chatterbait rod you'll need to decide whether or not you want to get a rod that is made out of fiberglass or one that's made out of graphite. Each material has its own pro's and con's and it is really personal preference. Both rod materials can be effective.
Here is a quick breakdown of pros and cons of both a graphite and a fiberglass rod:
Glass Vs. Graphic Rods
Glass = less sensitive, more forgiving, better hook up ratio, typically weigh more
Graphite: more sensitive, less forgiving and they typically weight less
For me I prefer a glass rod when fishing with a chatterbait. I don't get the sensitivity I would with a graphite rod which I don't think is needed and has actually cost me at times. (I get too excited and swing to early). The main benefit and why I like a glass rod for a chatterbait is its parabolic bend. It's more forgiving, helps keep fish pegged and I tend to have a much better hook to land ration. With that being said there are plenty of anglers that disagree and prefer a graphite rod.
How to Fish a Chatterbait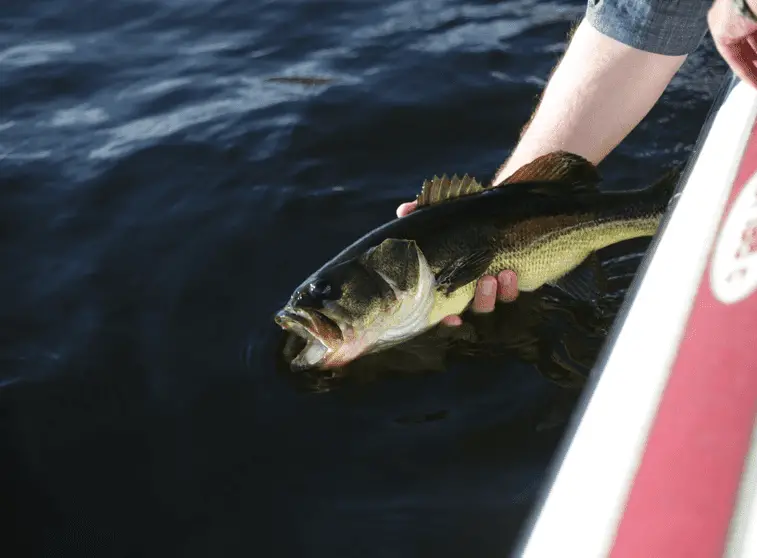 A Chatterbait is one of those technique where it's tough to find a wrong way to fish it. This bait is so versatile and its really about experimenting and finding what areas and retrieves work best at your home lakes. In my experience the Chatterbait excels when getting bumped into structure or when ripped through grass.
Here are some of my favorite ways to work and fish a Chatterbait:
Basic Retrieve – Cast it out and have your rod tip down and to the side. Reel it in with a steady retrieve and give it an occasional jerk or bump. I like to mix up the retrieve speed until I can figure out which the most effective one.
Slow Roll – This can be a great method when bass are holding to the bottom. Chuck your bait out there and just slowly reel it in, while allowing it to just tick the bottom.
Snap Retrieve – Chuck and wind and give it some snaps. This technique works really well when fishing in grass. The blade and hook tend to get caught up in grass every now and then and giving it a good snap will get rid of this and the bass will love it.
Flipping and Pitching – A bladed jig isn't often thought of as a pitching and flipping bait. But it can be an extremely effective way to catch them. You can pitch and flip a Chatterbait in just about any situation you would throw a regular jig.
Skipping – Skipping under docks is another great way to fish a Chatterbait. Its bigger profile makes it easier to skip, plus it gives these fish another look that they don't often see. Next time you come across a dock be sure to give this bait a chuck.
Bump & Grind – The Chatterbait is at its best when you can bump and grind it into things. The fish can't handle when its ripped through the grass or bumped up against a rock or some type of structure.
A Chatterbait can be a super simple and effective way to catch bass. However, some anglers often make some missteps along the way. Check out this article written by Wired2Fish to help you avoid making some common mistakes.
Other Bass Rod Buyer's Guides
Final Thoughts
Just like any bass fishing rig or technique having the right rod, reel and setup can give you a huge advantage out on the water. You'll be able to detect more bites, catch more fish and will have a much better experience when using the proper equipment.
If you are someone who love fishing a chatterbait or bladed jig or other power fishing baits it's worth investing in a dedicated chatterbait rod and reel combination. Your investment will be well worth it and will pay dividends in the future.