Lake trout fishing is one of the most exciting challenges freshwater anglers will ever experience. From finding lakers in deep depths, to fighting their brute strength as you are reeling them in are some of the reasons why lake trout fishing is so rewarding.
In this complete guide, you'll learn everything you need to know about catching lake trout. Including what tackle to use, the best lake trout baits and lures, how to find them and what the most effective techniques and methods are to land these big beautiful fish.
Let's get started.
About Lake Trout
---
Before we dive too much into the details of fishing for lake trout let's go over some foundational information to help us better understand their biology, tendencies and behaviors. Having this basic knowledge will only increase our fishing success.
Lake trout or lakers as they are often referred to as are technically not a true trout but are considered to be char within the Salmonidae family. Because of this they are often also called mackinaw, lake char, grey trout.
Lake trout are a greenish gray color and are covered with pale spots. They are also the largest member of the char family. Lake trout are a prized possession for many anglers mainly due to its size and taste.  
Here are Some Basic Lake Trout Facts:
Size: A common length for a lake trout is around 20 inches with the largest recorded length being around 59 inches and they can weigh over 40lbs.
Habitat: Lake trout inhabit and prefer cold deep lakes (48-54 F) and they can occasionally be found in freshwater streams. They tend to spend most of their time in deep water where there is little to no vegetation and where there is plenty of oxygen.
Spawn: Lake Trout will typically spawn during the fall months.
Diet: A common lake trout diet consists of baitfish, zooplankton, insect larvae, snails, leaches, clams, copepods among other things. Small lake trout eat a diet of copepods and waterfleas, as they grow bigger the mostly each other fish.
Location: Lake trout are most commonly found in North America (Canada, Alaska and the northeastern U.S) but have also been introduced in other parts of the world such as Europe and New Zealand.
Lifespan: Lake trout have been commonly known to reach the ages of 12-17, but they can live much longer in some cases.
Source: U.S Fish & Wildlife Service
Now that we have a solid baseline of knowledge about these fish, lets discuss rigging, baits, tips and strategies that will help you catch some monster lake trout.
How to Fish for Big Lake Trout
---
When & Where to Fish
The key to finding big lake trout is locating the best habitat on the lake and knowing the seasonal patterns and behaviors of these fish. If you can figure out these things, you'll dramatically increase your fishing success. Here are some important areas to look for when targeting lake trout:
Key Areas to target
Rocky Shorelines
Humps
Ledges
Flowing water
Sunken islands
Cold oxygenated water
Any type of structure
Fishing the Right Depth
Depth is a huge factor in all types of fishing, but is especially important if you are targeting lakers. In general lake trout will be deeper than what most trout anglers are used to, here is a basic guide that will help you locate lake trout by season.
Where to Find Lake Trout by Season
Spring – The springtime can be the best time of year to target lake trout. During this period these fish are hungry and more aggressive. At ice off and in the early spring they can often be found around the surface and close to the shoreline. As the weather heats up and it gets closer to summer they will start to move deeper.
Summer – Lake trout love cold oxygenated water and in the summer time they will follow it to the deepest parts of the lake. During this season its best to fish for lakers in the early mornings or before dusk. You'll also have the best chance at catching these fish on days with low light conditions such as over cast days when there is less light penetration in the water.
Fall – As temperatures begin to drop, lake trout will start moving out of their deep haunts to shallower water in preparation for the spawn. This move often results in congregating fish. The best places to locate them are going to be on reefs, boulders along the shoreline, tributary, rock bars and points. Lake trout will feed heavily during the pre-spawn period and might be a bit more challenging to catch during the spawn.
Winter – Winter fishing for lake trout typically requires catching them through the ice. This can be a unique and great time to fish for them. During this time lake trout tend to be suspended and roaming around main-lake basins where they feed on open-water baitfish.
Locating where the lake trout are going to be on a given day can be a challenge, but I hope this information points you in the right direction. Next, lets discuss the key methods, tactics and strategies to help you land these big fish after you have found them.
Lake Trout Fishing Tactics & Strategies
---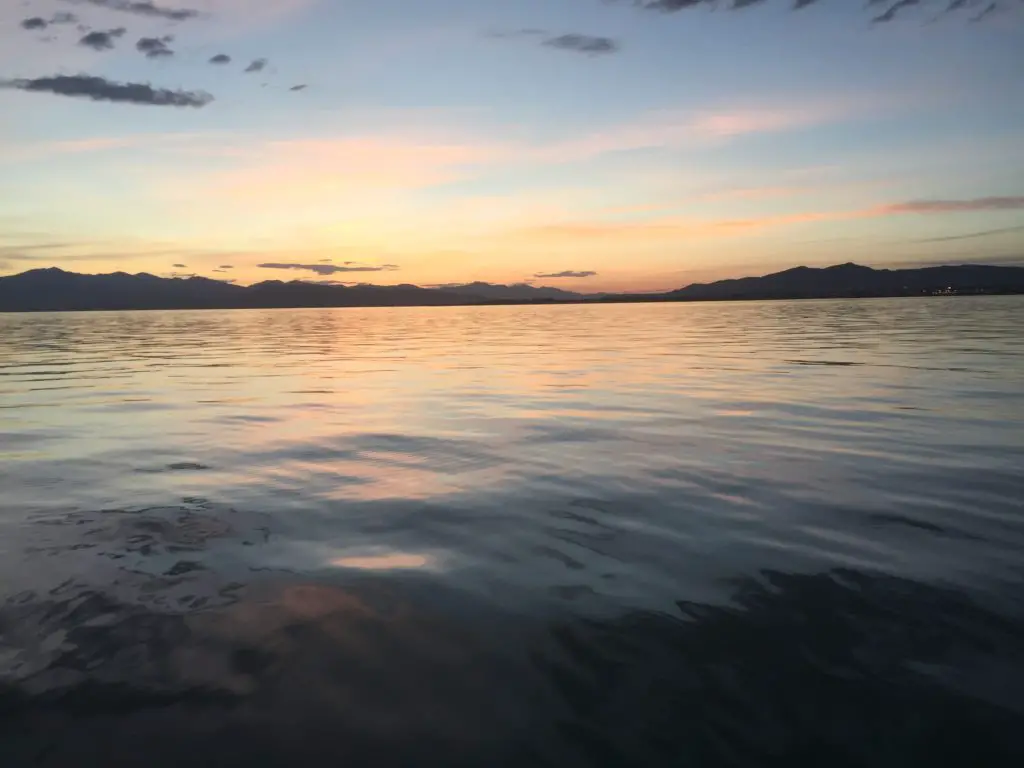 There are a variety of different baits, lures, rigs and strategies anglers use while targeting lakers. Here are some of the most popular methods:
Casting
Casting is essentially the act of throwing your lure or presentation that you are using and reeling it in by jigging, swimming and so on and so forth. Casting for big lake trout can be super exciting and also a lot of work. Check out this video by Lund Boats called: Casting for Huge Open Water Lake Trout. It will get your blood pumping.
Lake trout anglers will use a wide variety of lures and baits when free casting. Including spinners, crankbaits, jigs, tubes, spoons and many others. More information about the best lures and baits soon.
Jigging for Lake Trout
Jigging for lakers can be an absolute blast especially in the spring when they are aggressively feeding in the shallows or when they are schooled up on deep structure. Jigging could easily fall under the casting category but I thought I'd call this technique out specifically.  
The key to jigging for lake trout is first finding where and what they are holding to. This usually requires a nice fish finder and a boat. Jigging for lake trout is also a very effective and popular technique when ice fishing.
Here are some excellent videos about jigging for lake trout:
Trolling for Lake Trout
Trolling for big lake trout is the easiest and perhaps one of the most popular fishing methods, especially when you are not sure where the fish are located. This is the best way to cover a lot of water and keep your lures at the right depth.
However, in order to troll effectively, you'll need to have a boat that is properly rigged with the right trolling tackle and fish finders to be successful in most cases
Here are some great lake trout trolling resources to help get you started.
Ice Fishing for Lake Trout
Winter is a great time to catch big lake trout on the hard deck through the ice. Ice fishing for lake trout often requires a lot of moving around and searching for active lakers. Once you find where they are at some jigging with white tube jigs and soft baits is a great way to catch them.
Here are some ice fishing resources for lake trout fishing to check out:
Best Lake Trout Lures
---
Crankbaits & Jerkbaits
When fishing for lake trout it's important that you cover a lot of water, especially in the spring. One of the best lures to do this with is a crankbait. Lake trout like any other fish tend to key in on certain things and it's amazing how small differences in a lures size, color and action can make a world of difference. That's why it's important to have and try a variety of colors, sizes and shapes of crankbaits, you never know which one the difference maker will be.
Crankbaits can be used free casting, or they are also a super effective and popular way to troll. Here is a list of proven lake trout crankbaits:
Best Lake Trout Crankbaits
Rapala Shad Dancer
Rapala Scatter Raps

Deep Husky Jerk
Shad/Deep Shad
Minnows
Tail Dancers

Rapala Shad Rap (Must have) size 7,8, 9
Junior Thundersticks
Spoons
Spoons are another must have lure for catching lake trout and are ideal for trolling and covering a lot water as well. The action and flash of a spoon can be super important. A spoon gets its action based on its shape and thickness. A longer spoon will display a more dramatic side to side action compared to shorter spoons that have a tighter wobble.
There are a wide variety of different shapes styles and types of spoons out on the market. Each is designed to do a specific thing. Here are some of the most commonly used lake trout spoons and how they are applied:
Casting Spoons – When anglers refer to a spoon in most cases they are referring to a traditional casting spoon. Casting spoons are well known for their back and forth wobble action as they run underwater. These spoons are typically thrown with a spinning rod and reel combination and are used by simply dropping down to the fish and vertically jigged.
Trolling Spoons – As indicating by its name these spoons are designed to be trolled. They are much thinner and lighter than casting spoons making them too light to cast. They are designed to be fishing with a depth control trolling system such as a diving plane or down rigger.
Jigging Spoons – Designed for deep water situations when you can locate a specific school of fish. They are made to get down to deep depths where trout might be located. The action of the lure is imparted by the angler through short jerks and raises of the rod to entice strikes. The best equipment for jigging spoons for lake trout is low stretch line of 12-20lbs with a medium to heavy fast action rod.
Here is a great video demonstrating how to use this fishing technique. Jigging for Lake Trout
Now that we understand some of the different types of spoons out there. Here is a list of some of the top spoons for lake trout:
Best Spoons for Lake Trout
Dardevle Spoons
Little Cleos
Mepps Cyclops
Luhr Jensen Krocodile Spoon
Sutton Silver Spoon
Moose Spoon
Flatfish Lures         
Flatfish lures can be a great way to target lake trout on the surface or down deep. They have a very distinctive 'wobble' almost like a hybrid of a jerkbait and spoon. This unique wobble really gets big lake trout to respond and strike.
The flatfish lures are typically trolled form a boat on a downrigger and can land you some giant lake trout if you fish at the right depths and speed. Here is a great video demonstrating this technique. Also here are some of the best flatfish lures/colors for lake trout if you are interested in trying some out.
Top Flatfish Colors for Lake Trout
Firetiger
Rainbow trout
Frog
Silver
Jigs
Fishing a jig is also another popular lake trout angling method. This is one of the best options if you are ice fishing. There are a ton of different patterns and materials available to choose from.
The marabou tailed jigs are some of the most popular and they do a great job at imitating subaquatic insects and baitfish. Jigs are typically worked of the bottom in small vertical movements. White tube jigs are also another great and perhaps one of the most productive ways to catch lake trout.
Lake Trout Equipment
---
Another important aspect when targeting lake trout is ensuring that you are properly setup up with the right fishing tackle and equipment for your body of water and fishing technique. Here is a list of basic things you'll need when targeting lake trout.
Jigging Setup
Rod: 6'6" to 7'6", medium to medium heavy, with a fast action
Reel: Baitcasters ( Shimano Calcutta 300-400 or equivlent) or heavy duty spinning reels ( Shimanor Stradic 4000-5000 or equivalent) are ideal
Line: 30-40 lb braid with about a 12' fluorocarbon or monofilament leader is ideal, but this can be adjusted as needed.
Trolling Setup
Rod: 7'6" to 9'6", medium heavy with fast action.
Reel: Personal preference Shimano Tekota 500 series are an excellent choice.
Line: 60-80lb braid with a 80lb monofilament leader.
Ice Fishing Setup
Rod: Heavy power, Moderate Fast action 36"-40"+.
Reel: Around a 2500 size reel.
Line: 10-20lb braid with a 12lb fluorocarbon or monofilament leader, this can be adjusted depending on the size of the fish and lures that you are using.
Landing Net
Having a large deep sturdy net is super important, especially if you plan on catching big lake trout. You'll want a net with a long handle that retracts when stored and that is also constructed with rubber. Rubber nets will better protect the fish and will make it easier to unhook.
Here are some of the best lake trout nets:
Frabill Big Game
Stowmaster Net
Ranger Rubber Net
Plyers
A pair of sturdy plyers is a must have when fishing. You want plyers that will allow you to easily remove the hook to keep both you and the fish safe.
Final Thoughts
---
Lake trout fishing is an exciting and rewarding challenge that every angler should pursue at some point. I hope you have learned and found this lake trout fishing guide to be helpful and that you use it on your pursuit of finding and catching these beautiful fish.
Best of luck out there
Tight lines!