Deciding when the best time to load up all your fishing gear and hit the water is a big decision that all bass fishing anglers must make. After all, life is busy, time is limited, and no one wants to spend hours trying to catch fish that aren't biting.
So when is the best time to fish for bass? The best time to go fishing for bass is without a doubt the hours that mark the transition period of dawn and dusks. These early morning and evening hours are typically going to be the best time of day to go fishing for bass.
However, there are so many variables that can influence the activity and feeding behavior of bass that it's difficult to accurately predict the best fishing times without also looking at other factors including time of year, weather patterns, water temperature, barometric pressure, moon phases and so on and so forth.
For this reason, we have put together this quick guide that will help you understand what influences fish behavior and how we can take advantage of this as anglers.
This article will help you figure out when the best time to go bass fishing is in your area regardless of the season and conditions you may face.
But before we dive into the science and philosophy about the best fishing times, I'd like to point out that most of us go fishing whenever we have the time which is perfectly fine.
Although there are certain times and seasons that can be exceptionally better than others, don't let this discourage you from going whenever you have a chance.
Smart anglers can figure out how to catch fish regardless of the conditions. After all, it's not always about the number of fish you catch, but also about spending time in the outdoors and developing relationships with others.
Now enough talk, let's dive into the details.
When is the Best Time of Day to go Bass Fishing?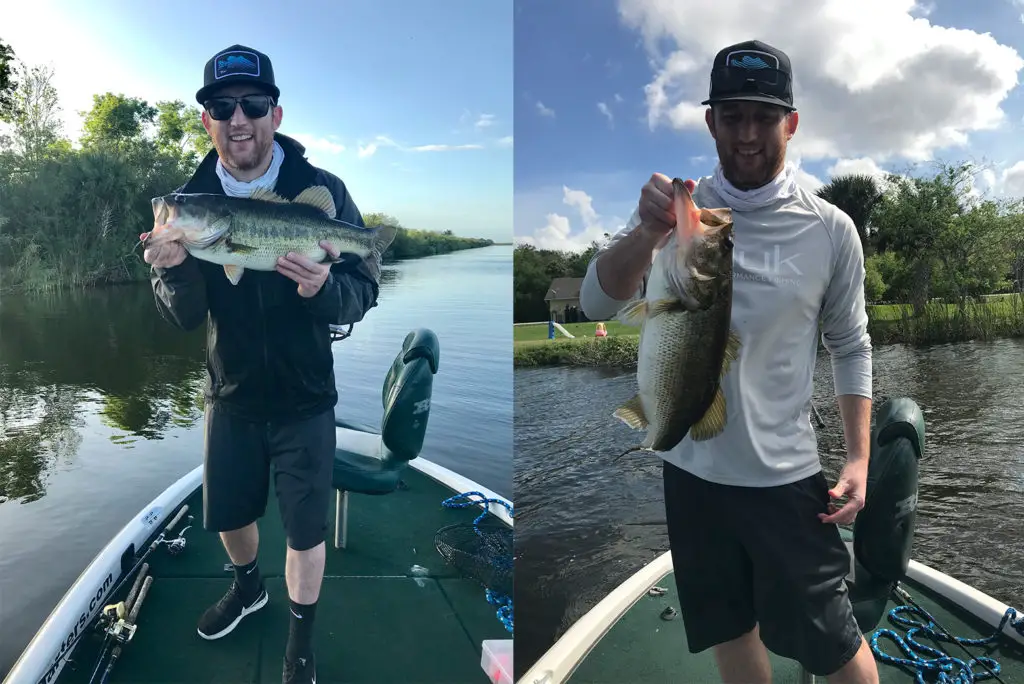 As I mentioned earlier, the best time to go fishing for bass is typically early in the morning when the sun comes up and the last few hours of sunlight before the sun goes down.
Also, don't forget about night fishing, especially in the summer. This can be an excellent time to catch bass that you wouldn't have had chance to snag during the day.
Why are these the best times? Bass are naturally more active during these times giving anglers better fishing opportunities. Although there plenty of other factors that affect the best fishing times which we will cover later there are also certain times/events where fishing can be lights out. Here are a few key factors that can positively influence fishing success.
Best Bass Fishing Times
During low light conditions (At sunrise, sunset and at night
During the rise and set of the moon
During consistent weather patterns
When the wind or breeze comes from the west rather than from the north or east
Overcast weather conditions
Falling barometric Pressure
This is only a general guideline that should be used as a starting point. The best time to go fishing may also vary due to the factors below.
Fishing Factors
Time of year
Water temperatures
Light conditions
Wind and speed direction
Barometric pressure
Weather patterns (e.g. cold fronts)
Spawning behaviors
Moon phases
Water clarity (turbidity)
Oxygen levels
(You can find more information on these fishing factors on fishranger.com)
As you can see there are several factors that can both positively and negatively influence bass activity. Each one of these aspects are important and can play a key role in your fishing success, but I think its easiest to determine the best fishing times in terms of seasons. Below we have put together some great information about catching bass during the different seasons throughout the year.
Best Time to Catch Bass by Season
Anglers can have success fishing for bass all-year round all over the country, but what is the best time of year to catch bass? Any bass fishing fanatic will tell you the best of year to catch bass is during the spring and fall seasons.
Of course, bass can be caught all year long. Their behaviors change based on seasonal factors such as weather, temperature and feeding patterns. You can use these behavior and patterns to your advantage. Let's discuss the different bass fishing seasons in more detail.  
Spring Bass Fishing
The spring months are a great time to go bass fishing. Early spring time is big bass time and is probably your best shot at catching a trophy. Bass will start to prepare for the spawn by feeding heavily and moving back to shallower water making them easier to catch.
During the spring the best time to go bass fishing is going to be around dusk. If bass fishing is your game, spring time is the right time for you.
Recommended Baits & Techniques: lipless crankbaits, jerk baits, crankbaits, spinnerbaits, glide baits
Summer Bass Fishing
The "dog" days of summer brings both opportunity and challenges. Hot summer temperatures can put bass in a bit of a lazy state, making them difficult to catch at times. The best time to go bass fishing in the summertime is by far in the early mornings and evenings, or on cloudy rainy days.
Recommended Baits & Techniques: topwater, big worms, finesse techniques, crankbaits, and jigs
Fall Bass Fishing
Fall bass fishing can be a little strange, it can be one of the best times and one of the toughest. It is well known amongst many anglers that fall time is feeding time. Bass will start to aggressively feed for the winter ahead and will pretty much eat about anything, but this doesn't always mean fast fishing.
Much like the spring, the afternoon and evening periods are going to be your best chance at catching fish. Fall bass fishing has a lot to offer and can be one of the most exciting fishing times of the year.
Recommended Baits & Techniques: jigs, lipless crankbaits, jerk baits, crankbaits, spinnerbaits, topwater
Winter Bass Fishing
Most avid bass fishing anglers dread the winter and it can be by far one of the most challenging times to find active bass, but it can also provide anglers the opportunity to catch their biggest fish of the season.
The cold weather pushes bass offshore to their winter hideouts. The best bass fishing in the winter is either in the early in the morning or afternoon when things have had a chance to warm up.
Recommended baits & techniques: lipless crankbaits, jerk baits, tight wobbling crankbaits, spinnerbaits, and spoons
Final Fishing Thoughts
Let's be honest, there really isn't a bad time to go bass fishing, but there are certain times of the day and year where fishing really seems to turn on. Those are the days we dream of finding as anglers. I hope this information helps you decide when the best time to go fishing is regardless of the season and encourage you to get out and enjoy the outdoors.
Tight Lines!
What is your favorite time of the year to go fishing? Make sure to leave us a comment and let us know.