Fly fishing in some type of boat or small water craft can give anglers some key advantages. It allows them to cover water efficiently, access hard to reach fishing areas, makes fishing both sides of the river easy and can enhance your overall fishing experience.
Fly fishing small rivers and streams can be a blast in your waders, but there is something about fly fishing out of a boat that can make your fly fishing trip even better.
Luckily these days' anglers have a lot of boats, kayaks, pontoons and other types of water crafts to choose from.
In this article we will break down the best boats for fly fishing and help you decide which one might be right for you and your style of fishing.
Let's get started.  
The Best Boats for Fly Fishing
Now days there are several different boating options fly fishing anglers can choose from and with each having a unique design and price point. The right fly fishing boat for you may depend upon the type of water you are fishing, your budget and your fishing style.
Here is a list of the best fly fishing boats that will help you get off the bank, cover water and ultimately catch more fish.
Drift Boat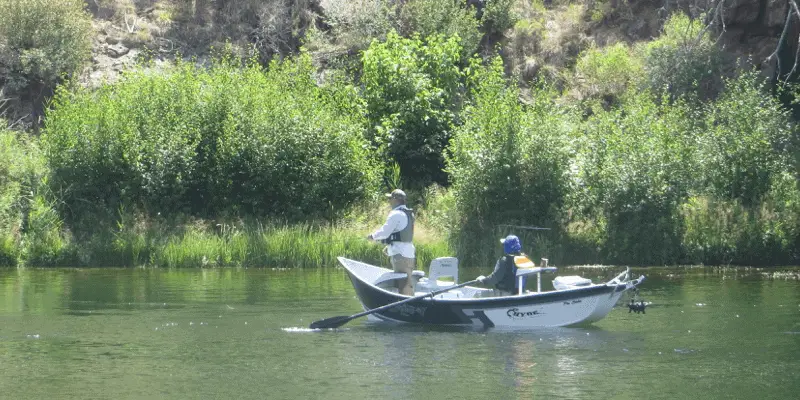 Best for: large rivers and lakes with multiple anglers
Drift boats are a unique fly fishing boat that is made specifically for rivers. These boats have a wide, flat bottom, with flared sides, a flat bow, and a pointed stern. This design helps anglers easily navigate and maneuver through rapids as they float down rivers and allows them to quietly approach fishing holes.
Although all types of anglers and hunters use drift boats for their outdoor adventures, they are most common among fly fishermen. In fact, many fly fishing outfitters guide using drift boats.
Drift boats are an ideal fit for anyone that is seeking unlimited river access and prefers the easy launching, handling, and overall design of a solid drift boat. However, they do require multiple anglers to be able to navigate and fish in.
Here are some pro's and cons of buying and fishing in a drift boat:
Advantages
Can fish a lot of rivers not accessible from the bank
Can quickly cover water
Explore deeper water
You can pack more gear
Allows you to quietly sneak up on the fish
Disadvantages
Multiple people needed to navigate and fish from
Impossible to fish with by yourself
Expensive
Only work in larger rivers and lakes (for the most part)
Need a vehicle to haul it
Need two vehicles most of the time (Once you've floated down the river you need a way to get back up)
Some require a lot of maintenance
If you plan on fly fishing in larger rivers and lakes with friends and family than a drift boat can be a great option. They are on the more expensive side, but they can be a lot of fun to fish out of and are used on most fly fishing guided trips.  
For more insight and information about drift boats check out this article: Drift Boats the Complete Guide.  
Pontoon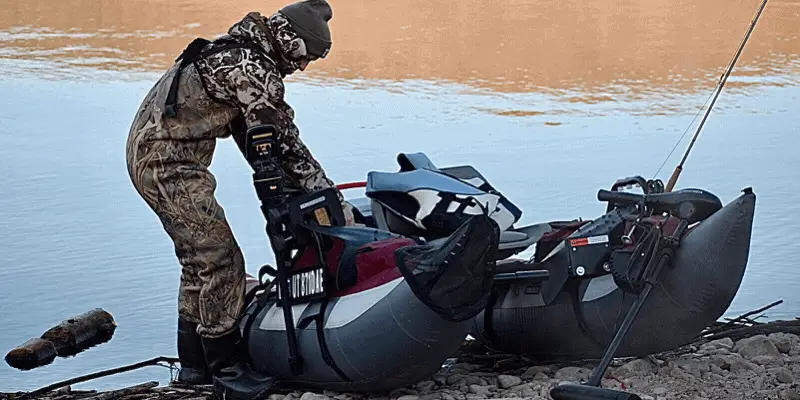 Best for: For single anglers fishing in rivers, lakes and ponds
The pontoon is one of the most popular choices for many serious fly fishing anglers. These boats are excellent fly fishing platforms that are affordable, versatile and perhaps the best way to fly fish by yourself.
A pontoon boat is made up of two large air bladders that are connected together by a metal frame or a curved air bladder (these are called frameless pontoon boats). There are several variations of these two different types of pontoon boats.
What makes the pontoon such a great fly fishing boat is its maneuverability. The pontoons of the boat move through the water with ease and provide easy to control. Some pontoon boats come with a set of oars, while other anglers opt to put a small trolling motor on the back.
Pontoon boats have also been designed especially for fly fishing. As a result, these boats often come with a lot of great features for anglers. Such as rod holders, coolers, fish finders and other accessories you can attach to the boats frame.
Here are the key advantages and disadvantages of using and fishing out of a pontoon boat:
Advantages
Versatile
Designed for fly fishing
Can add accessories
Portability is easy
Can be motorized  
Disadvantages
Designed for only one angler
Not great in heavy current
Not ideal for floating rivers
Can sometimes leak or not last as long
A pontoon boat is an ideal fly fishing boat for most anglers. It's versatility, portability and effectiveness is hard to beat. It also comes at an extremely affordable price. This combination is the reason why most fly fishing anglers choose a float tube to fish from.
If you are looking into getting a pontoon boat for your fly fishing adventures, I'd highly recommend checking out this pontoon boat on Amazon.com.
Also for more information about fly fishing in pontoon boats check out this article: Pontoon Boats for Fly Fishing.
Float Tube
Best for: Remote lakes, ponds, and smaller bodies of water
The float tube has been a very popular fly fishing vessel for decades. The reason why many anglers consider buying one is because they are lightweight, affordable, and easy to haul around.
A float tube or kick boat is a small, lightweight inflatable fishing craft. Most modern float tubes have a V-shaped design with pontoons on the sides and the seat raised above the water allowing the legs of the angler to be submerged. This allows the angler to wear fins on their feet making it easy to kick and move the float tube in the water.
Float tubes and kick boats are used by a variety of anglers but are most common among fly fishermen and fly fisherwoman.
Here is a look at some of the main advantages and disadvantages of a float tube:
Advantages
Light weight
Easy to transport
Highly packable
Affordable
Ideal for remote places
Disadvantages
Doesn't work well in current
Not great in rivers
Requires waders & fins
Hard to cover water
Lacks versatility
Float tubes are ideal for anglers on a budget that are looking for an easy and affordable way to get off the shore and start fishing. They are also great for remote areas because they are so light weight and easy to transport.
If you are interested in purchasing a float tube for your fly fishing adventures, I'd highly recommend checking out this float tube made by Cumberland on Amazon.com.
Kayak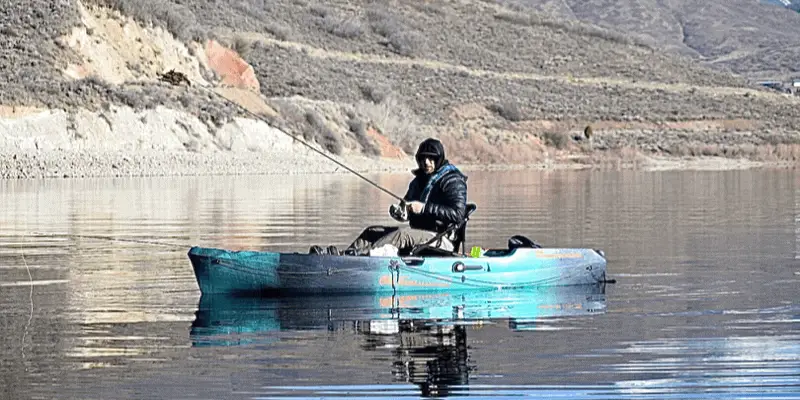 Best for: fishing lakes, ponds and larger rivers
The advancement of kayaks has taken the fishing industry by storm lately, and for good reason. Fishing kayaks are much cheaper than traditional fishing boats and they allow anglers to access to some remote and unfished waters.
Although most of the anglers fishing out of kayaks are conventional fishermen there are more and more fly fisherman making the switch. The low cost, easy maintenance and overall fun factor of fly fishing out of a kayak makes these little boats well worth the investment. Some anglers are even adding a trolling motor to their kayak fishing setup.
Here are some pros and cons of buying a fly fishing kayak:
Advantages
Access water
Easy to transport
Low maintenance
You can stand up in most
More storage
Affordable
Plenty of accessories (rod holders, anchors, motors, etc.)
Disadvantages
More expensive than pontoon boats and float tubes
You're likely to get wet
Can be more physically demanding
Fly fishing out of a kayak can be a lot of fun. They are a great option for anglers that frequently fish lakes, reservoirs, ponds and larger rivers. They allow you to break away from the bank and stealthy fish key areas.
Make sure to check out this article 20 Kayak Fishing Tips to Make You a Better Angler if you plan on fishing out of kayak.
Raft
Best for: fly fishing in big rivers with current
A fly fishing raft is very similar in a lot of ways to a drift boat and is used in similar fishing situations. A fishing raft is designed to drift down river in current and with a single rower or guide controlling the speed and direction of the raft with oars.
The big difference between a drift boat and a raft is how its constructed. There are two basic fly fishing raft options: framed and frameless.
The framed rafts are much more durable but they can be harder to transport and are generally more expensive. On the other hand, frameless rafts are typically lest durable and are much less expensive.
Both a framed and frameless fly fishing raft can be an excellent choice for anglers that like to fish rivers and would to take advantage of the ease of transportation and storage.
Here are some overall positive and negatives about fly fishing rafts:
Advantages
Inflates and deflates making it easy to transport
Can be used in shallow water
Trolling & gas options available
Can stand while in the raft, making casting easy
Disadvantages
Rafts aren't self-draining
Requires a dedicated rower or guide
Not meant for long distance rowing
For more information and selecting and buying a fly fishing raft check out this article: Ultimate Guide to Buying a Fly Fishing Raft
Jon/Jet Boat
Best for anglers targeting bass, pike, stripers in shallow rivers and lakes
A Jon or Jet boat is an excellent fly fishing craft that works perfect for smaller rivers & creeks. It can also work for lakes and small ponds as well. Most jon boats are made of aluminum and have a nearly flat bottom. They are super simple boat that is small and lightweight.  
They are considered to be multi species boat and used by a variety of anglers targeting different species. They are easy to customize and can be outfitted perfectly for fly fishing. In fact, some fly fishing outfitters use a jon boat on their guide fishing adventures when targeting bass, pike, stripers and other big game fish.
Advantages
Multiple motor options
Ample walking room
Easy to cast in
Stable platform
Least expensive boat
Disadvantages
Needs a vehicle that can tow it
Needs to be trailered
More expensive than other options
Advantages of a Fly Fishing Boat
Fly fishing from a boat or some type of water craft can give anglers a huge advantage which can result in more success and fish caught out on the water. Here is a list of some of the major advantages a fly fishing boat can give you.
Easier Casting and Longer Drifts
Fly fishing from a boat can be much easier to cast and make long drifts. You'll be typically in an elevated position above the water which will make casting, mending and setting the hook a lot easier. Long drifts are easily accomplished in rivers while the boat drifts with your fly. This will decrease your chances of spooking fish and increase you hook up ratio.
Better Mobility
Fishing out a fly fishing boat allows anglers to move around quickly and efficiently. For example, if you are fishing out of a drift boat you can easily fish both sides of the bank.
On the other hand, if you are fishing in your waders it can be much more difficult to switch to the other side, especially in bigger water.
Carrying Gear and Anglers
Another great benefit of fly fishing out of a boat is you have the ability to carry a bunch of gear, tackle and other people. You can bring more gear and be better prepared with whatever the day may bring. You can also bring your friends and family along when fishing out of a boat which makes it that much better.  
Covering Water
If you are fishing from the bank or in the river on foot you simply can't cover as much water as someone in a fly fishing boat. You are very limited on the amount of water you can fish and access.
A fly fishing boat gives you the ability to cover more water and find those productive fishing holes that others can't easily access.
Final Thoughts
Fly fishing out of a boat can be a great way to access more fishing spots and enhance your overall fishing experience. Each type of fly fishing boat comes with its own strengths, weakness and price point.  
I'd highly recommend that you think about your style of fishing and the water you fish the most. This will help you select the best type of fly fishing boat for you and your fishing style.
I hope you have found this article to be helpful. Thanks for stopping by.
Tight lines!